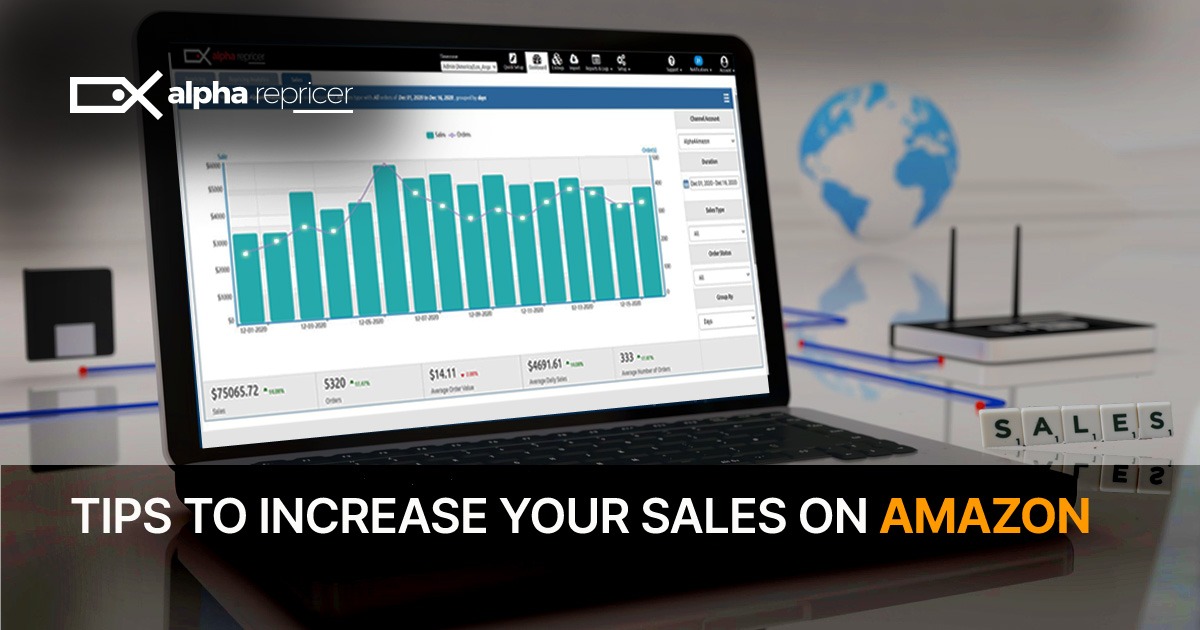 Tips to Increase Your Sales on Amazon in 2021
Want to increase your sales on Amazon? Well, you are at the right place!
Amazon has been the most popular 'store' for online purchasers to visit and shop from. Around 55% of the audience worldwide starts their day by searching for products on Amazon. Want to turn those people into buyers? Here are some not-so-difficult tips that you can follow to increase your sales on Amazon!
1. Work on your product title
To get buyer's attention, you have to make sure your title stands out! It is essential to stick to the usual formula (name of the brand+ name of the product+ product features). Following the formula helps your customers to know straight away about your product. They don't have to wander around and look for the necessary information.
2. High- ranked keywords
Anyone can start selling on Amazon, but only some can make it to the top. Using the most valued keywords on Amazon is the key to that success! Research about the high- ranked keywords and know how to fit them in your profile to help our products stay ahead. Once Amazon notices your efforts, it's going to display you first to the customers.
3. Get more of those reviews, positive ones, please
We understand that getting reviews from customers is a difficult thing to do. However, increasing sales on Amazon is an essential step, so you must not stop trying! Shoppers usually end up buying from those sellers who have positive reviews on their pages. Positive feedbacks make them gain trust in your product and help them feel comfortable that other people have tried your offered item and loved it! Try and ask your customers to leave feedback on your profile once you deliver them their product!
4. Your products must rank on Amazon
Amazon sellers always want their sales rank to be high. You want your products to be number one and that too, really fast! However, it all comes down to keep making changes to your profile and making it attractive for all the buyers to discover and shop from! Also, winning the Buy Box can make it a lot easier!
What should you do to get the Buy Box? Well, you have to focus on the criteria at which Amazon gives the Buy Box to its sellers! Learn more on how to win the Buy Box by reading our blog!
5. Keep your prices competitive to increase your sales on Amazon!
When you go for manual repricing, you leave many loopholes that your competitors can take advantage of. Either you are not fast enough to react to their price changes, or you end up making a mistake! You only start repricing, and your competitors have already begun to sell with the smart prices they shifted to. Start automated repricing! It is way more affordable and the fastest way to reprice without investing so much for your time on repricing manually.
Choose us! We reprice your products to increase your sales on Amazon and help you win the Buy Box; That's a win-win situation! Alpha Repricer is the fastest Amazon repricer in the market, offering continuous and real-time repricing.
To learn more about the importance of an amazon repricer, click here!
6. Use high- quality, focused images
To get your buyer's attention quickly, all you have to do is upload the best quality product images. The best part about this is that you don't have to be a professional photographer to nail it. All you need is a nice, good quality camera and a few primary points to get the perfect pictures!
Make sure you shoot in the light, preferably natural. Avoid shadows in your pictures; take closer shots. Using flash is a no-no! Don't take shaky photographs or use a tripod stand to hold your phone for you. Shoot your images from more than one angle. Try and show your customers how they can use the specific product in their daily lives.
7. Inventory management is essential to increase your sales on Amazon
If you are an online seller with multiple marketplaces to sell on, then syncing and managing your inventory is necessary. Syncing it makes it easier to monitor your list and update it when it's needed. You can save your time focusing on other significant aspects when you know your inventory is taken care of.
8. Never break Amazon's rules!
If you want to sell the right way, then make sure you follow all the rules and guidelines given by Amazon. You have to work hard and make all the efforts to get your buyer's attention, but do it the correct way! For advice on how to sell on Amazon, check out our blog!
In conclusion,
Amazon is the perfect marketplace for a seller. If you aim to increase your sales, Alpha Repricer is the ideal way to help you achieve that aim! We make sure your prices are competitive and win you the Buy Box. And that is sure to increase your sales on Amazon! Contact us now to learn more about Alpha Repricer, the fastest and user-friendly Amazon repricer!