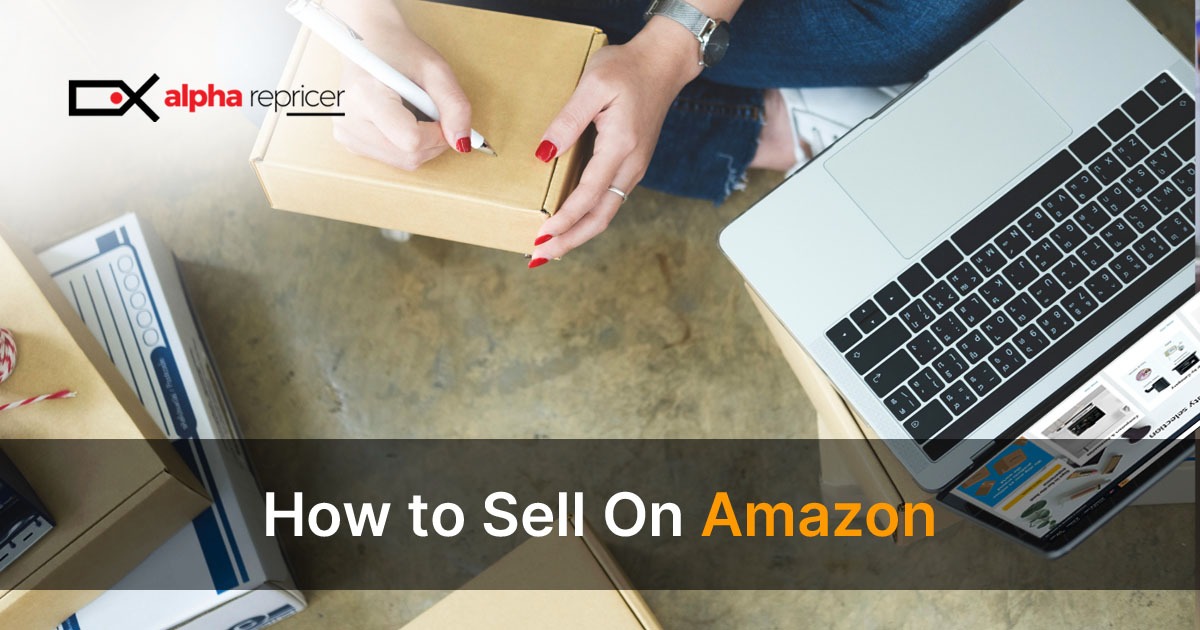 HOW TO SELL ON AMAZON
To sell on Amazon comes with an excellent opportunity for sellers to expand their business in the e-commerce industry globally. Customers need a platform that they can count on for their purchases, and Amazon offers just that. Sellers take full advantage of customer's trust in Amazon and shift their business to it, hoping to get ahead. However, you won't be able to sell until you are aware of the process and tools that support selling smoothly on Amazon. To help you start your business on Amazon, we answer the most asked questions.
All your how's related to Amazon business are answered below! Continue reading
– How does Amazon provide an edge for Amazon Sellers?
Amazon is one of the three top marketplaces online! It is undoubtedly the best platform for retailers to reach out to millions of customers who shop from Amazon. From small sellers to exclusive brands, everybody sells on Amazon for a reason. A reason to maximize their sales, increase customer engagement, and build their brand.
If you have a passion for selling online, Amazon should be your go-to marketplace to get started. How to do so? See below!
– How to know what to sell?
Well, if you have a passion for selling, then you already know where your interest lies. It will help if you research according to your business plan. Your business plan must consist of the product or service you want to offer, mission, analysis of market and sales, expenses, etc. The best way is to study market trends and your competitors related to the products you've decided. Estimate the cost you need to spend on that product, including its manufacturing, sourcing, advertising, etc.
The key is to get the perfect product that is in trend and directly links with your interest. After that, connect with the product supplier. You can find various suppliers on B2B platforms such as Alibaba or AliExpress. Please consult the best one, connect with them, inspect, negotiate, place your order, and you are good to go! Once you find out your niche and work on it, the next step is to register on Amazon and start selling.
– How to Register to start selling on Amazon?
To sell on Amazon, you need to choose one of the two plans Amazon offers. If you are a seller selling less than 40 items per month, select the individual program. However, if you exceed the range, then opt for the professional plan. You will have to pay $0.99 on each sale for the individual plan, which is reasonable if you are new on Amazon. A business plan costs you $39.99 a month. It permits you to sell as many items as you wish, and it also comes with the latest programs and tools. You can change from individual to professional plan as soon as your business starts to expand.
Finally, get your private information, including contact number, bank account number, credit card, tax information, etc. Enter it accordingly, and voila! You are registered.
– How many charges are applied from Amazon?
Selling on Amazon comes with a cost. Apart from the manufacture and marketing expenses, you have to spend on four areas to get started.
– You will have to pay subscription fees according to the business plan you choose, as discussed above.
– The selling fees include referral fees and the fees charged on each item you sell.
– Next comes the shipping rates. They are related to the shipping service and product category you choose.
– If you depend on Fulfillment by Amazon, then charges of storage and services are applied
– Why is Seller central so important?
Seller Central is like your space to monitor your selling account, make changes to inventory, edit product details, control payments, and more. It may be a little complicated than a regular vendor central, but it provides you with better exposure. Helps you target more customer and increase sales. You can easily list your products on seller central too! Coming to that, let's find out how you can list your products.
– How to list your products on Amazon?
Successful listing is significant to gain customers. To list your products, go to the option of "Add a product" that you can find under "inventory." Create your listing by choosing the correct category of your products. Avoid selecting the type of restricted items. After that, fill in the required information, including product title and description, with high-quality images. SKU and keywords must be accurate.
– How to describe your product to sell on Amazon?
Your product details play an essential part in attracting customers. When you sell a similar product to your competitors, Amazon merges the data and presents it on the same page. To be unique:
Your product detail must be informative, accurate, and engaging to gain customer's interest.
Make sure to add high-quality images and mention critical points in that image so that customers do not have to read the entire description.
Use attractive colors, catchy bullet points, and incentives if you offer any.
– How can delivering products get easy?
It is never too easy. You have to choose from the two options given by Amazon. One is to fulfill by yourself or relying on Amazon to deliver your products. If you select Fulfillment Merchant, you will have to manage your inventory, storage, and shipping. Besides, you will have to pay the shipping charged according to your selling plan. However, if you choose FBA (Fulfillment by Amazon), then Amazon takes care of your deliveries. You just have to deliver your inventory to Amazon FBA fulfillment centers. Amazon does everything else for you, including shipping and dealing with returns.
– How to manage your account?
The right approach will eventually lead you to your first sale. Once you get active on Amazon, it is essential to stay updated on your progress. Amazon sellers must monitor their performance and keep their defect rates, late shipment rates, and order cancelation rates low. Ensure to keep your inventory in stock.
– How to get better customer Reviews?
The answer is straightforward, offer high-quality products! Keep your customers happy. Customers are always on the lookout for customer reviews of an item by the previous buyers. It is essential to get customer reviews. You can ask for their feedback by interacting with them on social media or email them to know their feedback. Do not violate the policy set by Amazon, and you'll be fine.
Selling on Amazon can be very beneficial if you do it the right way. We hope this article motivates you to choose the correct path to sell on Amazon. Please leave your questions and thoughts within the comment section below. We'd love to reply!