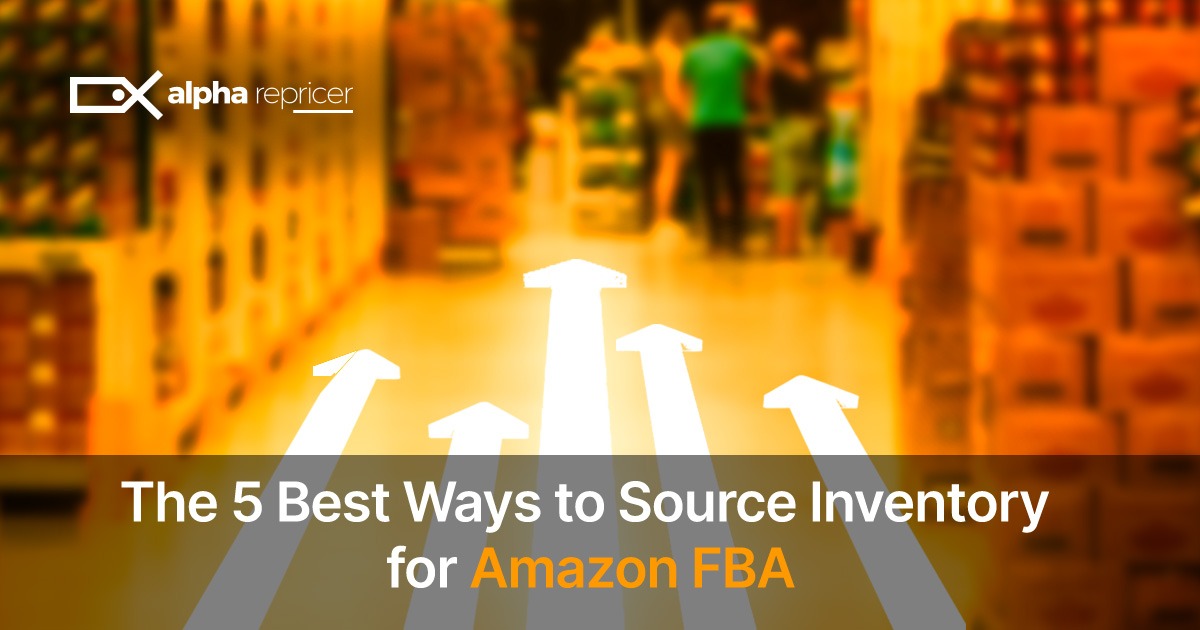 The 5 Best Ways to Source Inventory on Amazon FBA
Amazon FBA has emerged as the singular most popular method of making an income. More than millions of new sellers join Amazon every year, but only a few of them are able to achieve $100000 in their yearly sales, and only 1% of sellers can achieve more than $1 million in their sales.
So, what's the difference between a successful and failed Amazon business? Most often, it comes down to the products they sell on Amazon.
The trouble is that it's hard to find profitable product ideas. You have to consider a lot of elements like profit-margins, sourcing methods, and forecasting customer demand.
However, it is not necessary to reach $1million in sales to be successful, but choosing the right products that work best for your business is important!
Before you source inventory on Amazon, it is important to understand the categories of products because it would surely help you explore new ideas!
5 Best Ways To Find Things To Sell On Amazon FBA
Here are the five best ways to source your inventory on Amazon FBA.
1. Retail arbitrage On Amazon FBA
It is one of the primary sourcing technique because it's the most straight forward method.
Find products that are available at a discounted price, and after getting those products sell them on Amazon. If you are new, then clearance aisles are the best way to practice using your scanning app like Jungle Scout.
But if one of your purchases doesn't sell well on Amazon, it will only cost you $0.75, And it's a lot safer than taking risks while buying $100 electronic items and hoping to sell them with additional profit margins.
Scan every product in the aisle of a category you are interested in. As time goes by you will gain insight and be able to pick out the winners. And then… you can charge!
2. Liquidation/ Surplus Stores
Another best way to source inventory on Amazon FBA is liquidation stores. One important thing to notice is that discontinued products could be extremely profitable here.
People often have brand loyalty. When those products/brands are discontinued, they are ready to pay extra charges for their favorite brand. The same is true in Grocery- discontinued flavors can become a huge profit maker!
When the chain stores discontinue the products, they keep those products on the clearance shelf for a time. After that, the products are transferred to a central location, where they are then sold to liquidation centers.
Then a discount store purchases the products by the pallet. They get those products on 50-70 % off of the original retail cost. But some items hold their value when put on a wide market like Amazon.
3. Alibaba
Basically, Alibaba is an online B2B marketplace that connects retailers to manufacturers globally. It is an ideal place for most business owners who want to place a large order.
Usually, businesses directly work with manufacturers on Alibaba to create and label their own products.
You can use Alibaba, if you want to connect with the manufacturer, create or label your own products or to place large quantity of orders at the lowest price.
This is a bigger investment as far as sourcing goes. Most manufacturers have a minimum order quantity (MOQ) required.
It's a misconception that Alibaba only has manufacturers from China. Yes, Chinese manufacturers dominate that site, in numbers, affordability, and variety. But other countries are represented as well, such as Turkey, India, and Pakistan. Sellers need to do a lot more homework before jumping into this method of sourcing.
4. Online Arbitrage For Amazon FBA Sellers
Online arbitrage is similar to retail arbitrage. Basically, it's the process of buying products from an online retailer and selling them to another marketplace in order to maximize profit.
Here you don't have to be physically available to sell your products. You can source from any website anywhere at any time.
You can also buy a large volume of items directly from the brand owner and sell it on Amazon.
5. Wholesale
Wholesale is the practice of buying a bulk of products from another supplier, manufacturer, or distributor and then reselling them to consumers. The products can be bought for a fraction of the retail price because you are buying in bulk. Just like everything else, wholesalers have also gone online. One such popular online wholesaler is liquidation.com.
The Amazon wholesale means that there is no intermediary, and you are effectively the supplier, and you will have the complete control of your inventory orders and fulfillment.
You can buy existing brand products and then sell them. Usually, you do not have to create new product listings; instead, they add their offer to an available product listing and sell them.
In wholesale, a bulk of products are required, so you will have to negotiate directly with the manufacturers and suppliers rather than retailers, and in this way, you can get access to the best deals at low pricing for your stock.
Conclusion
Above are the five best ways to source inventory on Amazon FBA that would help you stock your Inventory. However, Amazon sellers also use other strategies to sell their products and earn a good profit.
Choosing the perfect repricer would definitely help the sellers to keep their inventory moving. Any Amazon repricing solution that you choose must be fast, instant, and continuous.
Alpha Repricer is the fastest algorithmic Amazon repricing software. We always keep your prices competitive and help your inventory move at a profitable rate.
So what are you waiting for? Sign up now for our 14- day trial and experience it yourself!