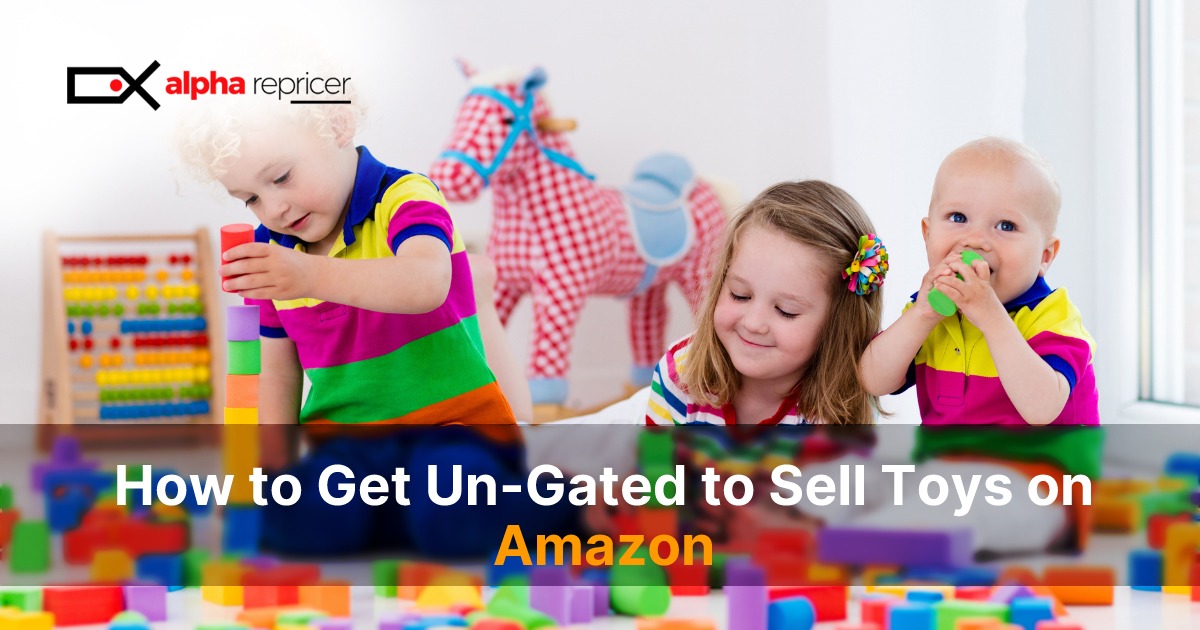 How to Get Ungated to Sell Toys on Amazon- Alpha Repricer
Are you still confused about whether or not you are qualified to sell toys on Amazon during Q4? Imagine making up your mind to thrive this year by selling profitable items this Q4 and not being able to sell TOYS. Dealing with restrictions is not easy and we totally get it. For new sellers, it gets even more tricky. However, we are here to let you know why toys are gated under the subcategory during the 4th Quarter and how to get ungated to sell toys on Amazon.
WHY ARE TOYS GATED IN Q4, THE HOLIDAY SEASON?
Generally, many new sellers are not allowed to sell toys on Amazon during Q4. It is understandable since Amazon wants its customers to be confident when they buy toys during the holiday season. Amazon, therefore, puts restrictions on those sellers who were unable to successfully sell items on the platform or haven't started yet. Most of the sellers get quite discouraged when the products they want to sell are gated. However, to get approval to sell in ungated categories on Amazon, there is a whole procedure for sellers to follow.
Furthermore, any bad quality, damaged packaging or even late delivery of the toys can cause huge damage to Amazon's image. Customers are going to forget about the third party. They will only remember that they ordered from Amazon. Amazon doesn't want its customers to worry about not finding the perfect gift with only a handful of days left to shop. Besides, Amazon obviously doesn't want to put its reputation at stake and so, it does make sense.
HOW DO YOU KNOW IF YOU ARE RESTRICTED TO SELL TOYS ON AMAZON?
Amazon starts sending emails to all the newly registered and normal sellers from August. The tricky part is that the emails are always different each year, coming up with new rules. However, the email of 2020 is pretty much clear.
First off, if you are an FBA seller, you shouldn't be concerned about this at all. You can ignore the email since the guidelines are for Merchant Fulfilling Sellers. Although, we recommend you add Merchant Fulfillment in your strategy for Q4. It will come in handy to sell items in the late season when it becomes difficult to ship items into the warehouses of Amazon.
However, if you are a Merchant Fulfill seller, then this email is for you. Amazon requires that all the sellers opting for Merchant fulfillment have a neat record of being the best Amazon seller. They want to be sure that you are authentic about the quality and delivery of the products. To make it easier for you, we are here to clear the air.
WHAT DO YOU NEED TO GET UNGATED TO SELL TOYS ON AMAZON?
If you want to get unrestricted from selling toys, there are two basic requirements you need to meet.
A CPC
You need a Children Product Certificate for any of the toys you want to sell. Amazon is very particular about the certificate. Toys is the most important subcategory that all the sellers are interested in as it contains the most popular brands.
The Invoice
Invoice from a very reputable and popular wholesaler can save your boat. You need the invoice which shows a fair amount of toys that you have purchased from them to sell.
However, This Year, Amazon has restricted all the new sellers from selling toys and games. Whatever the reason might be, Amazon surely is extra cautious and doesn't want to put its image at stake. It's going to be quite tough for sellers to start selling in ungated categories on Amazon.
CRITERIA FOR MERCHANT FULFILLMENT SELLERS:
If you are aware of the Q4 game, then we pinpoint the most important points from the email of 2020. They might help you in prepping yourself to sell toys this season as a Merchant Fulfill seller.
The first thing you sold on Amazon must be before September 1, 2020. It doesn't have to be toys or games though.
You must have shipped a minimum of 25 Merchant fulfilled orders between 15th August 2020 to 14th October 2020.
Your late shipment rate should not be greater than 4% from 15th September to 14th October.
The defect rate of your order must not be more than 1% as of 14th October 2020.
The pre-fulfillment cancelation of your order should not be more than 1.75% during the same dates.
These requirements are related to Toys and games only.
If you can't manage meeting the requirements, you can still sell toys through FBA fulfillment.
The best part is that the email is much more clear about the requirements than it was way back in 2018. Phew! Amazon states that it will give final eligibility notification before 2nd November. Keep a lookout for that one!
These business practices might stress you out as a seller. Meeting this criterion might be difficult. Though, knowing how to get ungated to sell toys on Amazon helps you stay profitable during Q4. We hope this blog helped you figure out your way to sell toys on Amazon.
Want to know more? Visit our site!