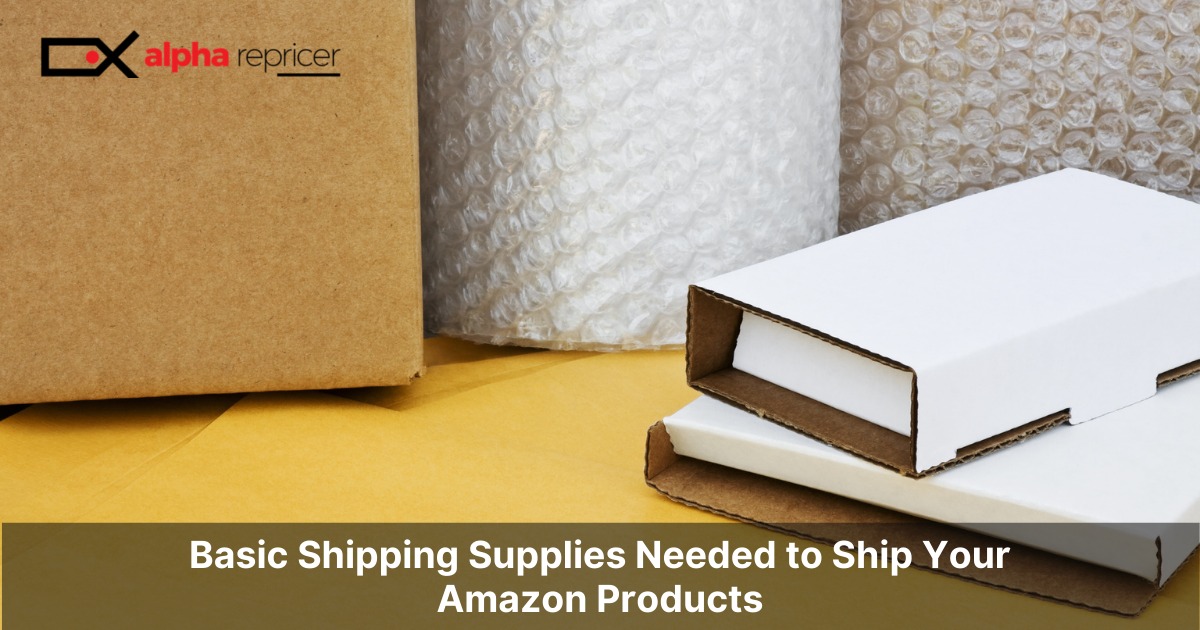 Basic Shipping Supplies Needed to Ship Your Amazon Products
Amazon sellers who choose FBM have to take care of all the packaging and shipping activities for their Amazon stores. It all comes down to planning, coordination, and implementation. If you are new in the game and handling international shipping for the first time, you probably will be wondering what supplies you need to safely deliver your orders to your customers.
Today, Alpha Repricer- the best Amazon repricing tool lists all the necessary shipping supplies you'll require to fulfill international orders. These supplies ensure that they keep your products safe and the customer's purchases are packed properly to reduce any damage and potential loss. Plus, if you get creative with your shipping supplies and package your products beautifully, it can give your customers the best unwrapping experience!
A sturdy, corrugated box!
Corrugated boxes are a must-have if you want your products to be safe while shipped internationally. Every e-commerce business uses them for shipping purposes. Sturdy boxes are great for securing delicate products and provide strong packaging.
When you consider ordering corrugated boxes, make sure you order them in different sizes to have an appropriate-sized box for every product. Furthermore, using the right-sized box is important since you don't want your products to move around during shipping and get damaged. Make sure the boxes provide a tight fit.
Materials to cushion your products
Corrugated boxes won't be enough to secure your fragile products from enduring damages during shipping. You'd want them to stay still, and for that, you need a cushioning material. Such padded materials keep your items from swaying around and stop them from getting damaged. Bubble wrap is the best choice for such small products that are fragile.
If you go for the option of bubble wrap, then make sure you cover your products fully without leaving any blind spots. However, don't fill your box with extra bubble wrap, as it will increase your shipping costs due to an increase in the weight of your packaging.
Tape for packing your products
One of the most popular shipping supplies is packing tape to close your packages. It is a must-have product that any e-commerce seller should have on hand. It helps in sealing your boxes tightly so that your products don't roll out.
However, since packing tape is essential for every Amazon business, it can run out a lot faster than you expect! To avoid getting into a critical situation, always keep your packing tape in stock!
Sealable plastic bags
Plastic bags that can help you sell your products in the box are also very useful. Sellers can fit them around merchandise to keep them intact during shipping abroad. Plastic bags provide an additional layer of security while also preventing your products from rolling around inside the taped box.
They're particularly beneficial when delivering products that can get knotted or tangled, such as clothes and jewelry!
Airbags
Airbags can be great for packing between goods to keep them safe from shifting and causing collisions between products to increases container's security. You must consider adding them to your shipping supplies if you are shipping top-quality items to customers in other countries. Airbags have the advantage of being long-lasting, and you can also reuse them!
Labels
You will also need a proper technique to note down postal addresses to every package fast and easily. This is where sticky labels come in! Such address labels can be purchased from any supply store that sells office products. You can use these labels to stick them on each package and add the shipping addresses of customers.
Shipping papers
Shipping papers can be used as an alternative if you don't want to use boxes to ship your items. This shipping supply is pocket-friendly and best for that item that doesn't require extra protection. If you think your item is not that fragile and packed nicely in its original box, then just wrap it in wrapping paper and add a shipping label.
Thank your customers with a card!
If you really want to give your customers a positive experience and make your product shipping stand out, then you can invest a little in getting thank you cards for every order you ship. Use those thank you cards to write a short thank-you note in beautiful handwriting so that they know you've put in efforts in the packaging. Customers are going to appreciate this gesture and will return to get products from you in the future.
Final Thoughts
If you want to expand your business, make sure you focus on providing your customers with the best shopping and shipping experience. However, shipping is not only a way to have an impact on your customers. Competitive pricing also helps you stand out from your competitors. Sign up with Alpha Repricer- the best Amazon repricing tool to keep your prices competitive! Register for our 14-day free trial and experience our features. Contact us for more information!