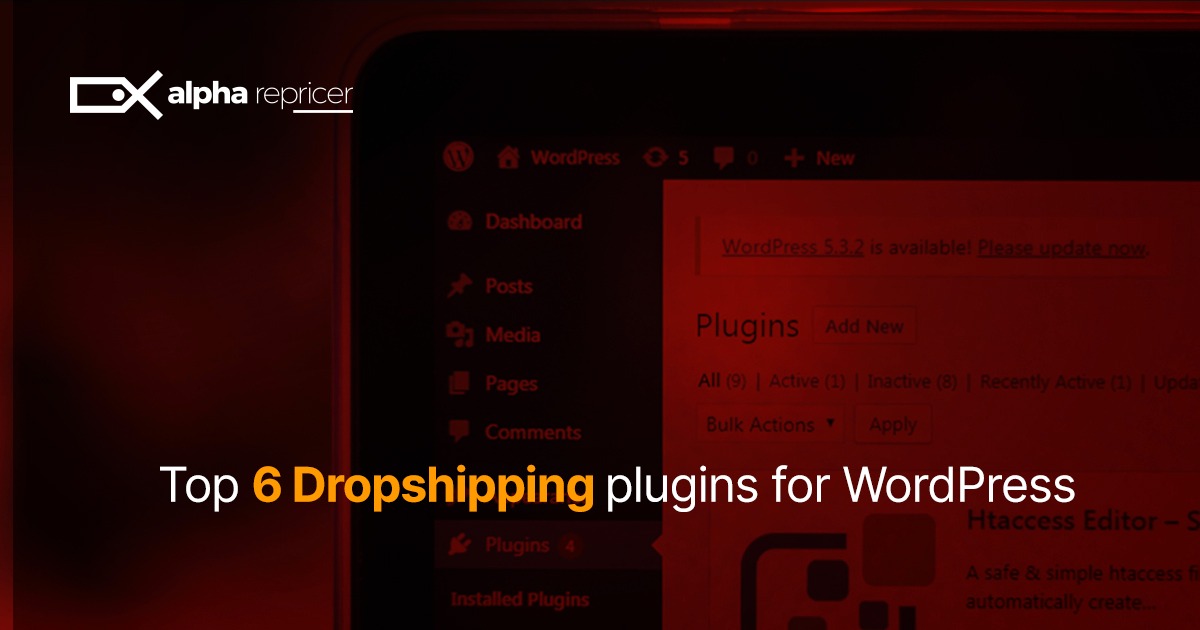 Top 6 Dropshipping plugins for WordPress
For all the emerging entrepreneurs, dropshipping is the easiest way to earn online. You don't have to worry about getting your products and storing them as they directly ship to your customers from the suppliers. Besides Amazon repricing software tools, Amazon sellers can use other helpful apps. WordPress serves as a platform that allows you to set your store for dropshipping in just a few clicks with a wide range of plugins present to help you polish your offers and website in general.
To help improve your online store, we are listing the top 6 dropshipping plugins for WordPress!
1. Dropified
First on the list is Dropified. It is the most popular dropshipping plugin these days and packed with unique features for you to use! The best part about using Dropified is that you can use it collectively with other plugins, for example, Shopify, so you are not restricted to one platform. This plugin's primary role is to help you import items and feature them on your site without any hurdle.
It also keeps a check on the availability and price changes of a product and updates them, so that customer engagement is maximum. Besides, it improves the product's details accordingly, so you don't have to put in any extra effort!
2. WooCommerce
Another trending WordPress plugin is WooCommerce that has an extensive range of features, and guess what? It is free of cost too! This plugin helps you handle each area of your business online, whether it concerns checkouts, shopping carts, payment issues, and a lot more!
As a plus point, you can always use other plugins with WooCommerce so that you still have options to work with!
3. Dropship.me as a dropshipping plugin
Dropship.me permits you to choose items to import from a collection of almost 50,000 trending products! Listed products are usually top-notch, and experts of eCommerce select each! Seeing products from one of the best sellers assure you that all the products you choose will have excellent quality.
This platform's products have professional and real images with names so that you don't have to edit much to put the product in your store. Also, you can use the product reviews given by customers that have used the products previously. This way, it gets easier to bring in more sales than usual as you will already have good reviews and a perfect display of your products!
4. Checkout Manager: Working with WooCommerce
Checkout Manager is a dropshipping plugin to use with WooCommerce side by side to help you look after your process of checkout easily! It manages the billing fields by letting you delete, add, or re-order when you gather information about your customer on the page of checkout.
Using Checkout Manager, you can also disable any option that is not compulsory for your customer to fill at that point. Initially, the plugin is free of cost. However, if you want to invest in a plugin, you can go for the paid version to check out additional features.
5. AliDropship
If you use AliExpress, then this dropshipping plugin should be your go-to! It is handy and gives assistance to set up your site for dropshipping using WordPress.
You can easily import products for your store, place them on your site, and take orders. It also works with other plugins of WooCommerce. The only drawback is that it is not free but comes at an affordable cost. As a plus point, you only have to pay one time and get the advantage of all the amazing features worth spending!
6. Ezusy as a dropshipping plugin for WordPress
Another essential plugin to use when you are working through AliExpress is Ezusy. It is the ideal plugin for your business of dropshipping. This plugin helps you to set your Woocommerce store by importing any product you wish to have there. All you really want to do is choose any product you think is trendy and voila! The plugin does everything else for you so that you don't have to go through the process manually.
Another best part about using Ezusy as a dropshipping plugin is keeping a check on your inventory and updating information. Also, it responds to the price changes so that you can have all the data on point. Besides, it collaborates with other plugins of WordPress and can work with any theme!
Now you have a list of plugins available for dropshipping and you can pick out the perfect plugin that fits your dropshipping store! To stay updated with all the newest information, please visit our site!
Alpha Repricer is known as the fastest Amazon repricer, which offers instant, continuous repricing without extra charges! If you want to optimize your sales and bring in more customers by staying on top, then reprice with us! Let us be the reason you get ahead of your competition. Sign up now for our 14-day trial to increase sales and profit! Receive 50% off for 2 months of the best Amazon repricing tool.
Tags In