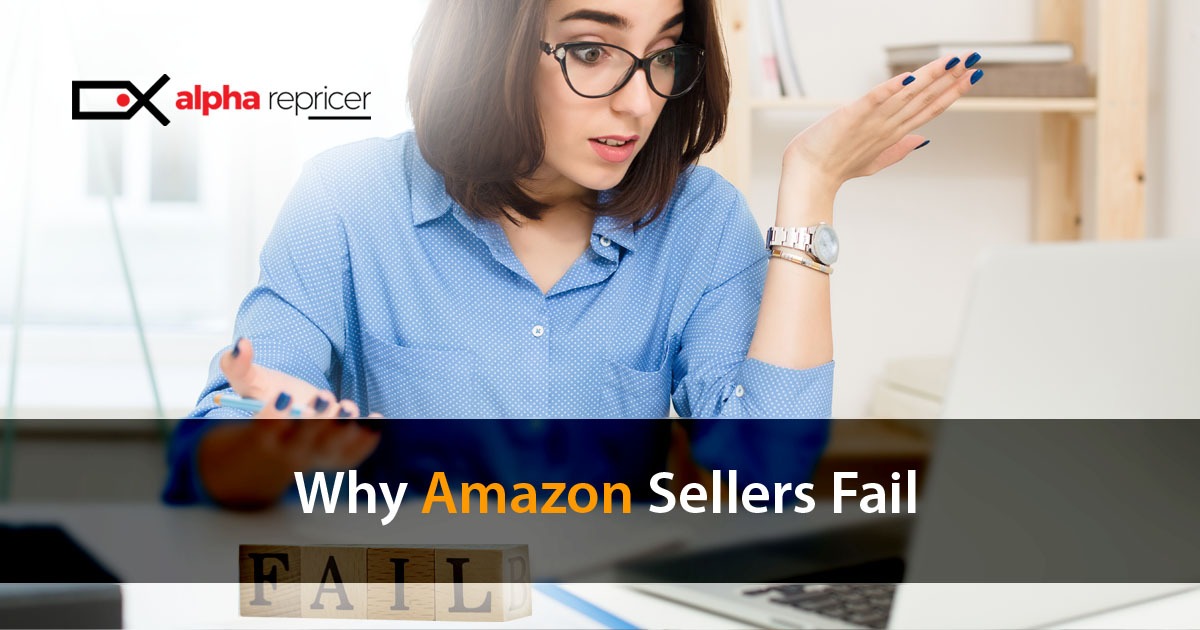 Why Amazon Sellers Fail? Reasons why Amazon sellers fail to succeed
Many Amazon sellers have successfully scaled their businesses to generate millions of dollars in revenue on Amazon. However, not everyone who begins selling on Amazon succeeds. The majority of the sellers fail, maybe because of not paying extra attention or taking their business seriously. Running a successful business on Amazon is not easy but it is not impossible, your chances of success are greater if you have the right amount of capital, correct advice, patience, and commitment.
In this blog, you'll learn about the top reasons why Amazon sellers fail to establish a successful business on Amazon!
Table of content:
Customer service is poor
For Amazon, customers are the topmost priority! If you are selling on Amazon without handling your customers well, then you are at a risk of losing your seller account. If you don't respond to consumer complaints or deliver their products late, it will significantly impact your sales. Furthermore, Amazon won't rank your items in Amazon search results if you offer poor customer service.
It might be tough for sellers to handle each element of their business on their own while delivering excellent customer service.
To deal with this issue, make sure you start responding to your customer issues on time. Address them politely and offer fast shipping. Even if you fail to fulfill their expectations, apologize and send them a coupon or offer any special discount to help them return to your store.
Negative feedback and reviews
Sometimes, even minor issues might result in negative comments and feedback from customers. Customers don't like receiving damaged items or getting their items late. Plus, they hate it when the product doesn't last as long as it claims. Such small issues may disappoint buyers, resulting in a flood of negative reviews.
Always make sure you provide your customers with top-quality items to stay away from negative reviews. Don't settle for cheap products to sell on Amazon. Go through your reviews section daily to find out if there are any negative issues and problems your customers are having with your product. Reach out to them and try to solve the issue by enhancing your product quality.
Choosing the wrong item
This can be counted as one of the most common reasons sellers fail to grow their business on Amazon.
When sellers are eager to start selling as soon as possible, they rush to release their product in the market. But it is important to take the time to research the market and products. Getting your hands on the best products from top niches is important to sell successfully on Amazon.
Never settle for less! Make sure you invest your time in identifying the item that suits your business the best and then put in the effort to promote it with the right strategy. With the right product niche, you will be able to start focusing your strategy to market and sell your products.
Going forward with the wrong business model
Choosing the right business model for your Amazon business is very important. However, most retailers fail to determine their selling costs and profit margin and choose the wrong business model. The right business model will fit your work style, your budget and the niche that is of most interest to you.
There is no one-size-fits-all model for your business on Amazon. Amazon sellers must do their research and determine which business model fulfills your requirements according to your profit margins. Go with the option that will earn you money and increase your visibility.
Not being able to keep competitive prices.
Keeping your product prices competitive is the key to stay ahead of your competition and increase sales on Amazon. However, when you fail to keep up with all the price changes that occur almost every second on Amazon, your products start ranking lower in search results, and eventually, you lose sales. Repricing is necessary to stay on top of Amazon, and manual repricing won't help when you have other business aspects to handle and can't monitor changes.
This is where automated repricing comes in! Alpha Repricer, the best Amazon repricing tool, helps you keep your prices competitive to win the Buy Box and get maximum sales. We are the fastest Amazon repricer in the industry, repricing your products in under 2 minutes. Visit our site to learn more about our Amazon repricing tool, and if you like what you see, sign up for our 14-day free trial!
Inventory mismanagement
Amazon sellers usually fail in managing their inventory and these issues can last for months before it gets sorted out. Many issues can come up, such as running out of stock while you are selling, supply chain problems, and incorrect pricing.
Ensure always to monitor your sales velocity and restock your products before you feel like they might run out. Second, choose a supplier that stays transparent with you and supplies your inventory with care. Recheck your items before paying the suppliers. Avoid manually entering your product prices and yet again, let a repricer do it for you!
Sign up with Alpha Repricer– the best Amazon repricing tool and let us help you stay on top! Experience working with the fastest Amazon repricer in the industry by signing up for our 14-day free trial and then decide if we are the right choice for you!