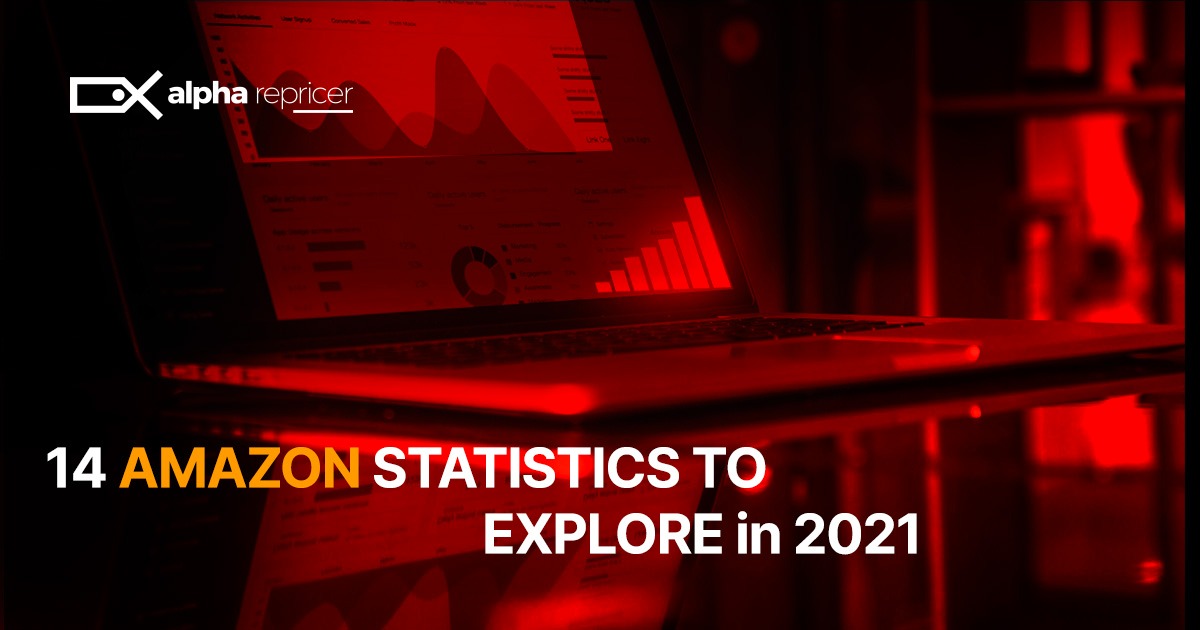 Top 14 Amazon Statistics – 2021
Amazon is known to be the largest and most significant online retailer in the world. When we discuss eCommerce, Amazon tops the chart and has become a household name for online shopping. And so, this leading company continues to provide exceptional services and incorporate up-to-date products and acquisitions to gain customer satisfaction. Here are few Amazon statistics that help users.
If you are considering selling on Amazon, then these statistics will not only motivate you; they will blow you away. If you play well, then you can also make it in the world of eCommerce.
Here are the top 14 Amazon Statistics that you need to know in 2021
1. Increase in Amazon app users
This vast online store is second to none. It continues to lead the online market in the world. It is estimated that more than 145.2 million people use the Amazon app compared to the other online shopping apps of the world. The Amazon app's remarkable and tremendous growth is its customer satisfaction and smooth experience.
Amazon mobile app is straightforward, simple, and easy to use. Millions of people access this app every day, making it the most popular app ever.
2. Trust factor
Amazon is congruous in providing the best and most efficient experience to its customers. If you own a brand or business, you might learn some Amazon skills in terms of building and maintaining customer's trust. According to a survey, about 89 percent of people prefer to buy products from Amazon compared to their competitors.
The power of this trust has made Amazon the heart of online shopping in the world. In this age of technology, being faithful to your customers and services is what makes you stand out. Customer satisfaction is not easy; it takes a lot of consistency and transparency to create a strong relationship with your customers. And this Amazon statistic helps to win the hearts of people.
3. Amazon Prime members
Amazon Prime is the strength and backbone of Amazon. The members of Amazon Prime are always on the run. According to the Amazon statistics, its membership boosted from 95 million to 103 million. It is a paid subscription and is also open to international shoppers. Besides ordering products, this app also provides more incredible and impressive features like a two-day free shipping service, music, video streaming, and many other benefits.
Amazon Prime members enjoy more benefits, which is cost-effective as compared to the non-members. Its membership costs $119 per year or perhaps, or $12.99 per month. Amazon makes sure to provide tremendous comfort to its Prime Members.
4. The most popular section on Amazon
The most popular category on Amazon is its electronic section, followed by jewelry, shoes, and clothing. Amazon always strives to include more niches to balance and cover the overall need of its customers, which would help them to attract more customers.
The enormous products that Amazon offers to customers have become its strength. Extending the list of its new products also continues to new types of users, which means more profit.
5. Amazon product counts
Besides the many categories, the number of products on Amazon is enormous. You can find everything virtually on Amazon, which is the one reason it has become so popular. According to the Amazon statistics, the total products are expected to be 119,928,851.
The total quantity of books makes the largest category, amounting to over 44.2 million products, after electronic and the kitchen sections. One of the critical keys to Amazon's success is the addition of new products. Initially, they started with books, and today they have diversified their product line.
In addition to this, they are continuously striving to incorporate more products, which has made it more successful.
6. Amazon Prime Day ground breaker
This Amazon statistic may boggle your mind, but it will inspire you. On Amazon Prime Day, Amazon prime members from all over the world bought more than 100 million products in 2018. The primary purpose of this event was to celebrate the 20th anniversary of Amazon and was first held in 2015. But its popularity has made it an Amazon trademark. This Amazon event was introduced into many countries including Germany, Spain, Mexico, France. These special days on Amazon have even beaten black Friday sales.
7. Amazon evaluated by device usage
Another Amazon statistic that will stun you a little is that about 68 percent of people prefer to shop by using their desktops or computers. In contrast, mobile users make up only 25 percent. However, the age factor plays a vital role in the type of devices used. Research shows that people from 35 years or above prefer using the desktop. Whereas people below that age prefer using their phones or tablets.
But if you think about the future of online shopping, keep in mind that it would always be an essential aspect because mobile makes the shopping experience simpler, accessible anywhere, and fun.
8. Number of products sold every minute by Amazon statistics
There are almost 2.5 million sellers on Amazon; most sellers sell their products even without having any eCommerce site. On average, almost 400 products are sold every minute. Amazon has not only made shopping easier and simplified but has also created job opportunities for the people. It also helps small and medium-sized companies to perform and grow their business well.
9. Total number of Amazon sellers
According to a report of 2020, Amazon has more than 3 million sellers on its platform. Sellers sell their products on Amazon without any hurdles. Every year, hundreds of thousands of sellers join Amazon to sell their products and make Amazon the number one online shopping marketplace. Sellers follow many tips and guidelines to optimize their listings to perform well.
10. Sellers and consumers can't resist Amazon
Amazon statistics show that there are more than 6 million sellers on Amazon, including inactive sellers. According to a report over 140,000, Amazon sellers generate $100,000 annually. Another exciting factor is that almost 3000 sellers join Amazon every day. The most frequent Amazon members are its prime members making Amazon the leading online retail platform in the world.
11. Third-Party seller and fulfillment by Amazon statistics
FBA works as a service to third-party seller and has helped many sellers in shipping and packaging the products. FBA saves time and money for sellers and allows them to gain customer satisfaction. According to a report, 66% percent of Amazon sellers use FBA to make their shipments easy.
12. Amazon traffic is astounding
According to a report of 2020, Amazon was ranked 10th in global internet traffic engagement. Most of the Amazon traffic comes from the US. Almost 49% of US consumers visit Amazon.com at least thrice a week. 212.24 million unique US visitors grace the Amazon site. Translates into 88% of consumers visit this page at least once a month, which has made Amazon the most trustworthy and reliable online retailer in the world.
13. Provides employment opportunities
According to the Amazon employment statistics, Amazon hired more than 100,000 new employees during the coronavirus pandemic and provided many employment opportunities to people all over the world.
14. Inspiration is the reason people visit Amazon
Today, every buyer's first destination is Amazon because it inspires people by providing them products on time. Amazon has become an icon in the world of online shopping. It has inspired the common man to become an entrepreneur and dream big. More and more sellers are moving toward branding their own products because Amazon has made the process accessible to all. Anyone can create a brand of their own and display it to millions of buyers.
Conclusion
Amazon has made a significant impact on the world of the eCommerce market. Knowing these statistics would become easy for you to buy and sell your products on Amazon. Furthermore, you will benefit from Amazon because It has become quite clear that this company wants to stay and lead the online market.
We hope you find this article useful. Learn more about Amazon by reading Alpha Repricer's blogs!