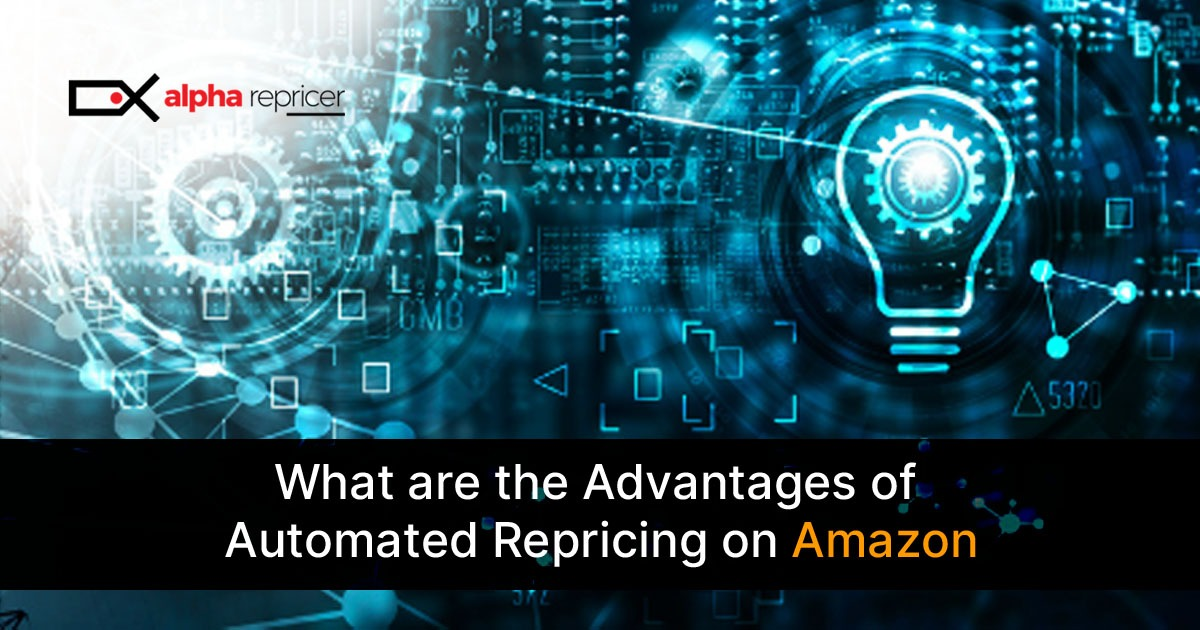 What are the Advantages of Automated Repricing on Amazon? Benefits of Automated repricing
Selling on Amazon without using an automated repricing tool can be a bit overwhelming. Manual repricing adds to your workload and can be a waste of your time and money. However, using an Automated repricing tool can help you reprice your products to stay competitive without making any extra effort. Alpha Repricer suggests that you use Automated repricing to increase your chances of success because the benefits exceed the drawbacks.
We've listed a few of the advantages that an Amazon repricing tool offers you. Keep on reading to find out how Automated repricing helps you expand your Amazon business!
1. It Helps You Save Time!
Using the best Amazon repricing tool will, without a doubt, save you a lot of time. The time and energy you would typically spend on inputting all the SKUs manually, and doing it all over again when necessary, can be put to better use. With an Automated repricing tool, you simply need to specify the rules, and then your repricing software will take care of the rest! It ensures that your products are repriced under the price limits you've mentioned. As soon as the repricing tool receives notification from Amazon, it instantly reprices your products without wasting any time!
You can eat, sleep and relax while your automated repricer works 24/7 to keep your product prices competitive!
2. Devoid of Human Error!
Humans are prone to making errors. Mistakes can be as little as not reading the right product to reprice or inserting an extra decimal somewhere. However, these tiny mistakes can get you in a lot of trouble.
To prevent human error, opt for Automated repricing. It is precise, never mixes up numbers, and completes the tasks exactly how you describe them. The automated repricer makes it capable enough to manage all the processes, which is why it doesn't make the same errors as humans do.
3. It is Way Faster Than Manual Repricing
Manual repricing means you are in charge of monitoring all the price changes taking place, comparing them to your products, and then adjusting your prices accordingly. You spend so much time manually repricing your products that you stop focusing on other critical areas of your business, which results in you losing sales. However, Automated repricing makes sure to reprice your items in real-time, without wasting a single second! It efficiently implements your rules to get maximum sales for your business!
4. It Helps You Get the Buy Box For Your Amazon Business!
According to the algorithm of Amazon, winning the Buy Box helps you gain a large portion of sales on the site. However, to win the Buy Box, you must have an Amazon repricing tool that makes sure you have competitive prices to offer.
Price changes occur very frequently on Amazon, and sellers must not take it lightly. Get an Automated repricer to maintain your product prices, and adjust them at the right time based on your competitors.
Want to know how we can help? The Buy Box Hunter offered by Alpha Repricer assists you in securing the Buy Box and attain it at the highest price possible. Please take a look at our blog to know more!
5. Logic Takes Priority Over Emotions!
When sellers watch their sales decline or hit lows, they start panicking and make irrational decisions of selling at the lowest price point. We understand that you can get upset, and well, you have all the right to! However, with the best Amazon repricing tool by your side, your prices won't drop down to the lowest just to get sales. A good repricer will make calculative decisions by staying within the min/max limits you set and not affecting your profit margin.
6. It Increases Your Sales!
Repricing is one of the most effective strategies to get maximum sales on Amazon and a competitive edge over other sellers. An automated repricer reprices your products continually, ensuring competitive prices. Once you start offering the best prices on Amazon, you will start getting the majority of the sales, resulting in a profit gain.
Buyers are more likely to purchase items from you if you offer better prices in the market. It is always beneficial to sell high-quality items at the best possible prices.
Automated repricing is faster, more effective, and definitely the best option if you want to keep your product prices competitive. Now that you are familiar with all the benefits a repricer could offer you; we'd like you to experience our repricing tool first! Alpha Repricer , the best Amazon repricing tool that offers instant, continuous repricing, and us being the fastest repricing tool in the industry is a plus point!
Sign up for our 14- day free trial, try out our features, and then decide. Sign up now or contact us for more information.