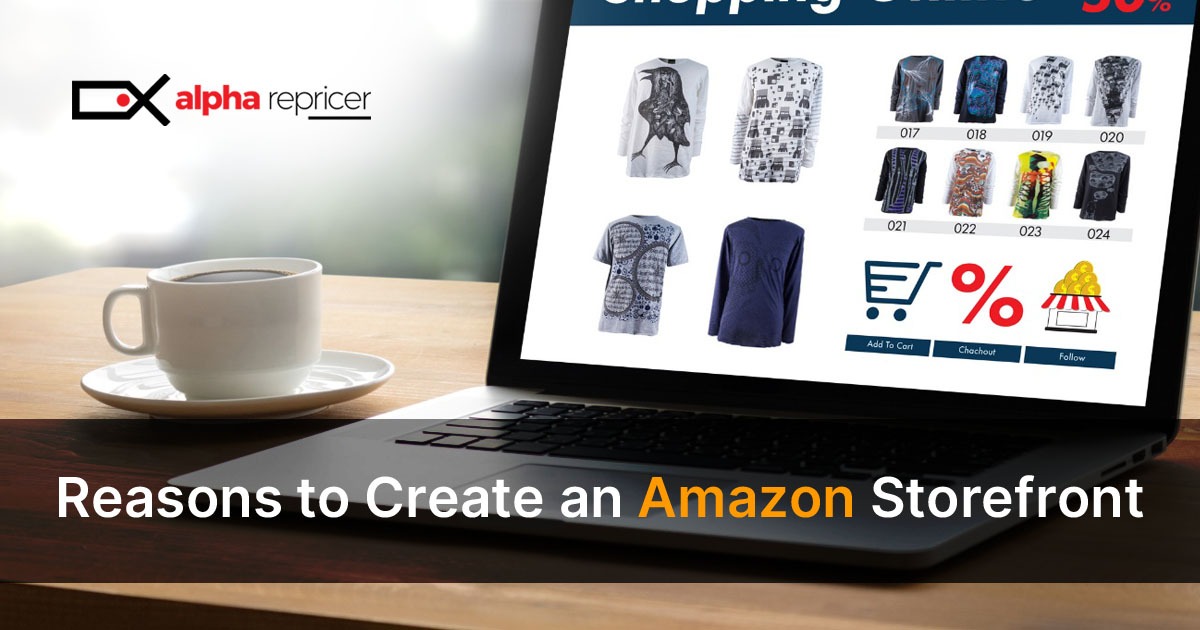 Best Reasons to Create an Amazon Storefront
Amazon provides very limited space for each Amazon seller to market their products. Only a portion of a product's features and USPs can be presented. This is where an Amazon storefront comes in handy! Sellers may set up their very own stores on Amazon and that too, for free! These branded stores give you an opportunity to showcase your products and market your brand in creative ways. They also provide the option to attract and track external shoppers.
However, you must invest your time to ensure your Amazon store is going to maximize your sales and profit. You will also need to play around with your layout and presentation to see what increases your business. To help you start, Alpha Repricer– the fastest Amazon repricer is here with a few reasons why your business needs to have an Amazon storefront.
1. It helps in building your brand image!
An Amazon storefront is the best option for your business to increase visibility and promote your products in an open space. It gives Amazon sellers a chance to inform your potential customers about your brand while highlighting your top items. Shoppers can easily find out about your product line and offers through your store rather than looking for each one separately. You can bring in your creative ideas, add attractive images, and display your storefront with personalized colors and a brand logo! That helps customers trust your brand and increases brand awareness.
2. Undivided customer attention!
When you start advertising through Sponsored product ads, it opens doors for you to drive your shoppers directly to your Amazon storefront. Driving traffic directly to your storefront helps minimize the chance of customers getting distracted by your competitors' items. Sellers can also market their products on other social media platforms and direct shoppers to their Amazon storefronts.
3. Get creative with your ideas!
Imagine your Amazon storefront making you stand out from the competition with eye-catching designs, colors, top-quality images, and video content! If you come up with innovative ideas to make your storefront appealing, shoppers will prefer visiting your store and buying products from you. As a result, your customer base and sales will increase! Include product images with a 360- degree view on your storefront and advertise your products by adding videos that show all the amazing features of your items. Customers will understand your products' features and benefits and will be able to make a more informed and engaged buying decision. With a clear presentation of your products, customers will surely shop from you!
4. It comes in handy throughout the holiday season.
Shoppers get super smart during the holiday season and go through many different items and brands before making a purchase. With the help of a storefront, you have a larger platform to present your unique products in one spot. Moreover, you can divide your products and place them in categories so that your product collection is displayed in an orderly manner. You can include multiple pages if you choose to divide your products into subcategories. It is incredibly beneficial for your business throughout the year but more valuable during the peak selling season.
Sellers on Amazon are increasing on a daily basis, and having an Amazon storefront allows you to skip unnecessary competition by attracting your customers in a more inviting way.
5. Access to analytics
You can monitor the performance and output of your Amazon storefront by vising the dashboard of Store Insights. You can find all the necessary data such as visits, sales, and conversations you had each day! It helps you keep track of your sales and profit. And if you are running any external campaign, you can evaluate its performance through the analytics dashboard.
Do you want to find out how to create an Amazon storefront? Click here!
Alpha Repricer, the fastest Amazon repricer, is now offering a 50% discount for 2 months. Sign up for our 14-day free trial, in time for Amazon Prime Day 2021! Let us reprice your products to help you stay competitive! Contact us for more information, today.