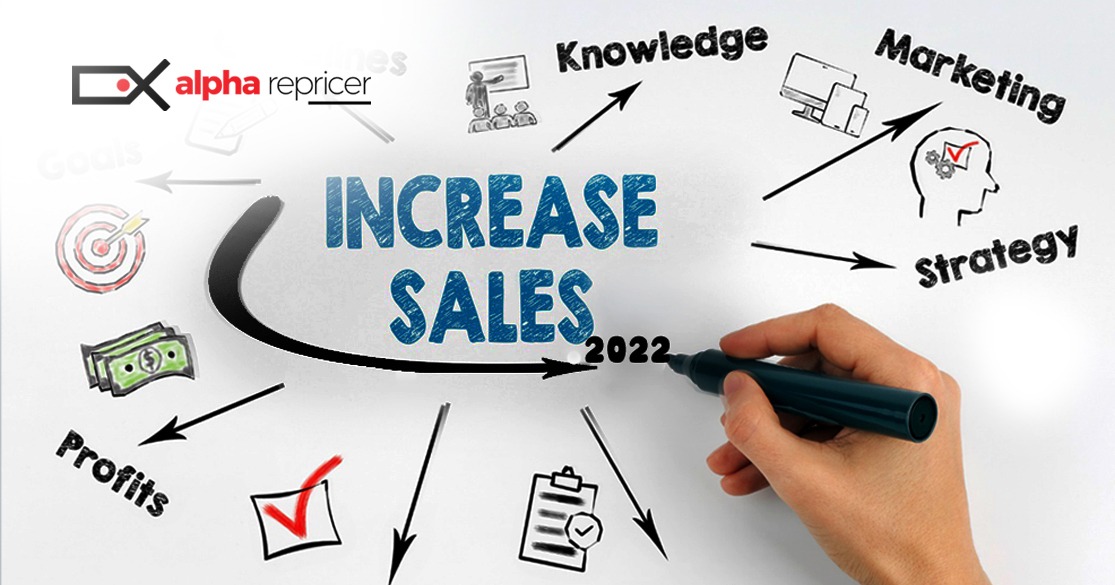 Top Amazon Selling Tips to Increase your sales in: Tips to maximize profits
With hundreds of sellers joining Amazon on a daily basis, the competition is getting a lot more fierce on the platform. Buyers, as well as sellers, are now realizing the opportunities that Amazon can provide, meaning that buyers can order almost any product they want, while sellers get a chance to sell their items to millions of customers that visit the website daily.
However, as a seller, if you don't have the right approach to sell on Amazon and a flexible strategy in place, you could end up making minimum to no profit on the site.
Alpha Repricer has put up the top seven suggestions for you to follow in order to ensure your Amazon business is getting the visibility and attention it needs to get maximum sales.
Let's have a look.
Table of contents:
Listing Optimization
We cannot emphasize enough the importance of optimizing your listings and getting them to rank in the SERPS. The most crucial selling tip for Amazon is to make sure you use high-ranking keywords so that the search engines can identify your product easily and bring it on the top. It is very important for the search engines to find your product, and understand what you are selling so that they can rank your product accordingly.
There are quite a few keyword research tools out there that offer free as well as paid services to pinpoint all the high-ranking keywords, with lesser competition. Once you get all the major keywords, use them in your product description, title, bullet points, as well as the backend of your product listing.
However, don't overstuff your listing with keywords and make sure that your content is readable, and informative for the buyers. Only use the keywords where it seems appropriate.
Have An Effective Pricing Strategy
Competitive pricing is the way to go if you want to compete with the top-selling brands on Amazon and get one step ahead. Unless you are the sole seller of any product that customers can't buy from anywhere else, it's better to lower your prices to attract customers while still making the profit you had in mind.
Moreover, apart from having competitive prices, it is also important that your product prices stay up-to-date and according to the marketplace. You need to be proactive and set your prices according to the market demand, new competitors, and all the price changes taking place around you.
If you are a new seller on Amazon with lesser inventory, you can reprice your items manually according to your competitors. However, if you are dealing with a wide range of items, algorithmic repricing is the key. A repricing software considers all the major factors to get you maximum sales, earn a profit, and get the Buy Box for your business. You don't have to reprice each product by yourself, the repricer does it for you while you take care of other aspects of the business.
Sign up for a 14-day free trial to see how the best repricing tool can help you offer the best prices on Amazon.
Win the Buy Box
The next Amazon selling tip is to try your best to get your hands on the Amazon Buy Box. Sellers that win the Buy Box for their products see a massive increase in their sales on Amazon. The only drawback is that while Walmart has issued a clear strategy that it follows to hand the Buy Box to their sellers, no one knows for sure how Amazon's algorithm works, and whilst we may know the factors that help win the Buy Box – we can only guess the importance of each factor. Some of the key factors that help in winning the Buy Box are listed below:
FBA
Competitive prices
Feedback and reviews of the product
Availability of inventory
Seller ratings
Make sure you implement the right strategies to incorporate all the factors mentioned above to win the Buy Box as well as increase your sales and brand visibility.
Use FBA
The program of Fulfillment by Amazon allows retailers worldwide to delegate a larger portion of the order fulfillment process to Amazon. Sellers can store all their items in the warehouse of Amazon, from where Amazon will pick the ordered products, pack them and deliver them to the customers.
Of course, signing up with Amazon FBA is not necessary to become the best seller on Amazon, however, it opens up more opportunities by giving you access to offer your products to the Amazon Prime sellers, and provides exceptional delivery time to your customers.
FBA comes with a higher cost, but having FBA, and the prime badge instantly develops trust within customers regarding your brand as well as increases sales.
Work On Your Content And Images
Your product images play a vital role in helping customers decide if they want to buy your product or not. If you want to attract more customers, then make sure you invest time and money to get your products professionally clicked. A blurred image immediately establishes a misconception that your product might be fake or not how it appears. Plus, when customers can't even see your product clearly, how can they go ahead and purchase it? Click your product images in front of a white background and make sure you display how your customers can use the product in their daily lives.
Moreover, the content written should be easy to read, informative, and attractive to help in building a positive image regarding your brand. Be as creative as you can to highlight your product and mention how it is different from your competitors. Promote your products on Facebook and Instagram that offer a chance for you to upload images and share your content to attract buyers. Run your discount offers on social media platforms and do whatever you can to let customers know you offer quality products.
Provide The Best Customer Service
It all comes down to how you deal with your past, present, and returning buyers on Amazon. Optimizing your listing and nailing your game in other areas is not enough if you don't focus on assisting your customers in every way. Respond to their emails, solve their issues and deal with them politely to make sure they shop from you again.
Ask them to leave reviews on your product page and if you get any negative feedback, then tackle the situation professionally so that they can change their mind and maybe turn the negative review into a positive one.
In conclusion,
Investing the right amount of time, budget and resources can help you build your brand reputation and increase sales and profit. Make sure to go through every factor and form the best selling strategy to grow your Amazon business. If you make up your mind to use an Amazon repricing tool, sign up with us.