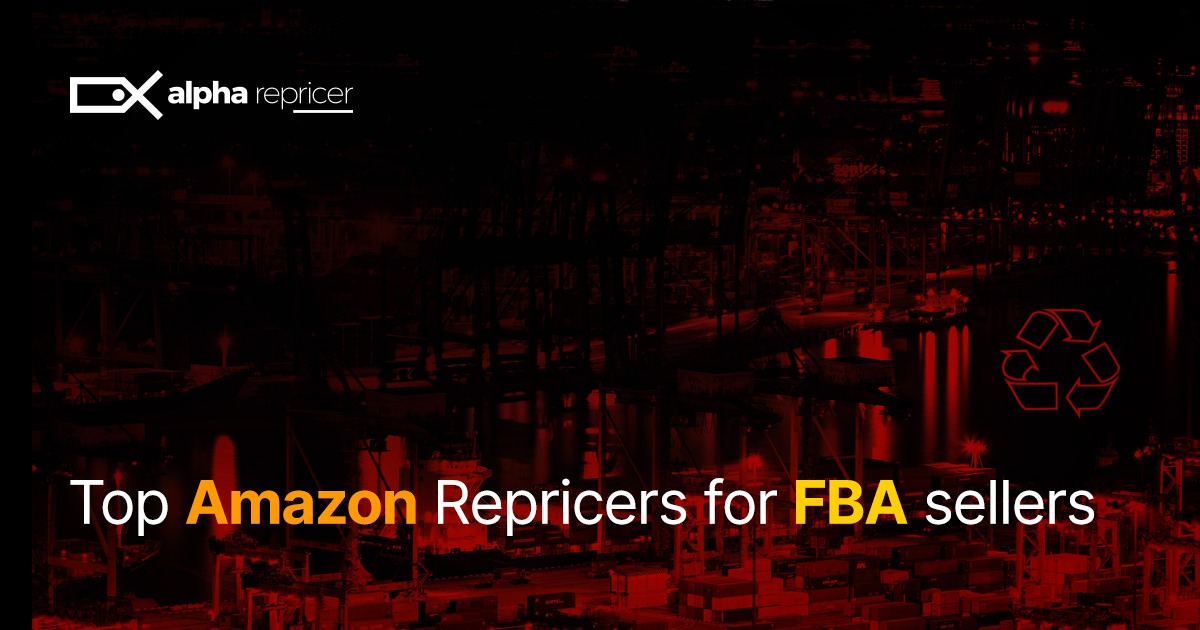 Top Amazon Repricers for FBA sellers
Many FBA sellers are looking for an Amazon repricer this time of the year. It is an essential tool to have to stay competitive. If you seriously looking for the best amazon repricer. Let's see what the top 5 repricing tools are out there.
1. Alpha Repricer
Alpha Repricer offers continuous, instant, and real-time repricing! It helps you maximize your profits and sales, and once you sign up, you will see yourself increasing sales. Alpha Repricer's algorithmic repricing and the powerful formula get you the Buy Box you need and retain it for a more extended period. It is the fastest Amazon repricing tool globally and responds to each price change in about 65 seconds. Plus, it doesn't just drop your prices, it also prices up. So you don't have to worry about your profit margin either!
As a seller, we know you want to stay updated with whatever changes occur in your listings. Alpha Repricer gives you the right to control and monitor each area of your inventory. You choose who you compete with, and then we take it from there! Plus, you give the most current reports providing you with all the necessary data to get an insight into your sales. In short, Alpha Repricer wants you to make the right decision too! We offer repricing in multiple Amazon marketplaces and offer affordable pricing plans. New, as well as large sellers, can sign up with ease!
FBA sellers can set the repricing to start at a maximum price as soon as their inventory gets replenished at the Amazon warehouse. The repricing engine then quickly settles the price to meet or beat the competition. The best part! It is affordable, effective, and without any hidden or extra charges! Alpha Repricer can reprice inventories of any size. Besides, you can sign up anytime and cancel whenever you wish to!
Plus point: If there are any FBM sellers reading this post right now, please don't be disappointed. We are not in this FBA vs. FBM war and we definitely support FBM sellers as well!
Trial: 14-day trial without the necessity of adding your credit card info.
Pricing:
It starts at $25 monthly for 1000 SKUs (single marketplace)
$33 for 1,000 SKUs if you want to sell in multiple marketplaces
$50 monthly for 5,000 SKUs unlimited marketplaces
$75 for 10,000 SKUs unlimited marketplaces
$100 for 25,000 SKUs unlimited marketplaces
$175 for 50,000 SKUs unlimited marketplaces
More than 50,000 –

contact Alpha Repricer
2. RepricerExpress
RepricerExpress offers real-time repricing without any extra costs. Their subscription plan starts from $99 for 5,000 products. However, lower budget sellers get hourly repricing with about 600 repricing events only. The best Amazon repricer functions in 16 marketplaces. You can make use of many other features and customer support for 24 hours by paying $49 monthly.
Trial: 15-day trial.
Pricing:
Starts at $55 for 2,500 SKUs
$79 for 5,000 SKUs
$249 for 50,00 SKUs
More than 50,000, you need to contact them directly.
3. Bqool, Amazon repricer
Bqool is yet another Amazon repricer that is available in the market for Amazon sellers. You can make smart decisions by deciding who you go against. They respond to price changes after every 15 minutes for smaller SKU plans. For larger sellers, they react after every 5 minutes. Bulk ROI settings are not allowed at the $25 subscription. Users can not download reports unless they are at the $100 subscription.
Trial: 14-day trial
Pricing:
$25 monthly for 1,000 listings (Reprice every 15 minutes)
$50 monthlyfor 5,000 listings (Reprice every 15 minutes)
$75 monthly for 7,500 listings
$100 monthly for 10,000 listings (Reprice speed of 5 minutes)
4. Informed.co
Informed.co was known as Appeagle before. This particular Amazon repricer offers a complete package with advanced options to reprice the smart way. They make sure you stay competitive and win the Buy Box. You can choose your competitors and keep track of what's going on during the process. They charge you on your revenue.
Trial: 14- day trial
Pricing:
$79 monthly for up to $5,000 revenue
$99 monthly for up to $10,000 revenue
$149 monthly for up to $30,000 revenue
$199 monthly for up to $50,000 revenue
$249 monthly for up to $100,000 revenue
$299 monthly for up to $500,000 revenue
$399 monthly for up to $1,000,000 revenue
$499 monthly for up to $2,000,000 revenue
Custom for $2,500,000 + revenue
5. Seller Snap
Seller Snap, another Amazon repricer, linking business intelligence with automated repricing. It helps you optimize your sales and profits while maintaining a price point that doesn't bring you down.
Trial: 14-day trial.
Pricing:
You will have to visit the Sellersnap website to see what they offer in each subscription & get recommendations for the best amazon repricer
We hope you find the accurate Amazon repricer for your listings. The main point is that choosing a repricer is never about FBA vs. FBM and whether or not an FBM seller needs a repricer. Every seller needs one to survive on Amazon, so make sure you get your hands on the best one! Do thorough research before you choose any, and don't miss the fine print. It is imperative to check so you don't miss any important information. Make sure you choose the right Amazon repricing tool according to your business and, of course, affordability.
To give us a try, sign up for our 14- day trial, or contact us for more information!