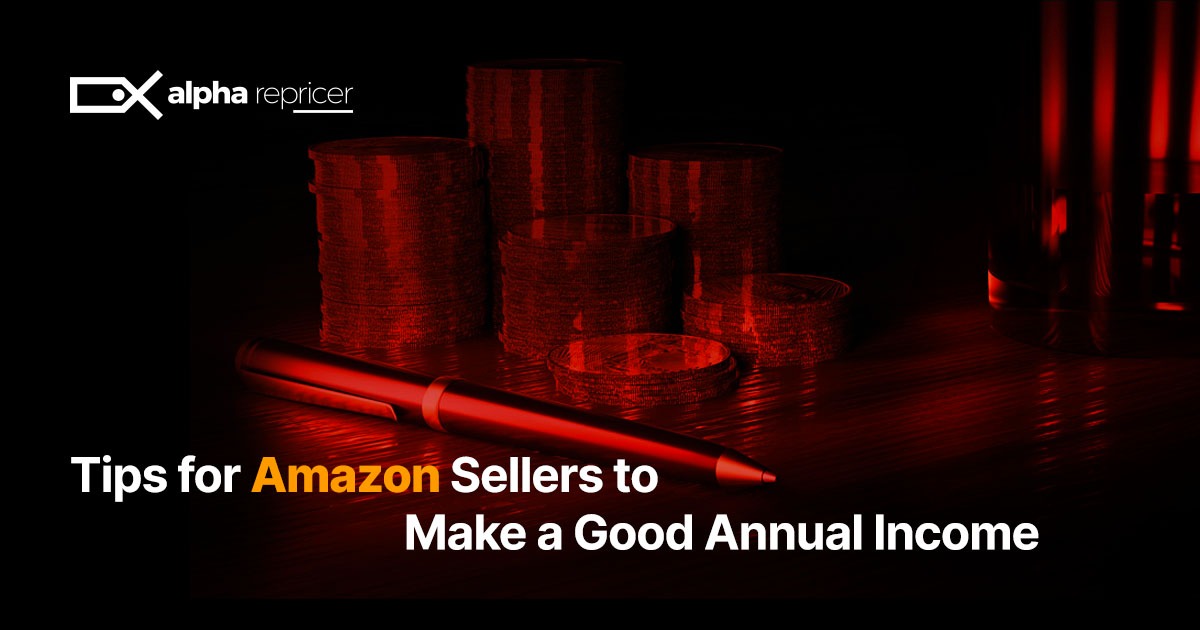 Tips for Amazon Sellers to Make a Good Annual Income
We've seen many headlines and hot topics across the internet about Amazon sellers. Frankly, the eCommerce industry has opened up a new frontier for the common man. People with little or no experience are finding it possible to dream of having a 6-digit income. The whole Amazon movement is similar to the gold rush; where anyone with energy could become rich overnight. Likewise, Amazon has practically erased the barrier to entry for online business. Anyone with energy and as little as $100 can start a business on Amazon. There is a lot of horror stories of sellers being left out in the cold after establishing a business. Many sellers complain of harsh rules. But perhaps the stringent standards have established Amazon as a reliable and easy platform to shop from.
Amazon's strict adherence to copyright and intellectual property laws put the buyers' mind at ease that they are buying the real McCoy. For a buyer, the fast shipping and easy returns are the best things since the denim jeans that Levi sold to the forty-niners.
This reputation has been the reason for Amazon's growth. And as a result, has been a fertile ground for laymen to start business endeavors. While there are some accounts of mishandling of sellers' cases, there are also stories of mindboggling success. There is the story of Mark, who never applied for a job after school, started selling on Amazon, and now earns a 6-digit income. Then there is Jessica, who did so well in her Amazon business that her husband quit his job to sell with her.
As per an eCommerce survey, Amazon is a selling behemoth, attracting nearly 50% of all online products along with quick and free shipping. We can say that when consumers end up on Amazon.com, they are very close to being ready to pull out their credit card and make that purchase.

So is the market for new sellers saturated? Not quite. The size of Amazon alone is keeping the momentum going. New marketplaces are opening up also. So if you have a computer, you can very well try to become the next millionaire. But first, do some research.
Amazon sellers can be profitable in first year
Some survey reports say, the bulk of sellers may be profitable in the first year. Profits within:
3 months: 22%
3-6 months: 22%
6 months-1 year: 23%
1-2 years: 13%
More than 2 years: 3%
Even those Amazon sellers who started later, earned hefty profits in 2018 and 2019, and also the bulk (63%) were profitable among their 1st year. Became profitable within:
3 months: 16%
3-6 months: 23%
6 months-1 year: 24%
Which business model is best for you
So, however, does one start merchandising on Amazon? There are three business models that are popular.
Make your own brand
This is the most investment-heavy method, therefore more risk involved. For the same reason, it can end up being the most return on investment. Around 60% of all Amazon sellers run their business with private label, also known as PL.

Private label is when sellers take a generic item like golf balls, stick their brand name on it, and list it under their brand name. This is also known as brand creation. The method has been around for years and is common in retail stores; Target's Archer Farms and Walmart's Mainstays. The manufacturers often offer logo designing, printing, and labeling. They will even deliver the products to Amazon warehouses.
Buy wholesale
Sellers can source their products from wholesalers directly. This again is a method that requires an investment upfront. With, online wholesalers such as Liquidation.com, you can still find merchandise for under $200. The product supply is not as reliable; as the lots you buy may not have 100% sellable items. Well, not all of them will be something you feel comfortable listing on Amazon. You may be able to sell them on other platforms. There is a good chance that you will make up for some duds with some gems in the same lot.
Sellers can find products like beauty supplies, tools, electronics and more. Los Angeles is a hub for wholsalers. In recent years they have become more accessible online.
Arbitrage!
Sounds like a war cry, doesn't it! Well to sellers who do arbitrage, it is. Once when they are getting ready to joust for deals. Then when they are competing with other sellers. Arbitrage is the method of buying from one retailer and selling on another retail store. Sellers do retail arbitrage, buying from brick and mortar stores, and online arbitrage. This is the least investment required method. It entails a lot of work to find the products. Then, also, you never have the same merchandise. Many Amazon sellers using this method are finding that selling across borders can be extremely lucrative.

Online arbitrage means you're buying products to flip on Amazon from any other e-commerce online store. Some are even buying from Amazon.com and selling on Amazon.ca or vice versa, for example.
Network, join Meetups and Facebook Groups
To begin your Amazon business is the easiest part. When you decide to make it your main income that is when things start getting complicated. It's not a side hustle anymore and failure is less of an option. You will need to know how to make your listings attractive, how to find keywords, the latest Amazon policies, how to file a case, or communicate with Amazon. The list of nitty-gritty details goes on. And what better way to learn than from those who have already been there.
Facebook groups: There are Facebook groups catering to all kinds of aspects of amazon selling. Groups solely for FBA sellers or PL sellers, newbies, or geographically targeted, you name it. The members love to share information. Join a group or two and scan the conversations for a week and you could start feeling like an expert yourself!
Meetups: Before COVID this was a monthly gathering in a restaurant or community hall or the like. Now Meetups too have gone online. The Amazon seller happens to be a social being. Maybe because there is strength in numbers.
Youtube Channels: While you are exploring the Amazon jungle, you will probably stumble upon a good source of information on Youtube. Look for people who are actually selling and sharing their firsthand knowledge. Corporate type of video channels may be just wanting your money.
Other social media: Instagram is another social media oozing with information. Now you can add Telegram also.
Keep track of expenses
Initially you may be able to get away with a robust excel sheet. Besides the merchandise, make sure you keep track of other costs. If you drive to different stores for sourcing keep track of mileage. Keep a close account of shipping supplies etc. coming in. Keeping financial reocrds will not only help you assess whether you are profitable or not but also help while doing taxes. Save those receipts!
When you think you have outgrown the excel sheet you can look into accouting softwares such as Connectbooks and Quickbooks.
Amazon sellers automate to grow
Once you are sure that selling on Amazon is your cup of tea, you should automate as many tasks as possible. Many tools have sprouted up for aiding sellers to succeed in their business. Most such tools are very affordable and have established their name in the market. They are clearly worth it if you want to grow your business. One such useful tool is a repricer.
Definitely automate repricing
The most important strategy to engage or grab your customer is how you are maintaining your product's pricing. The prices you offer at the right time will definitely ensure that a customer will buy your product.
It can be very hard to watch your competitor's prices. When Amazon sellers have to change or update the price manually it consumes a lot of time and energy. Even when sellers have small inventory it can become impossible to keep the prices competitive. Alpha Repricer is the fastest Amazon repricing tool in the market. It also happens to be the cheapest. Try us out for a 14-day free repricing trial. Win the Buy Box more often, increase your sales and make a good income!