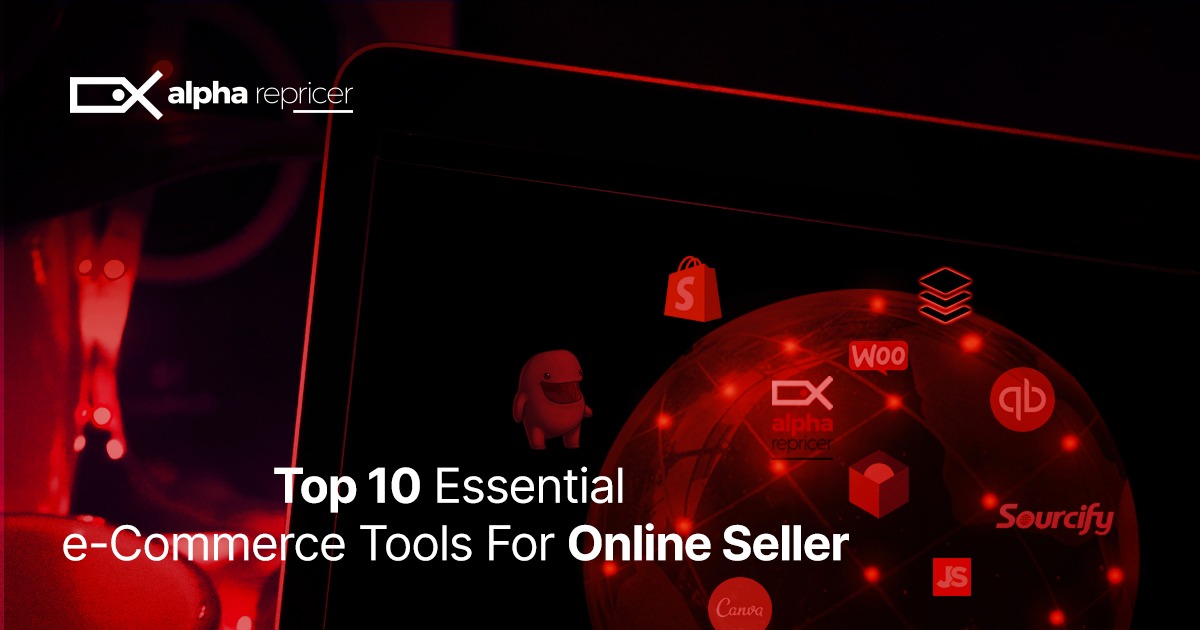 Top 10 Essential e-Commerce Tools For Online Sellers
Buyers are shifting to shop online, and as a result, we can see the eCommerce industry growing by leaps and bounds! It is the perfect time to think about moving your business online and start selling! Whether you're new on this e-commerce platform or want to grow your business, it gets way more comfortable to have the proper e-commerce tools helping you along the way! It makes your work more manageable and enables you to grow faster!
You already know about the major ones, such as Facebook Ads, Google Ads, Mailchimp, Wix, and more. However, there are many other tools that you probably don't know about that can be significant for your business. 2021 is around the corner, bringing tremendous opportunities for you! Start your year with the perfect e-commerce tools to help you achieve your benchmark!
1. Shopify
If you are new as an Amazon seller, Shopify will help you start your e-commerce website. It is your go-to solution to create your website online from scratch. It provides you with all the necessary features to be creative and even set up your buyers' shopping cart. Besides, it is super easy to use! You can open it on your mobile phone. It helps you sell from wherever you want to.
Also, Shopify supports other marketplaces, selling from social media, or even in-person selling. The most prominent quality of Shopify is its ability to help any business! Whether it's a new, emerging business or a large business operation, it fits perfectly and helps them get better at what they do.
2. Sourcify as an e-commerce tool for sellers
As an Amazon repricing tool and working with different Amazon sellers, we have learned that sellers go downhill quickly if they don't sell quality products. It is essential to satisfy your buyers, which means you need perfect manufacturers to work with! However, it isn't easy to communicate with manufacturers-especially the ones operating overseas.
Sourcify works to connect you with all the manufacturers and factories from all over the world. You can easily research and connect with the relevant manufacturers to get you the products you want to sell. It is an ideal tool for sellers that are looking forward to selling private label products. Sourcify also takes care of sending data from you to the factories of all the samples, quotes, and even lead times. In short, it offloads you from the extra work!
To know more about sourcing products for Amazon, please check out our blog about 6 ways to source products for Amazon.
3. WooCommerce
WooCommerce is very different from all the e-commerce tools we are going to discuss! This e-commerce tool provides you with anything you require related to selling, memberships, and subscriptions and adds these functions of e-commerce to your WordPress. If you already have a WordPress account, you have to install the WooCommerce plugin and start customizing however you want! It links with all major platforms of payments such as PayPal, Square, Amazon Pay, and many more,
You can also get other extensions of WooCommerce to print the shipping labels and work on your email marketing.
4. Quickbooks as an e-commerce tool for sellers
Managing your money and accounts is not an easy task to do. It might not be a problem for most sellers, but it still is a top priority; an accurate e-commerce tool can help you take care of it! Quickbooks is a software that allows you to manage and keep your business details on-point. It manages your revenue, expenses, invoice of your customers, bills, reports, and even taxes!
5. Canva as an e-commerce tool
Canva is one of those cool e-commerce tools that make you feel like a pro! Even if you are somebody with no experience or designing skills, you can still manage to come up with the perfect graphics! It helps you create anything starting from pictures for your social media, website, business card, or flyers.
Canva has some creative templates that you can use to create images, videos, and illustrations for your business! After all, it's all about using your imagination and being creative! Canva provides you with the perfect platform to come up with relevant graphics to attract more customers!
6. Jungle Scout
On Amazon, you grow if the product you choose to sell is popular. It would be best if you research accurately, and Jungle Scout assists you with it. It helps you search and know about the popular products you want to sell and then launch them! This e-commerce tool provides you with a platform to search for products by their categories, keywords, or relevant filters. It saves you from making extra effort to dig in through every type of category and find the top products. It makes sure you have the most correct, analyzed data when you research for products.
7. Buffer as an e-commerce tool
Posting on your social media platforms is a must if you are selling online and engaging with your target audience. However, it requires considerable time to post on social media accounts. This is where you might need Buffer. It is a fundamental, super easy tool that helps you schedule your social media content and posts it according to the time you set. You can schedule your posts at any time, for any day, so that you can save a lot of your time. It allows you to schedule posts for eight different social media accounts.
8. Easy Digital Downloads
Next on the list is Easy Digital Downloads, which is a tool to sell digital items online. It is also a plugin for WordPress and used by more than 2 million sellers out there! You can easily make discount codes by using EDD and also track the activities related to downloads. It also provides you with a linked shopping cart so that customers can buy various downloads without any error. Besides, it also limits file access.
The plus point is that there are no restrictions, and you can sell as many digital products as you want by using this e-commerce tool.
9. PackHelp
It is essential to know how your customers feel when they first look at the product you've sent them. That includes them noticing your packaging first. PackHelp is one of the e-commerce tools that helps you link with all the pocket-friendly packaging suppliers. You can order customized packaging according to your products to make your customers go "wow"! It includes boxes, papers for packing, carrier bags, and more to help you save money and work on your packaging to get better!
10. Amazon repricing tool
An amazon repricing tool is necessary to help you stay competitive and make more sales than usual! Alpha Repricer is the fastest Amazon repricing tool for Amazon sellers. Our repricing engine reacts to every price change detected and reprice instantly to help you stay on top! Alpha Repricer offers a continuous repricing solution at an affordable fee. Try our 14-day trial to know how we work, and we are sure you will be satisfied!
Undoubtedly, you are already working to grow your business on e-commerce platforms. However, these e-commerce tools can help you grow faster and in an organized manner.