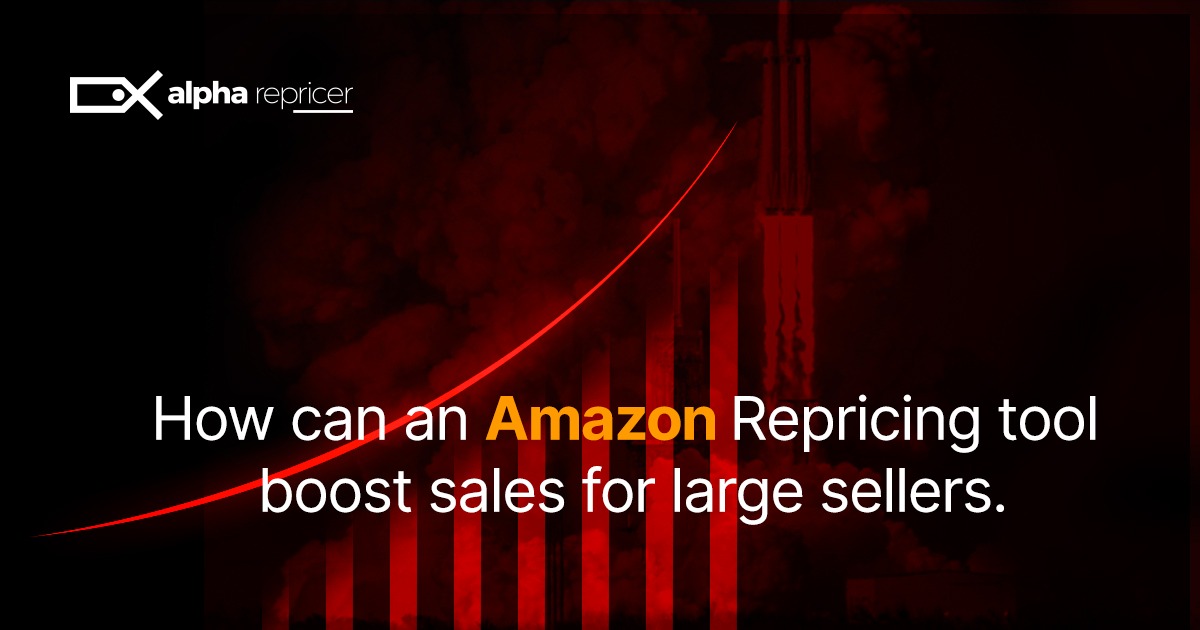 How An Amazon Repricing Tool Increases Sales For Large Sellers
It is always a plus point to get an Amazon repricing tool for your listings – especially when running a large business on Amazon. Every minute, the prices and trends on Amazon.com are evolving. It is quite necessary to keep up with them as well as focus on your sales. That's where a repricer comes in and does the work for you so you can focus on other significant aspects to expand your business.
Let's see what an Amazon repricing tool offers towards increasing your sales and profits.
However, if you are a seller starting your business and landed on this blog, you might want to shift to our blog about the importance of a repricer for small sellers. We hope that helps!
1. An Amazon Repricing Tool Manages to Get You What You Need: The Buy Box!
About 80 to 90% of Amazon sales go to the sellers that win the Buy Box. As an established seller, we are sure you must already know about the Buy Box. Sellers with the most competitive prices and top seller metrics are most likely to win the Buy Box. A specific algorithm monitors and decides which seller gets the Buy Box on Amazon. It requires a lot of effort in the areas of pricing, feedback scores, inventory and fulfillment, and of course, sales.
With a repricing tool in hand, you don't have to worry about taking care of these aspects. The perfect Amazon repricer will set competitive prices, according to your competitors. It helps you prove to your customers that they can rely on you, by selling your products at the best prices. Once you do that and Amazon recognizes you, winning the Buy Box won't be difficult, resulting in more sales!
Plus, after you win your Buy Box by offering the lowest prices, a good Amazon repricing tool increases your price. That way you can earn more profit.
2. Helps You Stay Competitive
If you are a large seller managing your business on Amazon, you already must've researched your competitors. However, can you keep a check on each competitor and keep on repricing manually? It can be a huge task, and you can't commit to it when you've got so much to do.
Well, a repricing tool uses its algorithmic strategies to stay updated on your competitor's listings and reprice as soon as it notices any price change. A repricer provides you with a competitive edge to stay ahead by offering the best prices in the market. When you stay ahead, you get more sales. As a consequence, you earn a lot more than you would otherwise!
3. Get Higher Profit Margins When You Can!
A general misconception is that a repricer gets your prices too low that there is a very low profit margin or loss. Well, that's not true. A good repricing software will enable you to filter your competition. In this way you can exclude competition that may bring down your prices. For example, if you are an FBA seller you may compete with only FBA sellers since they can have higher prices and still win the Buy Box. Or you may exclude specific sellers who may be going into price war.
Additionally, as soon as your competitor gets out of competition or runs out of stock, a smart Amazon repricing tool modifies your prices. That increases profits while still sustaining your position to compete for Buy Box. It also increases your prices when you can compete with the higher ones!
4. Saves Your Time
You already have a busy schedule when you are a thriving seller, always focusing on increasing sales. Repricing manually is not an option for you when you want to stay ahead. Plus, Manual repricing also kills your time for your family and friends that everyone needs. As a solution, an Amazon repricing tool takes the workload off your shoulders. You don't have to stick to a chair constantly monitoring each competitor and every price change. All you got to do is set a repricer, and you are done. It automatically responds to every price change to keep your listing on top. Even when you are sleeping, the repricer is working on getting you more sales! How cool is that?
5. No Errors Made By An Amazon Repricing Tool
When you depend on manual repricing, you can't be sure that there won't be any mistake made. We as humans can make mistakes! However, when you fail to point out those errors, they can cause financial loss. Besides, it could end up affecting your profits. The most interesting point about using an Amazon repricer is that it works how you want it to. You set the prices, and it does the rest! The software doesn't get tired, nor get worked up. It can respond to price changes instantly and accurately, saving you the time to relax and getting you the sales.
6. An Amazon Repricing Tool is Cheaper and Faster: Saving You Time and Money
You can't afford a slow reaction time when your motive is to increase sales. An Amazon repricing tool responds instantly to keep your prices competitive. The quicker your response to each price change, the more time you can invest in getting the Buy Box. And when you finally get the Buy Box, you drive in more sales! It is all linked.
Plus, getting an Amazon repricer saves you time and also money. You don't have to pay for labor to reprice manually. An Amazon repricing tool is cheaper, and you will not regret paying for it. It does the work for you, way faster than any manual repricer would do!
You can check out our blog on the top 10 cheapest repricers to know which one is the best for you!
7. Why Alpha Repricer?
Well, Alpha Repricer covers all the points mentioned above! We are the best Amazon repricer, offering instant repricing to get you ahead of your competitors. Staying competitive means establishing more chances to win the Buy Box, and that's our aim. We are keeping you competitive to help you win the Buy Box that automatically gets you more sales.
Alpha Repricer offers real-time, continuous repricing and covers all the significant aspects, so you don't have to worry! Customer satisfaction comes first, and for large sellers, we know quality matters a lot! We don't just say it; we prove it!
Give us an opportunity to show how we perform. Please try our 14-day trial. And find out first hand how we can increase your sales and profits.