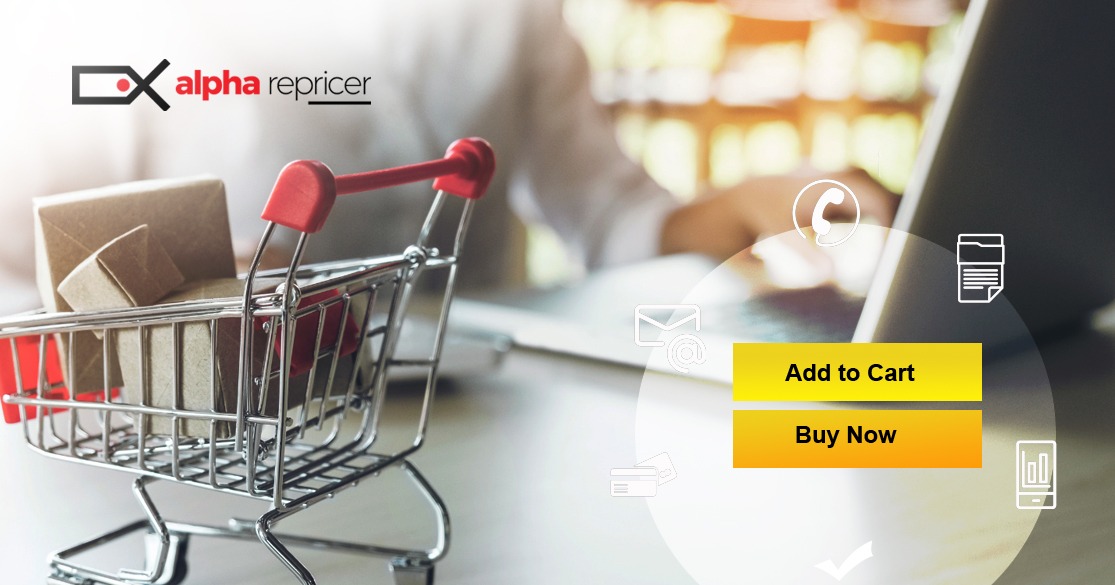 Amazon Buy Box Checklist: How to win the Amazon Buy Box this year
It's not enough to be an 'Amazon seller' to get the maximum no. of sales on the platform. You've to work hard for it, provide value, advertise, price competitively, and of course, win the Amazon Buy Box. If you feel like your sales are not going up, then you might want to check if there are other competitors in your listing. If yes, then see if they own the Amazon Buy Box, and if the answer is still yes, then you know where the issue lies.
The problem is that Amazon has assigned the Buy Box to that particular seller instead of you, and now they are going to get 80% of the sales, while you wait for one.
Here is a detailed guide for you to follow in order to win the Amazon Buy Box for your business.
Table of Contents:
1. What Is The Amazon Buy Box?
This is the term that you would not want to forget. The Buy Box can be located on the product detail page on Amazon, which includes the price of the product, stock availability, shipping details, seller information, fulfillment method, as well as the 'Buy Now' and 'Add to Cart' buttons.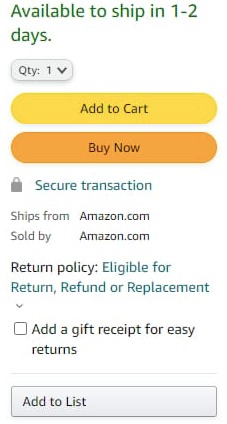 The sale will go to the seller whose name appears first on the 'Sold by' section. If you are the sole seller in that particular product listing, then you'll always win the Buy Box for that product.
However, if multiple sellers are competing for the Buy Box, then the sale will only be captured by the seller who is in the Buy Box at the moment of conversion.
2. How Can You Get Your Hands On The Amazon Buy Box?
It is quite challenging to win the Amazon Buy Box when you are competing with other sellers. However, there are certain factors that Amazon's algorithm considers before assigning the Buy Box. Most of the factors, in fact, of them are based upon customer experience. If you are an Amazon seller wanting to win the Buy Box, then make sure you follow this checklist to stay ahead and get in the good books of Amazon.
3.  Buy Box Checklist
·         Fulfillment Method: Since FBA offers faster shipment than FBM, Amazon prefers to assign the Buy Box to FBA sellers. However, if you have Seller Fulfilled Prime then you can compete more effectively against FBA sellers.
· Speed of delivery: Customers should get their products on time. It is a priority for Amazon and it always considers if sellers are providing fast shipping to the buyers. This is also a reason why FBA is preferred more than FBM. These days FBM sellers are also coming up with much better shipping methods to deliver faster.
·         Cost after shipping: It has to be lower, for you to get ahead. Sign up with the best Amazon repricer to win the Buy Box and also keep your prices competitive even after shipping cost is added.
· Successful orders percentage: It shows Amazon how many orders have you fulfilled successfully. It must be high.
· Order Defect Rate: The lower the percentage, the better. Amazon's motto is based on providing excellent customer service. You can't go wrong with it.
· The rate of late shipments: It has to be under 4% if you want to sell without any issues on Amazon.
· Orders having a valid tracking number: Buyers want to keep a track of their order and know where it is at the moment. Sellers need to provide customers with this option. FBA is prioritized for this reason as well because Amazon shares all the details as well as tracking numbers with their customers.
· Reviews and ratings: Your average seller rating needs to be higher if you want Amazon to notice you. It is important to get good reviews from buyers.
· Time to respond to a customer: You need to be quick enough to get back to your customers when they ask a question or share a query. Your customer response time has to be low.
· Updated Inventory: If you don't have enough inventory in stock to fulfill orders, you are already out of the competition. Staying out of stock means that you won't win the Buy Box. Keep your inventory up-to-date.
· Refund percentage: How frequently are the items returned to the seller, and how soon does the matter get resolved? It shouldn't be high. Make sure to offer top-quality products to avoid unnecessary returns that might damage your reputation.
· Order cancellation rate: The smaller the number, the better. Your customers should not be this unhappy to cancel their orders. Assist them all you can, and deliver their orders on time.
The Main Factors To Focus On: Product Price And Shipment Method
To assign the Buy Box to Amazon sellers, Amazon appears to place the most emphasis on product prices and shipment methods. As a consequence, sellers either start repricing manually to keep their product prices competitive or sign up with the best Amazon repricer to win the Buy Box. Moreover, all the shipping issues can easily get resolved if you want to skip the hard work and switch to FBA. Otherwise, do your research and get in touch with the best shipping companies to deliver your orders smoothly, and faster.
Make sure you get your priorities straight. It isn't only about winning the Buy Box, but providing the best customer experience, and also earning maximum profits while doing so.
In conclusion,
If you are now aware of the importance of having the Amazon Buy Box, then make sure to pay full attention to all the points mentioned above. However, don't rely solely on them. Advertise your products, run campaigns, offer discounts, and implement the best repricing strategies to stay competitive even when you don't win the Buy Box. Keep following our blog page to learn more about Amazon and the Buy Box strategies. There is a lot more to come!
Tags In