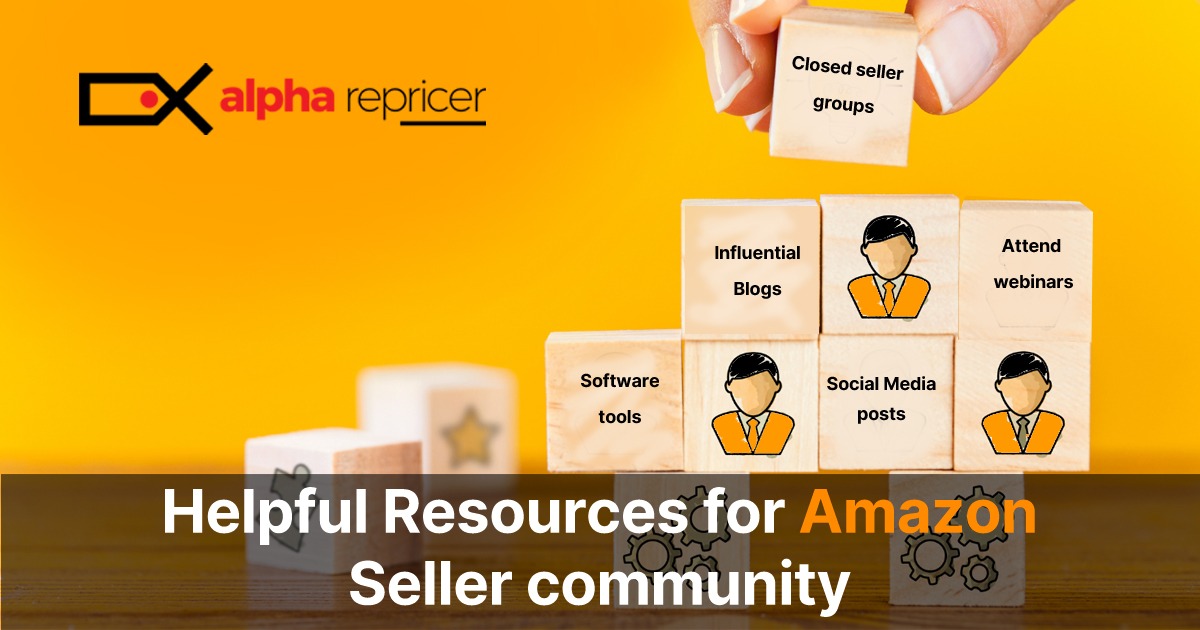 Helpful Resources for Amazon Seller Community
Amazon is the most profitable online retailer and has more than 2.5 million active sellers (Source: Marketplace Pulse). The popularity of Amazon ranks it among the world's top online shopping places to buy and sell a variety of different products. As we all know, online shopping has become increasingly rapid. Almost everyone is turning to Amazon for purchasing and selling products. With the immense growth of the Amazon marketplace, there is more need for resources for Amazon sellers.
Important Resources for Amazon sellers
There are many important resources for Amazon sellers to grow and lead the online marketplace. Below are a few of the most important and highly valuable resources for Amazon sellers.
· Influential Blogs for Amazon sellers
An effective blog is an essential resource for initial sellers. It is the most effective way that give information related to selling on Amazon, which ultimately makes your selling experience better and more efficient.
Blogs contain heavy keywords that highly focus on PPC, SEO, feedback or reviews, and other Amazon seller topics. It helps the sellers to stay competitive and offers them an opportunity to increase their search engine rankings while remaining competitive.
Moreover, valuable blogs always keep the sellers updated about effective tips, stats, and helpful information!
· Social Media posts boost your sales!
Social media is one of the most beneficial resources that helps the initial sellers grow and maximize their profit in the Amazon marketplace. Buyers often use their social media accounts before making any purchase to know more about the products they are willing to buy.
As an Amazon seller, it is also crucial to maintain your social media posts by adding or sharing effective content. Use hashtags on your social media platforms to attract customers and make their decision power easy!
· Software tools
Using quality-based software tools helps the sellers give tough competition to the rest of the market competitors. Moreover, it provides them an opportunity to grow and establish their Amazon business.
There are plenty of Amazon seller tools that make things much more accessible and better for sellers. You can also use the best Amazon repricing tool to beat other competitors and increase your seller's ranking by winning the Buy Box more often!
· Closed seller groups
Basically, this is an efficient way for sellers to share their thoughts, ideas with the rest of the Amazon sellers in the market. Sticking to old ideas and strategies often holds back the profit margin of Amazon sellers and highly affects their growth.
As an Amazon seller, join the groups that might help you in the future. In this way, you'll be able to know about the expert's opinions, social media groups, private labeling, SEO strategies, drop-shipping, and more!
· Attend webinars
As an initial seller, attend effective and important webinars to increase your knowledge. These valuable and helpful webinars help the sellers to know about SEO rankings, market trends, social sites, and many more. Moreover, these webinars guide the sellers about the product quality and how customers want their products to be!
However, attending these helpful webinars can do wonders, and you can be able to maximize your sales and profit margin in a brief time.
Conclusion
Thousands of new sellers join Amazon every month, so it becomes challenging for them to boost their sales in the market. But utilizing adequate and important resources can always help the sellers stay ahead and build their customers' trust.
Besides this, pricing is also an essential resource to maximize your sales and help you grow in the market. Any Amazon repricing tool that you prefer must be fast, continuous, and instant. Try Alpha Repricer. It is the fastest Amazon repricer that reprices your products in less than 2 minutes and gives you a chance to get the Buy Box more often!
SIGNUP or contact us now for our free 14-day trial and let our Amazon seller tool help you!