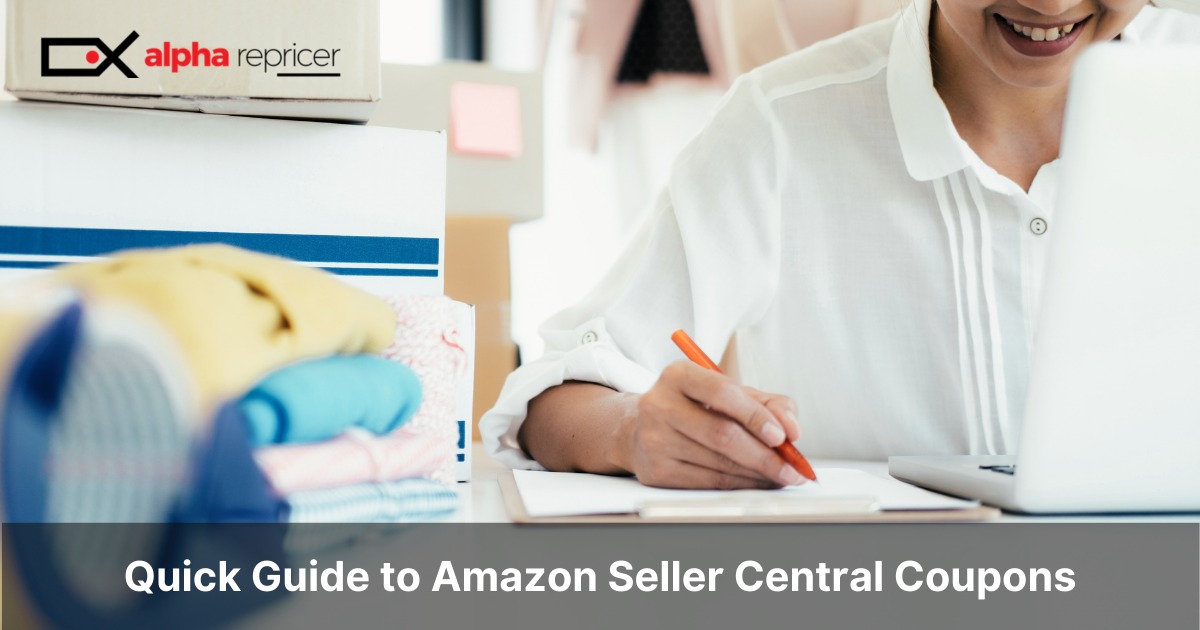 Quick Guide to Amazon Seller Central Coupons: How to create Seller Central coupons
With the increase in competition, it has become challenging for Amazon sellers to stay ahead and gain more customers. Amazon sellers can use coupons, promo codes, and special promotions to grab the attention of customers. However, sellers have access to discounts through Seller Central. The most significant benefit that Seller Central sellers have is that their coupons provide powerful targeting and increase visibility choices, which might set the marketplace sellers apart from the competition.
However, before adding Amazon coupons to products, it is important to decide whether you want to add one coupon to one item or one coupon to a bunch of products. Thus, the more customers redeem your coupons, the more you will be able to maximize your sales.
Table of content:
Amazon coupons
Amazon coupons are discounted prices with an orange tag on the product on the search results page. Customers may use Amazon Coupons to save money on items. Coupons are an effective way to promote the products you sell on Amazon. Customers can simply click on a coupon to use it. Coupons from the best-performing sellers display categorically on Amazon's main coupon page, where buyers may "clip" and bookmark the savings that are most appealing to them. Thus, Amazon charges sellers $.60 for every coupon that's redeemed, but it's worth it!
How to create Amazon coupons?
Amazon provides the coupon service through their gift card and promotional code application. Here are the steps to create Amazon coupons:
Step 1: Log into your Seller Central account
Log into your Seller Central account on Amazon. Click the "advertising tab" from the top menu. After that, click "coupons" from the drop-down menu. From the coupon menu, press "create a new coupon."
Step 2: Decide the discount you would like to offer
Select a product and add ASINs to your coupon. Select a discount. You can use a percentage or a cash amount discount, such as $5 off or 20% off. This reinstates the former dollar amount discount but in a different method.

(Source: salesbacker)
Step 3: Set your budget
Set your budget by setting the maximum amount of discount you will be offering. Make a plan for your ad. If your budget runs out before the deadline, your coupon will be immediately canceled. Your budget will be divided into two parts: the discount you're giving and the $0.60 fee for each coupon redemption. After you've entered your budget, click the "proceed to next step" button in the top right corner.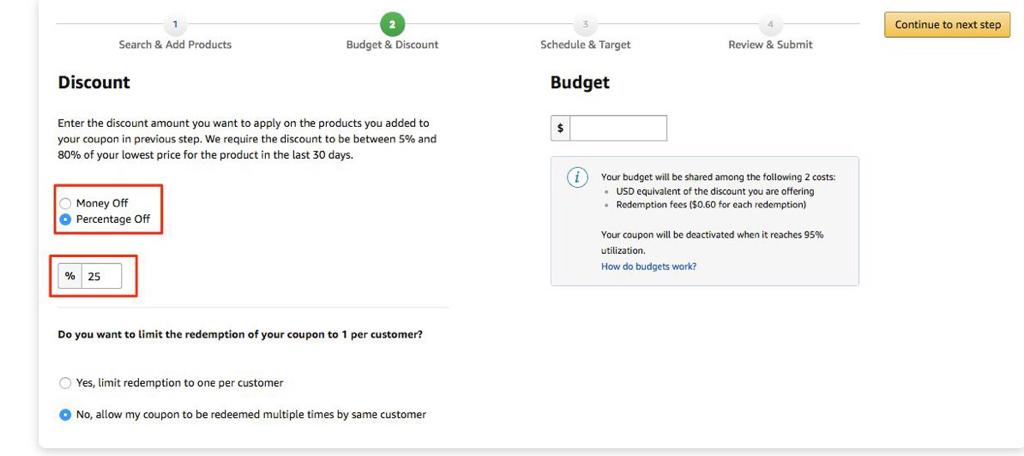 (Source: salesbacker)
Step 4: Title your coupon
Customers will notice this. Choose a coupon title that correctly reflects the goods on the coupon for maximum effectiveness. If there is only one product, add the product title; if there are many products, include the product type in the title.
(Source: salesbacker)
Step 5: Schedule your coupons
You can choose a start and end date for your coupon, and the period can range from 1 to 90 days. After entering your schedule, click the "proceed to next step" button in the top right corner.
Step 6: Submit for review
The last step is to "submit your coupon." However, Amazon usually takes three days to approve it.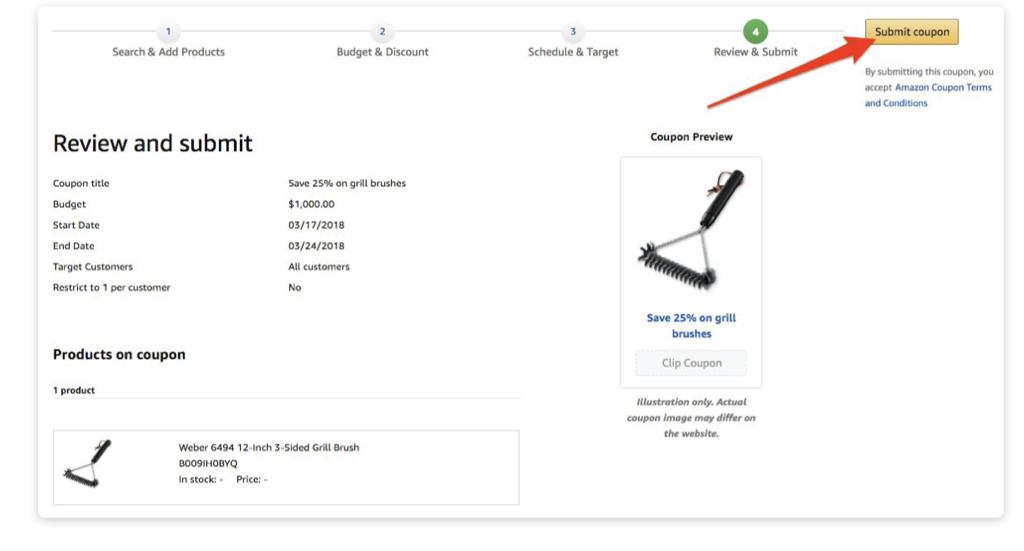 Amazon Coupons can help you drive more sales!
Amazon coupons are the best way to boost your sales. Coupons can help your goods stand out on product search engine results pages by displaying a little coupon notification below your listing. Moreover, it helps you increase your conversion rates. Conversion rates are an important component of your profitability and a significant relevance signal to the Amazon search algorithm. Amazon customers are more likely to buy the lowest-priced item, so it can be a great opportunity for you to skyrocket your sales by giving a discount through a coupon!
In order to stay ahead of your competitors, set a better pricing strategy for your products. Any repricing software that you prefer must be fast, continuous, and affordable. Try Alpha Repricer. It is the best Amazon repricer that sets your products' min/max prices in 2 minutes and helps you win the Buy Box too.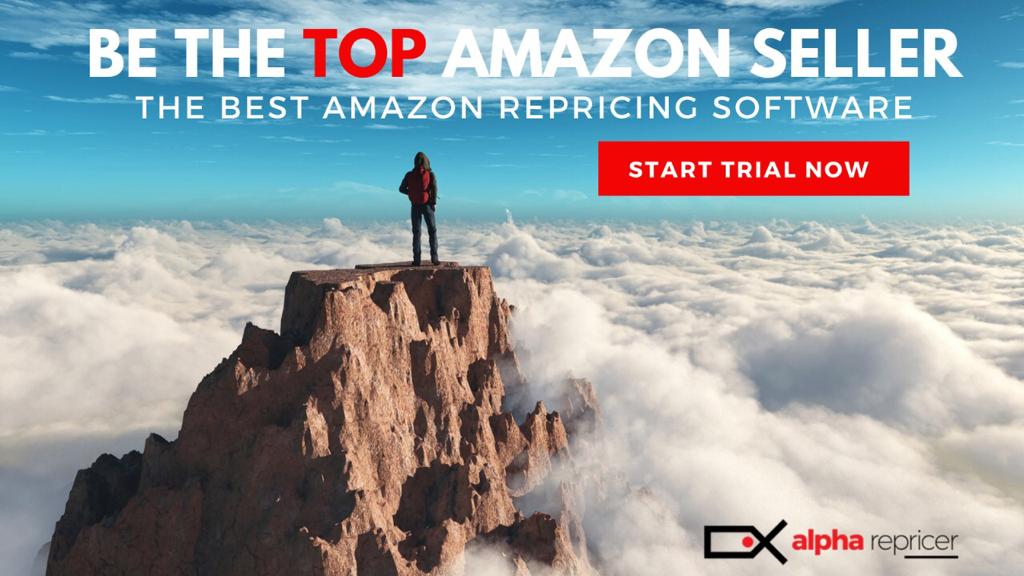 SIGN UP now for our free 14-day trials and experience the best repricing software in the industry!