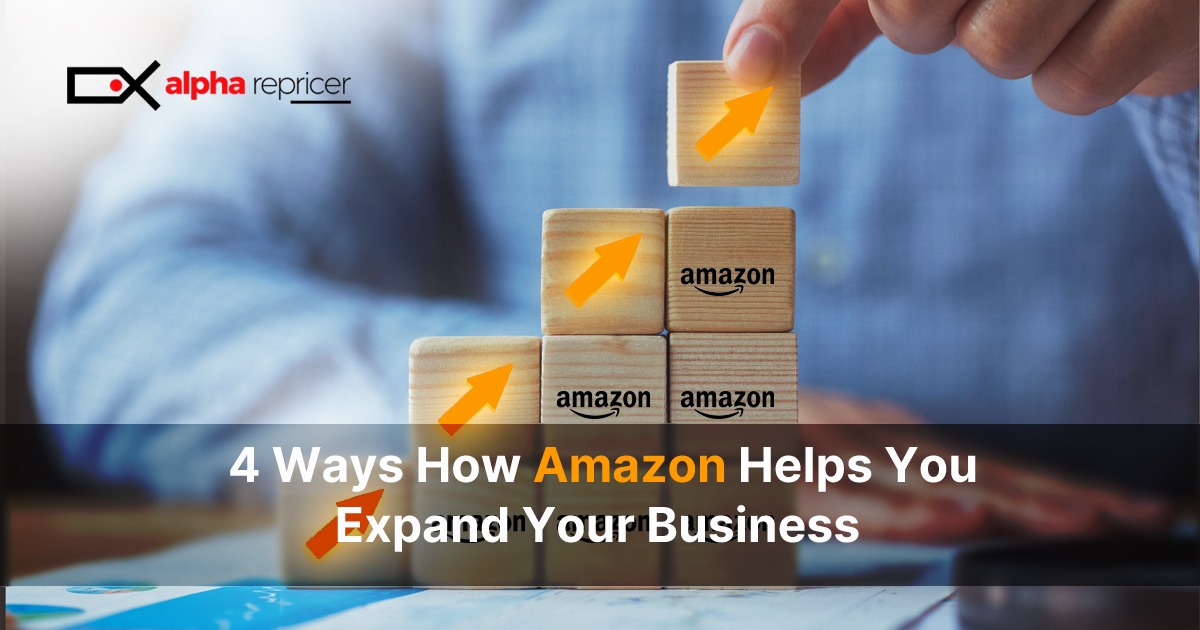 4 ways how Amazon helps you Expand your business
Nowadays, Sellers are rapidly shifting to Amazon, and well, they are making the right choice. Amazon helps you expand your business in many ways. It is hands down the biggest platform for small, midsize, or considerable companies to optimize their sales and increase profits. With millions of buyers visiting the site daily, Amazon makes it easier for sellers to connect, market, sell, and deliver products efficiently. Today, we break down four of many ways why you should start selling on Amazon to expand your business!
Let's go!
Invest a little, Get A lot.
Amazon makes it easier for you to sell. As a small seller, you have to think a lot before making any financial decision as it might cost you a lot. On Amazon, you have to pay a minimal amount to kick off your business. It saves you from spending on business portfolios, real estate, or startups. Many of the Amazon sellers started their businesses from scratch, and now they are earning a 6-digit income!
To begin with, choose the individual selling plan, which starts at 0.99 per sale as an up-front cost. Once you find out how things work on Amazon, go ahead, and expand your business. Move on from selling less than 40 items and shift to the business plan of $39.99 to sell a lot more products. Please get familiar with the tools, use them, and expand your business.
Sell products globally to expand your business.
It shouldn't stop you even if you are a small seller in any small town. All you have to do is sign up on Amazon, choose a business plan, and get ready to sell across the borders! Amazon presently has about 12 marketplaces, allowing sellers to sell globally.
The same goes for your inventory. You can order your merchandise from anywhere in the world and sell it on Amazon. The suppliers online have also improved a lot within the years. You can rely on them to deliver your products on time.
The customer base on Amazon is strong.
Amazon has a ton of active purchases wandering daily on the site. Millions of customers are on the look-out for products and get them from Amazon. You can't get this traffic quickly on your site, especially when you are new. Amazon helps you expand your business by providing the reach you need when you are recently developed. Buyers trust Amazon as it has been successful over the years. Earning this trust by yourself requires hard work that you can skip by selling on Amazon! Join as a third party seller, and you get the best engagement on your listings. Just make sure to be authentic.
Numerous tools and extensions to use.
Online sellers usually have a hard time setting an engaging website and shopping cart to find and order products. It is not easy to establish a platform, but Amazon provides you with it already. Even Amazon handles and maintains it for you. Don't waste your energy setting things up; invest your time elsewhere!
Besides, as Amazon got popular, more businesses came forward to help Amazon sellers with their needs. You can efficiently conduct online conferences annually held for Amazon sellers. Other than that, many social media platforms, including Facebook, have groups where you can discuss how Amazon works. Sellers can join such groups to share experiences and learn everything regarding Amazon.
Also, there are proper and readily available tools to offload you. They help you find the trendy items to sell, assist you in listing, managing feedback, and even accounting. Repricing software is one of the tools that make it easier for you to increase your sales and expand your business.
How does Repricing Help?
A repricing tool saves your time and does repricing for you. It keeps an eye on your competitor's price changes and rearranges prices correspondingly. Alpha Repricer calls it an art! While other repricers take a break and reprice every 15 minutes or so, we respond instantly to any price changes. Whenever your competitors make changes, we react without thinking about the time.
In addition, we let you schedule and change your repricing. This way, you can start and stop it anytime you want to keep up with your competitors.
Moreover, you don't have to worry about winning the Buy Box either! Our repricing strategy helps to win the Buy Box and keeps it for a longer time with higher prices. Give us a try! We won't disappoint you.
Things are different now; customers are getting comfortable with e-commerce marketplaces. They find it convenient, and one of the largest e-commerce platforms is Amazon. The scope for you to expand your business on Amazon is very high. So, what are you waiting for? Get on Amazon, register, and start selling! Please read our blog on How to sell on Amazon to help you ahead in the journey. Good luck!