Grow with Amazon Launchpad- the Ultimate Guide
Growing a business is always a challenge for both, experienced and new sellers alike. Focusing on marketing can be difficult while juggling logistics, sales and other aspects of your business. As a result, it takes time to build a customer base from scratch or grow an existing one.
When you decide to sell on Amazon, it can be a real challenge to save yourself from getting lost in the sea of competition. You need to grow your customer base to make yourself stand out on the platform. Amazon Launchpad serves as the partner you need to give you extra exposure to boost your business! It helps you spread your message and makes it easier to interact with your customers.
What is Amazon Launchpad?
Amazon Launchpad was introduced in 2015 for small businesses to grow their customer base by reaching out to more people on the largest e-commerce platform.
Since its launch, the program has proven to scale millions of small businesses. Launchpad has allowed small businesses to achieve a massive customer base resulting in increased sales!
Benefits of Amazon Launchpad
Amazon provides the largest platform for Amazon sellers and businesses to promote their brand and sell items. But the businesses that are signed up for Amazon Launchpad get special benefits. The program primarily provides three major benefits to its members:
· Support in Marketing:
The main advantage of Amazon Launchpad is that it assists in marketing to help your brand stand out. Marketing assistance makes it possible for your products to get the visibility on Amazon. The features include an amazing package of Launch marketing, access to all the deals submissions, and marketing placement opportunities.
· Guidance when onboarding:
When you apply for Amazon Launchpad, and the application gets approved, you sign up for Amazon to work with you. Amazon helps you set up your account and assists you in getting started. You get complete support if any technical issues come up, and you learn about marketing on Amazon too!
· Brand HQ of the program:
Amazon Launchpad also allows you to access the Brand HQ of the program. Businesses get custom consultations and training opportunities to build their brand. If this wasn't enough, Amazon Launchpad also promotes your products by featuring them on the Amazon Launchpad. The entire customer base of Amazon has access to the storefront of Amazon Launchpad, and they can easily view your products!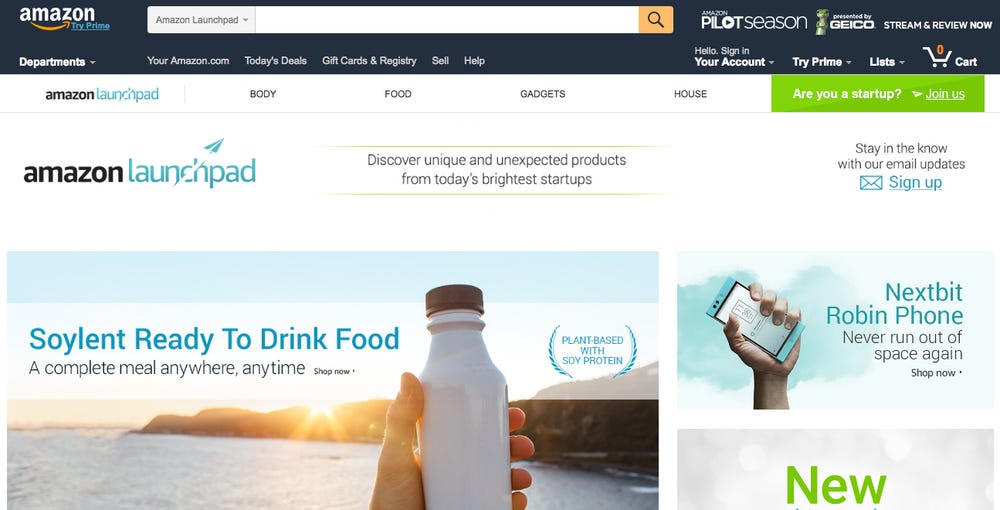 · Offering A+ premium content:
Businesses can design their storefronts in innovative ways and fill the product's detail page with quality content. It helps you describe your products in a visually appealing way, with HD images and videos as well as engaging features.
Amazon Launchpad is an easier route to get brand recognition and a large customer base. But you still have to work hard and be innovative to make effective use of the features. Even the best tools will still require you to put in the time and effort to increase your audience and sales.
Eligibility criteria for Amazon Launchpad
If you think that Amazon Launchpad is what your small business needs to grow, then there are a few things you might want to consider beforehand. First, you must evaluate your workforce capability to produce goods to see if your business is ready to grow. It is not an easy task to deal with the increasing demand for your products, and you must have the right amount of space needed to expand your business.
You can only apply for the program if you are a seller on Amazon Seller Central. Make sure you submit your application after you sign up as an official Amazon seller. Also, since you will be offering your products to a massive customer base, make sure your brand is ready to take a large number of orders. Make sure that your items are ready for shipping. Stock up your inventory because you won't have time to manufacture your items once the orders start pouring in.
After you start getting sales, your products have to maintain a minimum of 3.5-star rating. If they fail, Amazon Launchpad does not allow you to stay in the program. Another criterion is that you must enroll your business with FBA (Fulfillment by Amazon). Amazon will fulfill your product orders which means that your products will be stocked in Amazon warehouses. Whatever customers demand, Amazon will be responsible for handling their order fulfillment.
Apply for Amazon Launchpad!
Amazon Launchpad encourages every kind of business to join the program if they meet the criteria. After you submit your application, a response comes within seven to ten business days. Once your application is accepted, Amazon Launchpad will link you up with a liaison to give you a complete overview of the process. After you are done with onboarding, you must be ready to utilize and benefit from the program.
Learn about the features the tool offers you and take full advantage of them. You can get your content enhanced by making use of the features. Not everyone gets accepted into the program. Make sure you don't waste the opportunity to get help from Amazon Launchpad to get more customers!
Here is a link to the application form of Amazon Launchpad. If you are interested in the program, click the link and fill out the form!
What if you decide to leave the program?
If you decide to leave the program, then your products will be removed from the storefronts and wherever they were being promoted. However, Amazon will provide your brand the assistance it needs while you are in your transition period. You can voluntarily exit the program and still have access to the A+ page of Amazon Launchpad that has exclusive brand content, including videos and images. Even when you leave Amazon Launchpad, you can edit this particular page by modifying it through Seller Central first. You can make use of the page as long as your brand is registered on Amazon.
Amazon Launchpad provides a lot of advantages for a business to grow its customers and sales online. It opens doors for you to benefit from all the marketing opportunities that can help your product get noticed on Amazon. If you think you are ready to take your business to the next level, then fill out the form now!
Do you know what else can help you sell better on Amazon? An Amazon repricing tool! Alpha Repricer– the best Amazon Repricing tool reprices your products within 2 minutes to keep your prices competitive. It helps you stay ahead, win the Buy Box and make more sales! Sign up for our free 14-day trial today and experience for yourself.