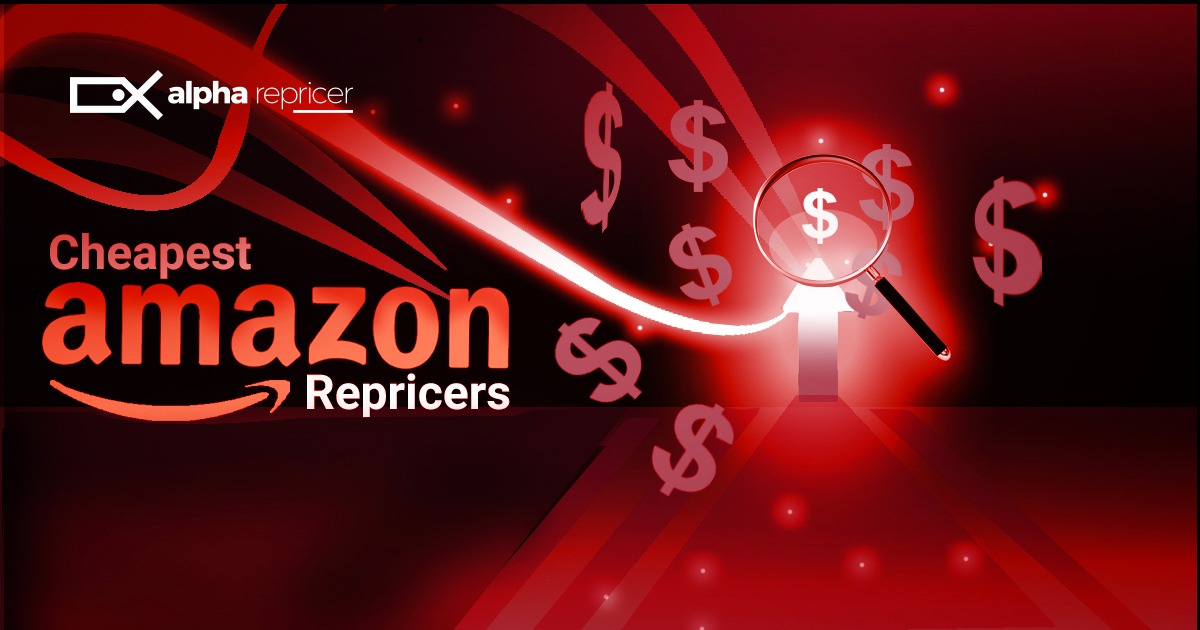 Cheapest Amazon Repricers
Here to look out for the cheapest Amazon repricing tools? We understand that being a seller is not easy-especially on Amazon. It takes time to get ahead of your competitors even when you offer great deals. Thus, it's safe to say that selling will always be price-driven. You usually have two choices to price competitively. First, repricing manually or either finding an Amazon Repricing tool that is budget-friendly and provides value.
To assist you, we list down a few repricers that claim to be cheap and pocket friendly. However, to give you a clear picture, we state a few facts to show you why Alpha Repricing tool has an edge over them.
Let's take a look at the five cheapest Amazon repricing tools for sellers.
1. Alpha Repricer
Alpha Repricer is one of the cheapest Amazon repricers. However, asking for a lesser price does not mean it compromises on quality or offers anything less than others. Alpha Repricer is a cost-friendly tool. You need instant pricing to get to the Buy Box and Alpha Repricer offers just that. It reprices your products within 2 minutes keeping your profit margin in mind.  As soon as your competitor makes changes in their prices, Alpha Repricer responds immediately.
Pricing: $25 monthly for 1000 listings. $33 for 1000 listings if you want it for unlimited Marketplaces. $50 for 5000 listings. $75 for 10,000 listings. $100 for 25,000 listings. $175 for 50,000 listings.
Plus, we offer special deals and discounts for our customers where prices go as low as $5! You can easily follow us on our social media accounts to get daily updates and keep a check on our offers!
Trial: They offer a 14-day free trial!
In addition, there are no hidden charges and definitely no limitations. Alpha Repricer leads to more repricing events that result in a better price and increased sales.
Visit our website to know more!
2. RepricerIt
In this case, if you don't want to spend too much on repricing, you can opt for RepriceIt. They consider your profit margin and set minimum prices according to it.
Pricing: They have up to 7 subscription levels. The basic one starts for 1-500 items at the cost of $9.95 per month. 501-2000 items for $16.95. 2001-5000 items for $24.95. 5001-10,000 items for $29.95. 10,001-20,000 items for $39.95. 20,001-50,000 items for $59.95. 50,001-100,000 items for $79.95.
Trial: Yes.
The price is appealing. However, there is a drawback. They reprice only up to 20 times per day or less. This is quite low considering how quickly the price changes occur on Amazon.
3. RepricerExpress
Repricerexpress also provides services across 13 Amazon marketplaces. Besides, they let you set the strategies according to your listings and competitors. They also count themselves as one of the cheapest repricers.
Pricing: They have got 5 subscription levels. Starting from £39 ($51) per month (billed annually) for 2,500 listings. £49 ($64) for 5,000 listings. £69 ($90) for 10,000 listings per month. £99 ($129) for 25,000 listings. £169 ($221) for 50,000 listings.
(Currency conversions are taken from xe.com and are rounded to the nearest dollar.)
Trial: Yes.
These prices are fine considering their instant repricing and annual payment structure. But, if you don't want a long term plan and opt for monthly payments, you have to pay extra. They charge £46 ($60) for 2,500 listings if you want to pay monthly. The price increases according to the listings, going up to £199 ($261) for 50,000 listings, monthly.
That can be costly for most of the sellers, especially the small sellers who have less than 2500 listings.
4. BQool as the cheapest Amazon repricer
BQool also states that it is an affordable price for each business level. It is available for up to 10 Amazon marketplaces.
Pricing: $25 per month for 1,000 items. $50 for 5,000 items. $75 for 7,500 items. $100 for 10,000 items.
Trial: Yes.
This indeed seems affordable. However, they only reprice every 15 minutes. Every 5 minutes for 10,000 listings. So in effect, most of your listings may lose out on competitive pricing.
5. Repricer.com as the cheapest Amazon repricer
 Firstly, it is not the cheapest Amazon repricing tool but certainly affordable for the established sellers. They handle pricing on all 14 marketplaces of Amazon.
Pricing: Basic one starts at €69 per month for 2,500 listings. €199 for 50,000 listings. €349 for 250,000 listings. €1049 for 1,000,000 listings. They certainly can handle a huge amount of listings. (Add the US dollar values in parenthesis)
Trial: Yes.
However, they come with a few hidden charges. They offer only 600 events per minute (EPM). Also, for you to increase EPM, you need to pay extra. Subsequently, they offer hourly repricing for sellers choosing the plan of 2,500 listings.
Hopefully, we have given you a helpful insight to choose the most cost-effective Amazon Repricer for your listings. We recommend that you do not go on face value and read the small print before choosing any repricer. Deciding the most cost-effective repricer is in your hands. However, we suggest Alpha Repricer as it reprices your whole inventory continuously, increases sales and profits, and has absolutely no hidden costs. Give it a try with a 14-day free trial.