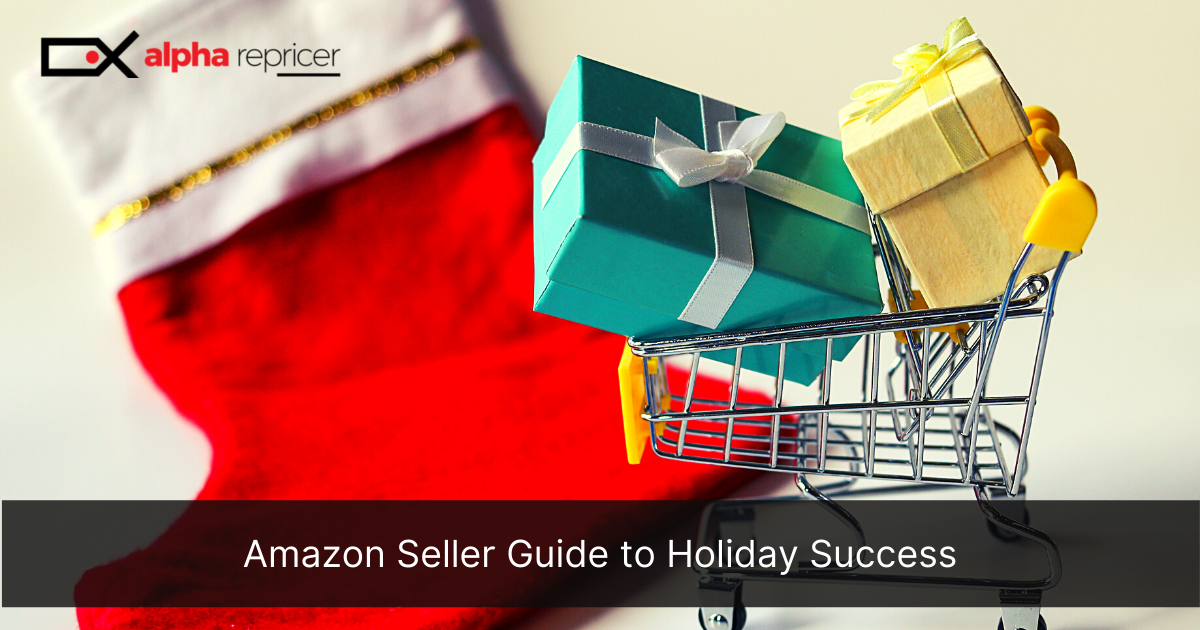 Amazon Seller Guide to Holiday Success: Tips to be successful this season
The holiday season can be quite overwhelming for Amazon sellers. There are all kinds of customers rushing in, including early Christmas buyers hoping to avoid shipping delays and last-minute customers hunting for holiday bargains. It gets pretty challenging to handle all the business aspects during this busy season as well as trying to maximize sales and profits.
There are certain tools in the market including the best repricing tools, inventory management software, and customer review management tools that help make things easy for you. However, Amazon sellers still need to be active and involved in all their operations to ensure they achieve high sales and profit.
This is why we have put up a list of the seven most significant ideas for surviving and making this holiday season less hectic for you.
Let's have a look!
Table of contents:
Stock Up Your Inventory Beforehand
Having sufficient stock is crucial in every peak season. The first step is to get in touch with your suppliers, regardless of your fulfillment methods (FBA, FBM, dropshipping, etc.) to guarantee that orders are fulfilled on time. With far too many issues with worldwide shipping in the previous two years, (closures of factories, distribution center delays, supplier shortages, and more), sellers must think accordingly and start planning in advance for this year's inventory strategy.
Make sure you know how much stock to order and when to send it to the Amazon warehouses. You don't want to incur unnecessary storage costs because of overstocking, but you also don't want to miss out on sales opportunities due to low inventory levels.
Get an inventory planning system ready after analyzing your past data and future forecast. You may also use Amazon inventory management tools available in the market to make things easier for you. 
Get Your Products Retail-Ready
After you are done stocking up your inventory, you need to get them retail ready before you start offering them in the market.
If you want to promote your items on Amazon successfully, get the Buy Box, and convert your audience into buyers, then each of your products in your store must have these basic features
1. Attractive product titles with keywords
2. Product description in bullets
3. High-quality product images
4. Positive customer reviews
5. At least a 3-star rating
6. Full inventory
7. Buy Box
8. Improved content
Have you ever come across a product listing with ambiguous titles, insufficient details, or, worst of all, not in stock? That's what's known as a bad customer experience, and it will hurt your future product promotions.
Make sure your listings are fully optimized to retain your customers. You can generate a lot of traffic on your product page, but if your descriptions aren't useful, reviews are poor or inventory isn't enough, you'll eventually end up spending money on a page that isn't streamlined for conversions. Don't forget to update your listings, improve them, and make them attractive for leaving an everlasting impression on your customers.
Focus on High-Ranking Keyword
High-ranking keywords make sure your listings are visible to your buyers, increasing your chances of getting the most sales. However, this holiday season, in addition to your regular keyword optimization, consider using keywords that are holiday-themed. You don't have to add them to your product pages where they are not suited, but use them wherever possible. For example, you might include keywords like "Sister-in-law Holiday Gift" or "Brother Christmas Present" to attract customers looking for gifts for a specific person. You can also add keywords at the beginning of your offering, such as using keywords like "Christmas", or "thanksgiving", according to the season.
Make Sure You Include Holiday Discounts and Offers
Customers love discounts! They'd prefer sellers offering them good deals instead of buying products from the sellers that aren't. If you can, start offering discounts and promoting them to make sure buyers visit your page and check them out. Holiday deals can play a vital role in attracting customers to your product page,
Sellers can offer different lighting deals, coupons, buy one get one free offers, or discounts to their customers. However, you should be aware that Amazon charges a fee if you want to run your promotions. For instance, Amazon takes a fee of $0.60 for every voucher or coupon that is used.
Make sure you research, check your profit margins and then decide to offer deals.
Offer the Best Customer Service
Customers should always be your first priority. Plan to assist them in all aspects of their relationship with your company: set expectations for delivery timelines, stock availability, refunds, and general assistance. Employ enough people to guarantee that all client requests are met and concerns are addressed properly. Connect with your customers through the right channels so that communication between customers and your brand is simple.
This year, we hope you get a lot of favorable feedback on your listings. However, don't forget to respond to any bad feedback. Examine any negative review you get carefully, and then respond back to the customer with a sincere apology and a promise to rectify the situation. By doing so, you may not earn a sale but you get a satisfied customer that might return to shop from you. Furthermore, you will also gain valuable insight into how to improve your service in the future.
Increase Brand Awareness by Running Ads
Running advertisements on Amazon as well as other social media platforms allow you to increase your visibility, highlight your product, and thus bring traffic to your site. PPC campaigns get your products among the top search results due to specific keywords, resulting in increased sales. So, don't put off starting your PPC campaigns; get them up and running as soon as you can. You may A/B test different options and promotion styles, and fix things before officially launching your ads. Again, advertisements are important to get maximum sales during holidays. Start running your PPC campaigns and you may notice fantastic results as the shopping season reaches its height.
Keep Your Prices Competitive
During the holidays, everyone is trying to outdo one another, thus prices will be adjusted often to keep up with the competition on Amazon. Keep a watch on how your competitors are pricing their products.
Use an Amazon repricing tool to take care of your product prices. Alpha Repricer is the best Amazon repricing tool in the market, that makes sure you stay competitive 24/7 and get the most sales. Sign up now for our 14-day trial and try to experience our features and then decide.
Conclusion
It can be a daunting undertaking to prepare your Amazon store for the holiday rush. However, it's not too late to have a profitable holiday season. Make sure you use our tips to your benefit and re-evaluate your selling strategy in the coming weeks to ensure that you are completely prepared to handle the enormous demand predicted over the holiday season.
If you think you require further assistance on how to sell on Amazon this season or to keep prices competitive, contact us!