10 Chrome extensions and tools for Amazon sellers
Amazon sellers are always on the lookout for tools to assist in streamlining their business. Every minute is precious and every decision is critical. So the better equipped you are with the strategic apps the better chance you have to find success in the Amazon platform. We have compiled a list of popular apps and Chrome extensions that can help you improve your efficiency. Most of them are either free or cost a nominal amount compared to the help they provide.
1. Jungle Scout
This is a great app for sourcing and highly popular among sellers. The information you get is in real-time and accurate. It will give you an insight into the popularity of an item. The ranking is an essential piece of information towards your decision of carrying it in your inventory or not. So, the product data that this tool shows can be invaluable towards figuring out how profitable a given item can be. It estimates the sale of each product on a particular page. It is a web application that can be paired with a Chrome extension. Marketplaces supported are the US, Mexico, UK, Canada, Germany, Italy, France, India, and Spain. Price starts at $97 per year with a money-back guarantee.
Other than that it can give you the following information:
Average BSR (best seller ranking)
Average price
Opportunity score of that product
Seller details
Numbers of reviews of the particular product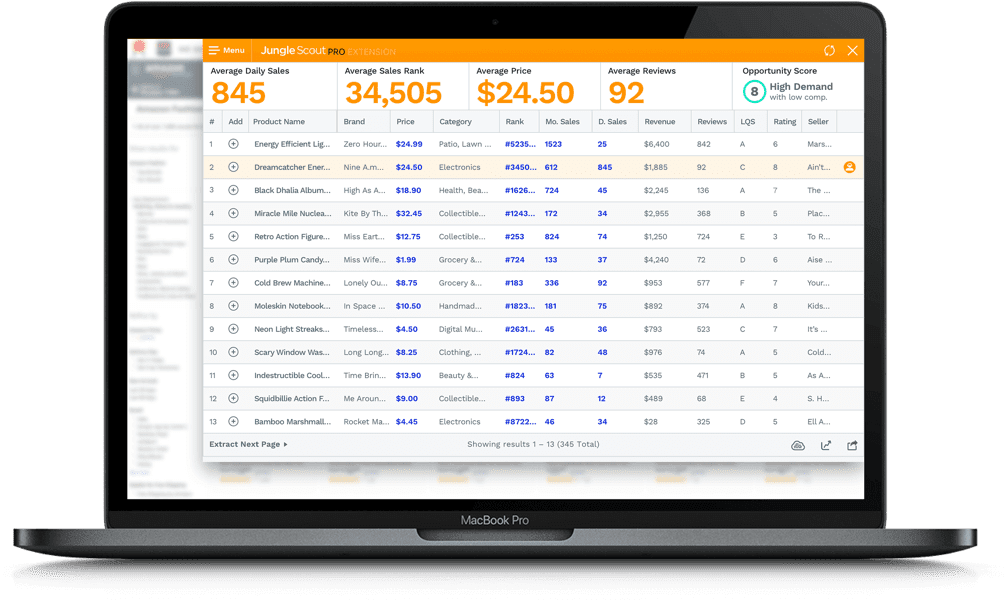 Source: Jungle Scout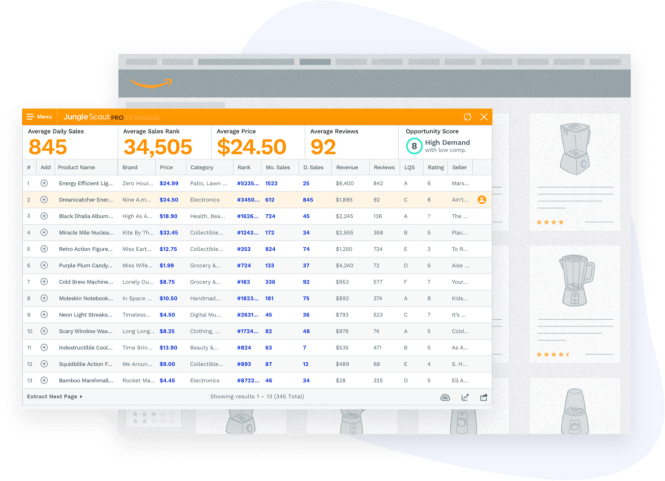 2. Keepa
Keepa is an Amazon price tracker that gives complete price history of products on Amazon. It gives a detailed price history chart of products and notifies when the price drops. This browser plugin shows the price history graph of an item directly on the Amazon page. You can compare prices in different marketplaces. This is especially useful for sellers who sell globally so they can analyze which marketplace can be more profitable. The history of an item's price can show how well it may sell in the future. Unfortunately, it does not show shipping. The information can give you an insight into how to price your products to keep them competitive. It is free.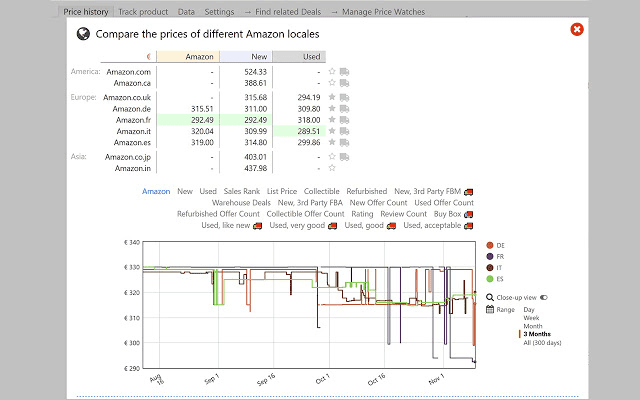 Source: Chrome web store
Keepa features:
Wish list import
Price history charts
Price drop and availability alerts
Recent price drops and daily deals
International Amazon price comparisons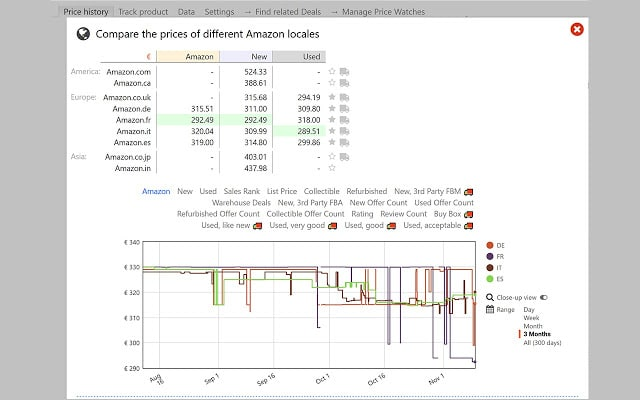 .
3. Helium 10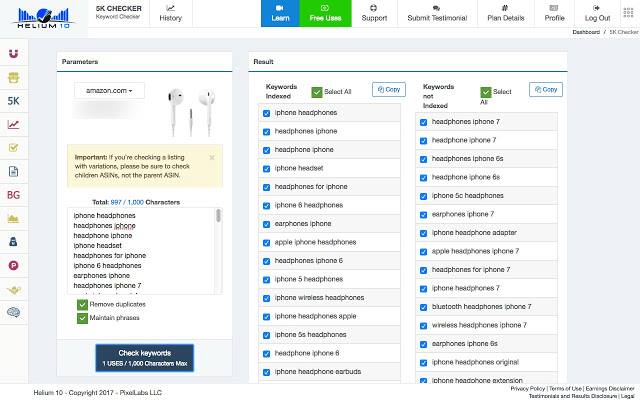 Source: Chrome web store
Helium 10 Chrome extension helps you find the best keywords for your Amazon products. You can copy ASIN information. It shows the fulfillment type of your competitors and their stock levels. You can also download competitors' reviews to analyze and plan your strategy. The Chrome extension is free. The application starts with a free basic version.
Helium 10 Chrome Extension features:
Conduct keyword research
Track search term rankings
Find profitable products
Spy on competitors
Protect listings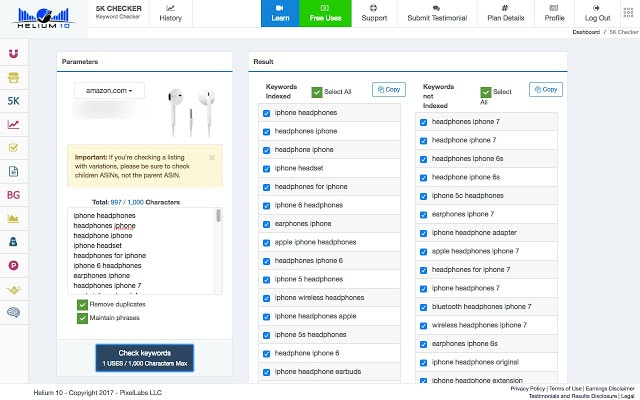 4. The Camelizer
Similar to Keepa this is an Amazon price tracker. It displays price history graphs on product pages that you visit. You can set up a watch on a specific product and be notified when the price changes on that product. This is as far as it goes in price management. This extension is free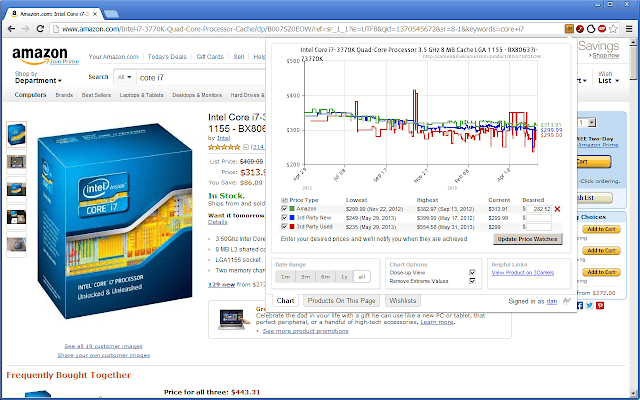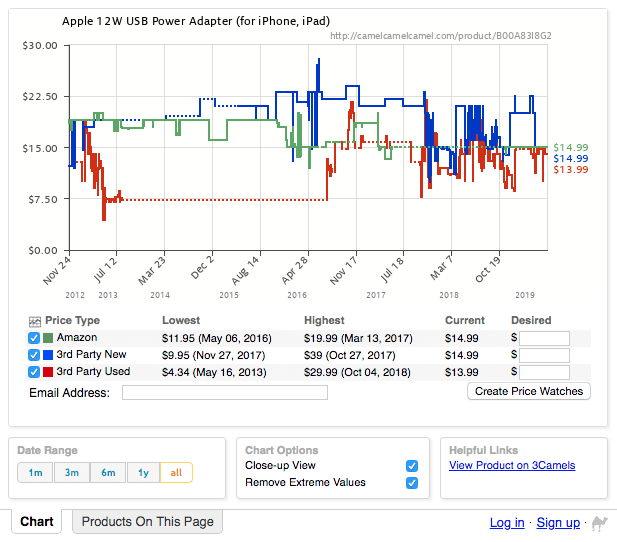 5. DS Amazon Quick View
This is yet another extension, albeit very basic, that gives you details of a product on Amazon. By hovering over a product page, users can get information such as ASIN, BSR, search ranking, pricing history, and the number of FBA sellers selling that item. As sellers start, the free version could give enough insight into which products to sell. With the paid version you can get additional information for products on Amazon such as lowest FBA price, Prime sellers, etc.
The free version has no tech support. The paid version is $19.99.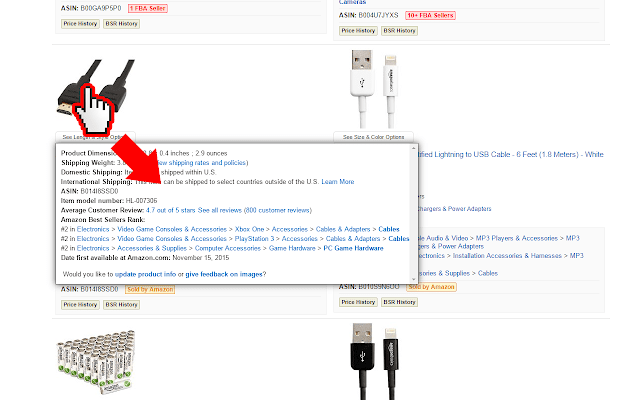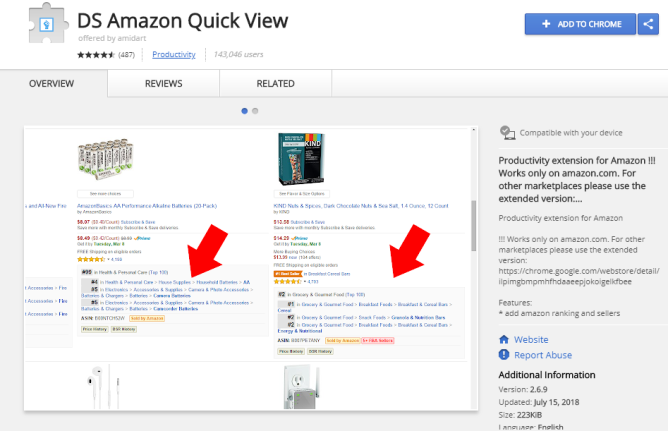 6. FBA Calculator
Another Chrome extension that is user-friendly and offers you free services, is the FBA Calculator for Amazon. It helps you conduct profit analysis in the easiest way possible. Click the extension while on the product page. You will be able to see the Amazon fees and your calculated profit. It is that easy and is used by established sellers and the newbies who just want to stay updated about their expenses and profit they are earning through Amazon. You will be shown the basic profit you can earn and how much your competitors are earning through the same product. This app is free.
It provides you with:
FBA Fees
Sales revenues
Sales Volume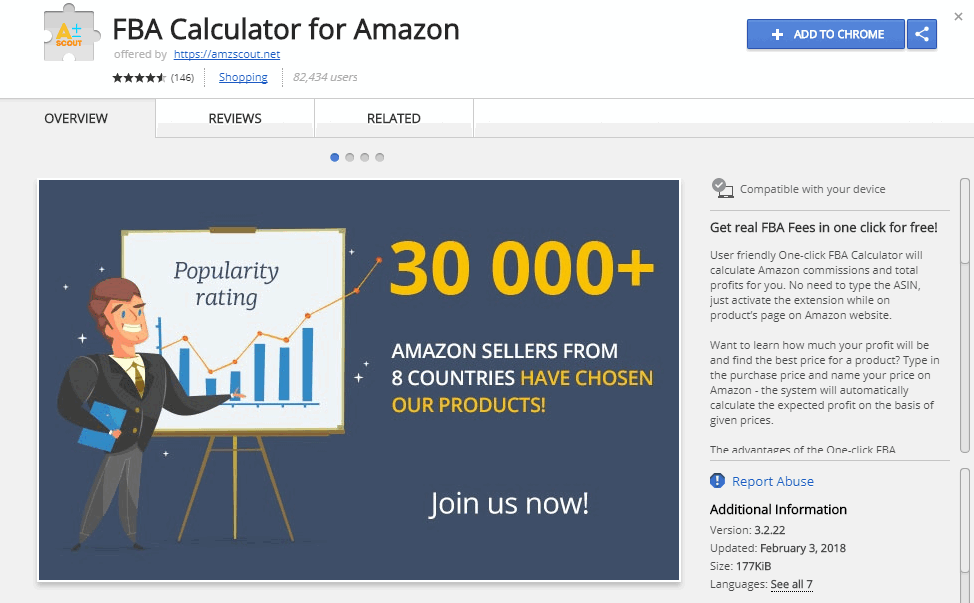 Source: Chrome web store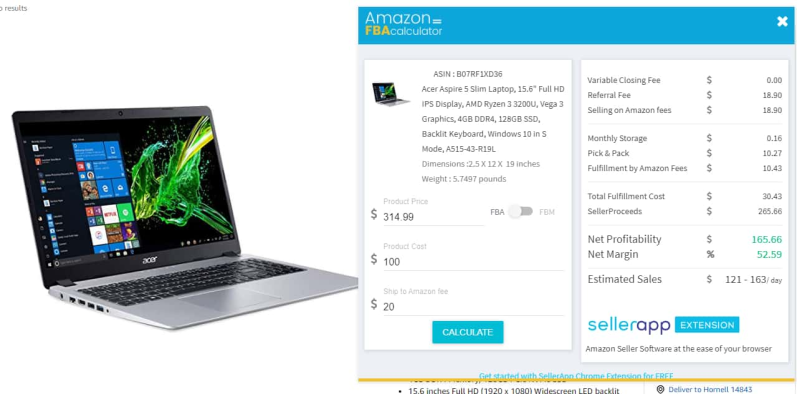 Source: Chrome web store
7. AMZScout (Pro) the Chrome extension
Researching a specific product can be a dull task. However, the extension of AMZScount makes it interesting by providing vendors a convenient program to monitor their monthly profits and sales with BSR. It presents all the data without having to visit the product page.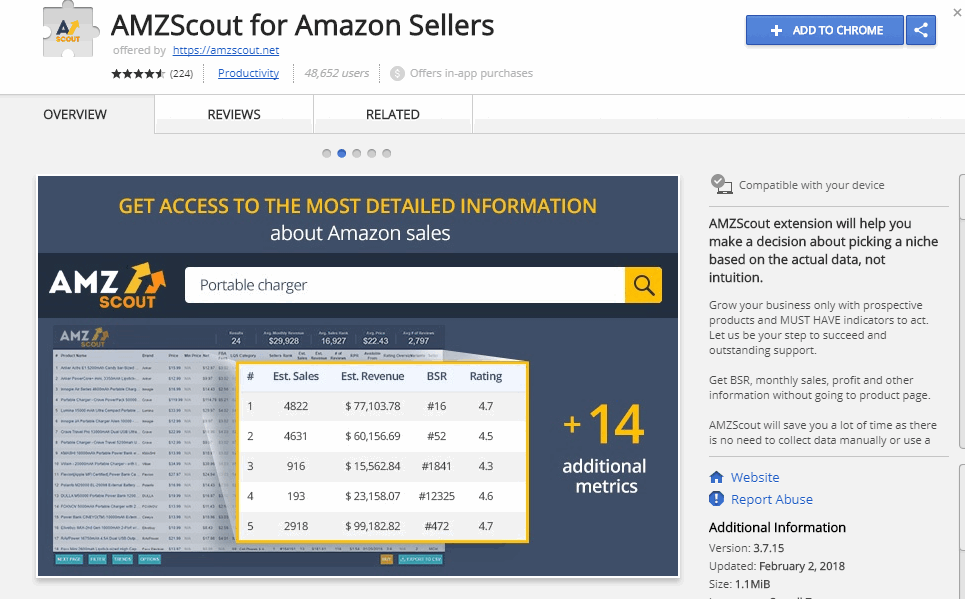 You can get a lot of information about your product with comparison to your competitors who are selling the same products. The features of AMZScout's Extension include:
Sales History of Products
Estimated Monthly Income
Filtering and sorting Adaptive Data
Estimations of Monthly Sales
Information about Lowest Seller Price
Automatic Calculation of FBA fee
Profit Calculator of Product
Display of Latest Trends
Analysis of Listing Quality
AMZScout offers a one-month trial for free. After the trial period is over, you can choose a plan according to your need. It offers you monthly, yearly or lifetime subscription. To sum it up, it is one of the leading tools to find niche products with the ability to bring more profit.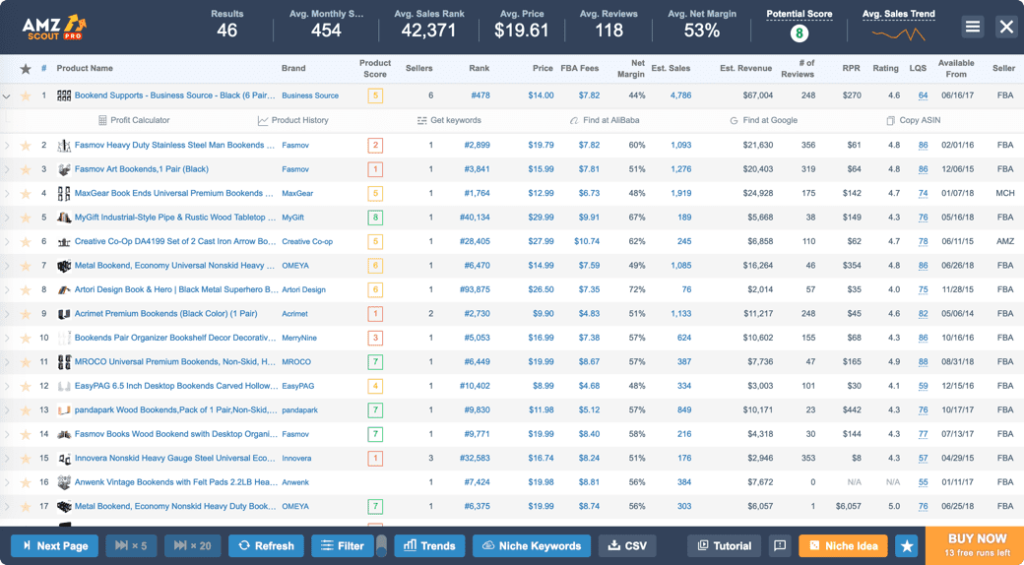 8. AMZ Seller Browser
Product research takes the most time in the Amazon business. AMZ Seller Browser understands that difficulty and assists you in finding new products in a short tiime.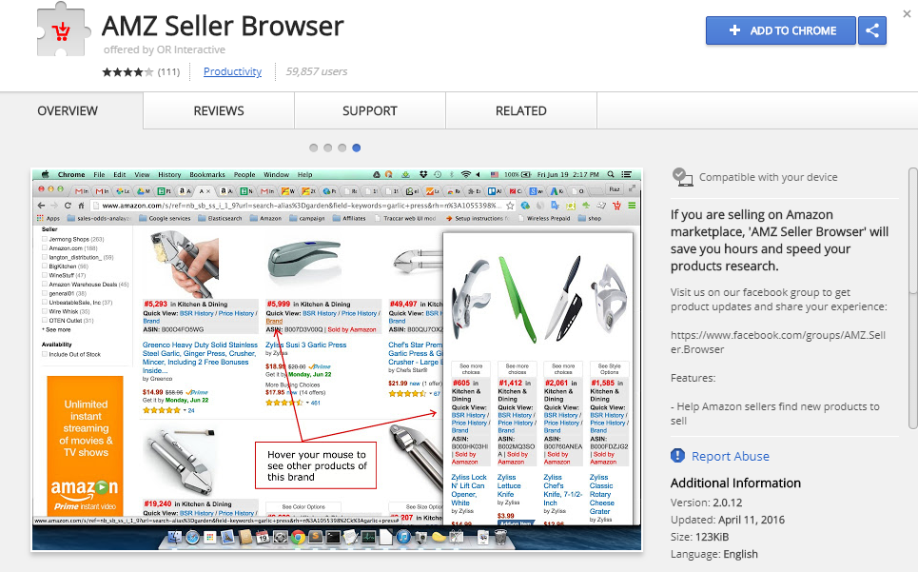 It works with "The Camelizer" and provides you with advice regarding any product. It helps you form your FBA strategy by giving you detailed information about the product you are researching. The main features of this extension include:
Rank history and price from the Camelizer
Adds Amazon BSR to every product in the search
Quick Product Review
Shows other products offered by a similar brand
FBA sellers are shown if they are on the listing
Shows if the product is already available on Amazon
This extension is free.
9. Amazon Keyword tool
Amazon Keyword tool provided by SellerApp helps you get relevant keywords to improve your product listing. You just have to insert a keyword and the marketplace that you want the keyword for.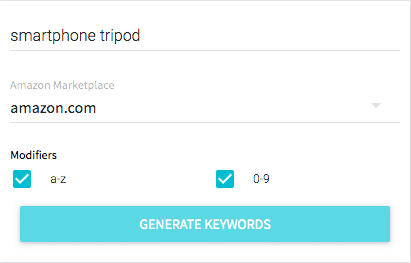 Keyword suggestions will be generated right away for you to work with. The correct keywords help you to come up in buyers' searches. This Chrome expansion for Amazon is free but if you want any additional features then it comes with a premium version too.
10. Alpha Repricer the Amazon repricing software
Another extremely useful tool for Amazon sellers is repricing software. There are many repricing tools out there. Alpha Repricer is the best Amazon repricer. It is efficient and the fastest Amazon repricer. It will help increase your sales and profit. Sign up today for a free 14-day trial and check us out.