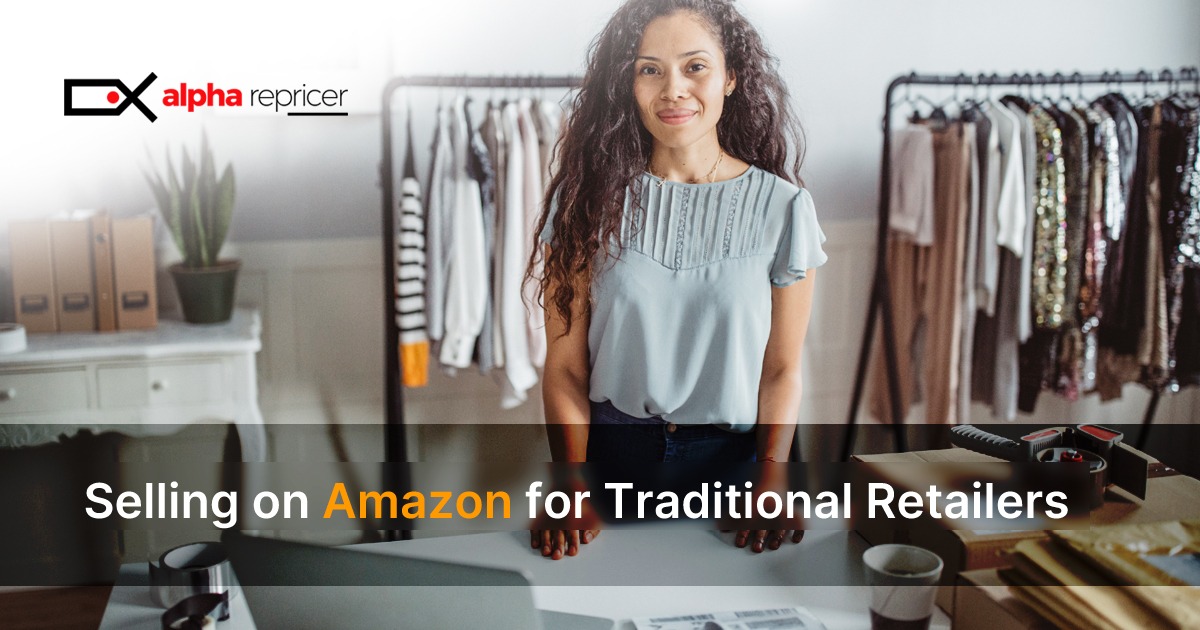 Selling on Amazon for Traditional Retailers: Advantages for traditional sellers
There was a time when we used to visit malls or stores to buy products we needed. However, in recent years, consumers have become quite comfortable with the concept of online shopping, making Amazon the core marketplace to get their stuff. Due to the coronavirus, when most of the brick-and-mortar stores were closed with no consumers to sell to, e-commerce marketplaces like Amazon were not just surviving, they were blooming and they are definitely not slowing down.
If you sell your products in a brick-and-mortar store, now is the time to think about adding an online sales channel to your operation and the best place to begin is through Amazon.
This blog explains why Amazon is the perfect platform for brick-and-mortar retailers to offer their items online. It also mentions the advantages Amazon offers as an e-commerce giant.
Table of contents:
Why Should You Start With Amazon?
You might not have thought of Amazon as a potential option to grow your business. There is a common misconception that Amazon primarily sells low-cost goods from well-known brands only, and it suffocates small businesses which are independent and yet to grow.
However, Amazon welcomes all third-party sellers and as a matter of fact, third-party sales account for more than half of its overall sales. Amazon marketplace has now evolved into a powerful and the highest competitive e-commerce network which consists of brands and retailers of different types. None of these businesses act as suppliers of products to Amazon, they are all independent firms taking advantage of Amazon to deal directly with their customers.
If you really want to build a scalable business, you can't rely on your brick-and-mortar stores only. Online marketplaces like Amazon, make it possible for you to reach a larger audience and boost your sales potential by giving you access to a worldwide, 24-hour consumer market.
Shifting to an online marketplace after selling through physical stores is never easy. But Amazon is the easiest, yet the best option to begin your bricks-and-clicks adventure.
Advantages
· Amazon Reduces the Risk of Your Company Running Out of Business
Simply put, companies that use e-commerce platforms and apply the right strategies lower their risk. They have a variety of sales channels, target markets, and the flexibility to change how they promote their products, sell, and fulfill their items for different types of customers. Amazon allows you to diversify your sales channels, allowing you to make more profit and sell your items quickly. Many brands and businesses rely solely on their Amazon businesses even when having physical stores. It's not just convenient for you, it's convenient for your buyers too. If they don't want to visit your store in person, they can just go to Amazon and purchase your products from there.
· Adding an Amazon Store Expands Your Company's Reach.
Being one of the top e-commerce marketplaces, the most significant advantage of incorporating Amazon into your business is the possibility of expanding your reach globally. Amazon is currently dealing with around 112 million Amazon Prime members worldwide, divided over 18 marketplaces. The US marketplace of Amazon alone receives over 2 billion visitors every month. If you are looking forward to expanding your business and reaching out to customers through a global platform, Amazon is the way to go.
· Amazon Encourages Every Brick-and-Mortar Business to Sell its Product Through its Platform
Amazon is not only for any specific type of business or deals with any specific products. Amazon works with different types of business models, a wide range of items, and market niches. There are many business models found currently on Amazon, such as:
1. Wholesale
2. Private label
3. Dropshipping
4. Arbitrage/reselling
5. Handmade items
Many sellers don't stick to one business model and go with different models to sell a variety of items on Amazon. It's all up to you, Amazon is going to accept you regardless of your business type. You just have to sell good-quality items, get the best repricing software on board to keep your products competitive, manage your inventory and keep your customers happy. Other than that, you won't have any other issues with Amazon.
· Customers Already Know About Your Products.
The best part about in-store retailers shifting to an online sales channel like Amazon is that the customers are already passionate about your specialized niche. You don't have to struggle on Amazon as a new business, your customers will instantly start visiting your Amazon store once you break the news to them. Moreover, you won't even have to worry about the inventory. You will have a range of products in stock at your store, and once you get an online order, you can just pack that product and ship it to the delivery address. Traditional retailers have complete knowledge of their products and the right expertise to apply. All they need is the right online platform to showcase their products and increase their sales.
In Conclusion,
Amazon is the best way to enter into the bricks-and-clicks world, and the advantages are endless. It is a great way to expand your business and increase your sales and profits. Yes, it can get a little overwhelming. However, if you give it your time and effort, Amazon could open a huge opportunity for you to get new customers. Plus, you always have different tools available to help you get through challenging times. All you have to do is research and sign up with the best inventory management tool and Amazon repricing software. they're going to make your work a lot easier, and help you get ahead of your competition on Amazon. Furthermore, we are going to come up with a new article discussing how you can make the most out of Amazon after adding it as an online sales channel. Stay tuned!