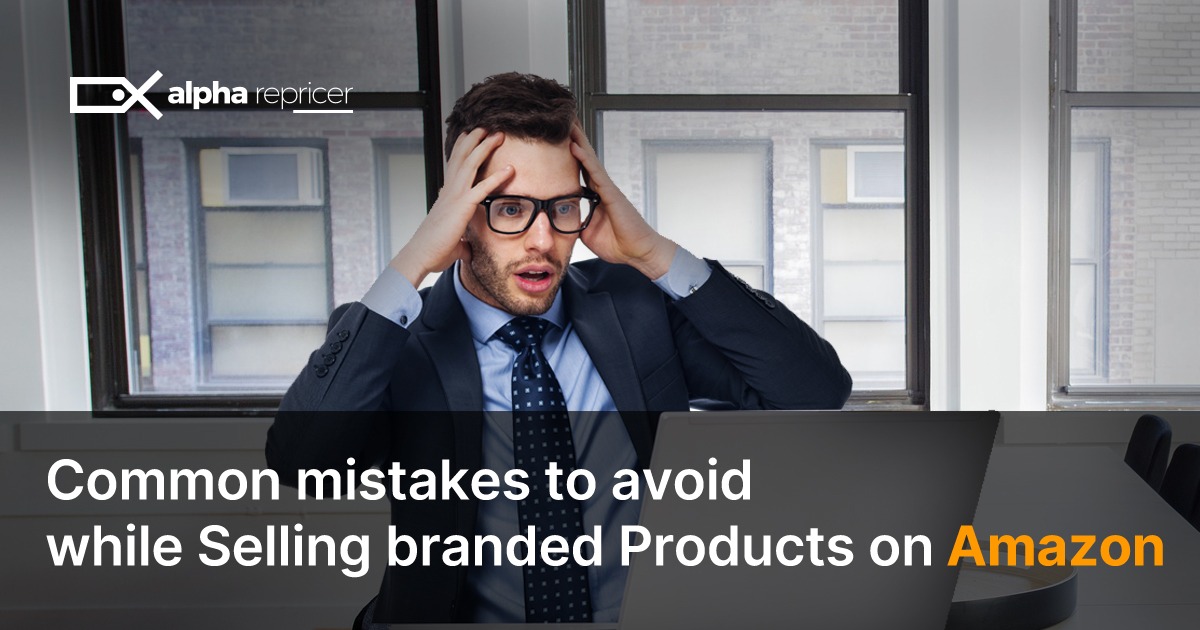 Common Mistakes to Avoid While Selling Branded Products on Amazon
Amazon is one of the giant online retailers and has allowed people to become their own bosses by selling products on Amazon. Each year millions of new sellers join Amazon, but hardly 8% of sellers reach their desired goals. Mistakes help the Amazon FBA sellers to learn and grow.
but, major mistakes can ruin your business and may cost you thousands of dollars. So as a new seller it's essential for you to avoid big mistakes in order to gain profit and sales!
In this article, you'll learn about the mistakes that should be avoided while selling on Amazon;
Avoiding Competition in the Market
As we all know there is massive competition in the Amazon marketplace. So, instead of avoiding new competitors, it is important to identify what your competitors are doing to gain sales and profit!
With accurate methods and techniques, it can be easy for you to track the strategies of your competitors.
Amazon sellers need to analyze what their competitors are up to in order to stand ahead of other Sellers in the marketplace. You can use keywords, ask for reviews, add product descriptions, customize your products to succeed and grow.
If you are a new seller and have failed to analyze competitive analysis, you may lose thousands of dollars because we can't afford this huge mistake!
Unethical Suppliers
A good supplier is an asset of the business. When you are running your business, it is important to choose professional and trust-worthy suppliers because it counts a lot and can increase your sales!
If you are dealing with an unethical or unprofessional supplier, it will cost you more than expected! Issues such as bad quality, inaccurate quantity, financial errors are all signs of unprofessional suppliers.
So, It's necessary to keep track of your supplier's reliability ratio, work, and history with other sellers to avoid any mistakes.
Missing the opportunity to use Amazon PPC accurately
We all know that advertising helps the brand to gain customers' trust and satisfaction. As a seller, if you are doing complete research, analyzing your competitor's strategies, then don't miss the opportunity to use Amazon PPC as it will boost your sales!
Amazon PPC is a little expensive, but it gives exposure to your products. If it is used accurately, it can increase your organic ranking and brand image in the market.
If you don't want to lose your profits, then never forget to calculate the profit margin and PPC expenses because this mistake will cost you a lot!
Over-stocking
In Amazon, most of the sellers overstock their products. It can be expensive and have many disadvantages. Most sellers store products due to the increase in customer demand or due to the products' cheap cost when bought in bulk quantity.
Overstocking can be a big mistake if your sales drop-down. It can be challenging for you to manage it or pay extra charges. So there is no point in overstocking your products!
If you succeeded in selling the excess stock. you won't be able to enjoy the entire profit because the Amazon long-term fees can be a bit expensive. You can earn huge profits by investing in other business ideas instead of over-stocking your products!
Neglecting the rules and policies
Amazon is the most successful online retailer worldwide, so it has set up some rules and policies for its sellers. And it is necessary for every seller to obey these rules.
From fulfillment by Amazon to FBA inventory shipments and refund, it is essential to follow each step. Neglecting the policies of Amazon may affect your sales severely. Due to these mistake, Amazon would ban your account permanently, and you won't be able to sell anymore!
Conclusion
These are the few mistakes that may cost you thousands of dollars. However, there are plenty of other mistakes which sellers make while selling their products on Amazon.
It is important to guide yourself about the policies and rules set up by Amazon and use the right and accurate methods to run your business smoothly and successfully!
Maintaining the pricing of your products is also necessary, which helps you to avoid major mistakes. You can choose an Amazon repricing tool like Alpha Repricer. It offers instant repricing to help you stay ahead of your competitors and enables you to get the buy box more often because we always want you to stay on top!
I hope you find this article significant. For more information, visit Alpha Repricer blogs or signup for our 14-day free trial!