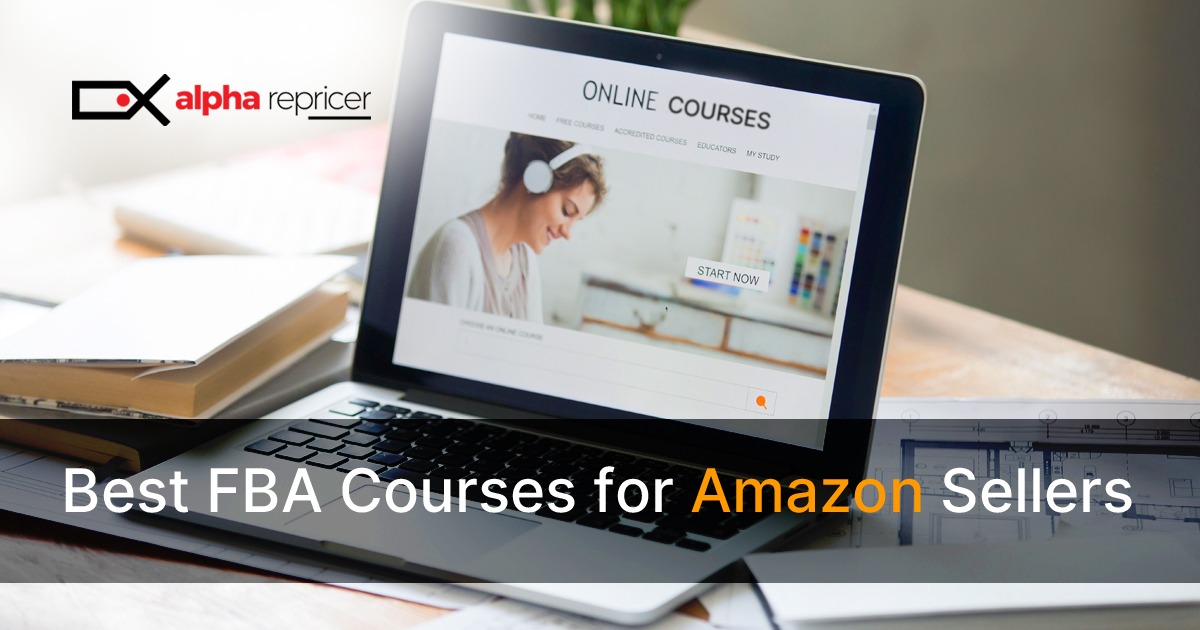 Best Amazon FBA Courses for Sellers: Amazon FBA courses for sellers to learn
If you are looking forward to selling on Amazon, you might need to know a lot of things before getting started. Becoming a successful seller on Amazon is not as easy as it seems. You need the proper amount of skills and expertise to truly enhance your chances of success. Not every training course is going to be beneficial. Some of them might end up wasting your time. However, there are a few Amazon FBA courses from experienced sellers that might assist you in getting started on Amazon.
Today, Alpha Repricer, the best Amazon repricing tool, has compiled a list of the best Amazon FBA courses to help you spread your roots on Amazon.
1. Amazon Selling Machine
Amazon Selling Machine is hands down one of the most effective, renowned, and comprehensive online courses. You get training by Matt Clark and Jason Katzenback, where they provide a thorough, all-encompassing education on most of what you need to know about selling your products on Amazon.
They mostly cover how to sell private label items. Many beginners choose private-label brands because they believe that you only have to rebrand an existing item and give it your name. However, it's much more involved in that. These experts will let you know every detail so that your efforts don't go to waste.
And if you are still not convinced after taking a few classes, they also provide a 30-day money-back guarantee! You can leave if you don't like the course.
Cost: Amazon seller's course costs $997 monthly or $4,997 if you choose to pay it all at once.
2. Freedom Ticket linked with Helium 10
Freedom Ticket is an in-depth Amazon course that focuses on creating and showcasing a private-label product, designed by Kevin King, a successful entrepreneur, and eCommerce expert. The video course is eight weeks long, and if you have a Helium 10 account, you may get free access to Freedom Ticket.
They have a 30-day money-back guarantee as well!
3. How to make $1,000+ per month selling on Amazon
Isn't this what every beginner on Amazon needs? It's all in the name! In this course, Ryan Grant will tell you all about making $1,000+ per month within the first year of selling on Amazon. It is an ideal course for sellers who are just getting started. Grant underlines the importance of taking small steps, setting goals, laying the groundwork for you to build up in a sensible manner without relying on anybody.
The course covers eight topics where you will learn about setting up your Amazon seller account, sourcing trendy and lucrative items to sell, how to safely ship your items to the Amazon FBA warehouses, how to keep competitive product prices, and other recommendations. Ryan Grant also gives you access to all the topics at once to learn at your own pace.
Cost: $299 if you sign up for the "Pro Plan" and $199 for basic learning.
4. Ultimate Amazon Seller Course
In Phil Covington's Amazon Seller Course, you are going to get a reality check. He states very clearly that all beginners must work hard and should not dream of succeeding overnight. However, do not let the disclaimer scare you off. The information provided in this course will include a broad array of important subjects, including sourcing the right products and stages you must go through to establish a viable brand on Amazon. You will learn all about PPC ad campaigns and how to manage them, legal matters that you will have to take care of, and ways to improve your site's user experience for more traffic.
Cost: $997 for the detailed course and $497 for basics.
5. Traffic and Profits
If affordability is an issue, you might want to take this course taught by Scott Voelker. He also hosts a podcast, "The Amazon Seller." The course "Traffic and Profits" is best for sellers ready to move forward even on a tight budget. If you want to know how to boost your sales or expand sales channels, then this one should be your go-to course.
Voelker focuses on providing information regarding many online platforms that they can sell from, including Amazon, WooCommerce, BigCommerce, eBay and Etsy, etc.
He usually has a large volume of sellers waiting to join the course, so you might have to wait as well. However, keep on checking to see if any seat becomes available, or sign up for alerts.
Cost: $199 for the course.
Final Thoughts:
We hope you find this list of Amazon FBA courses helpful and able to take one to increase your success rate! Once you start selling, you might need us, though! Alpha Repricer– the best Amazon repricing tool helps you keep competitive product prices! Alpha Repricer – the best Amazon repricing tool reprices products every 2 minutes! Sign up now with the fastest Amazon repricer! Contact us for more information.