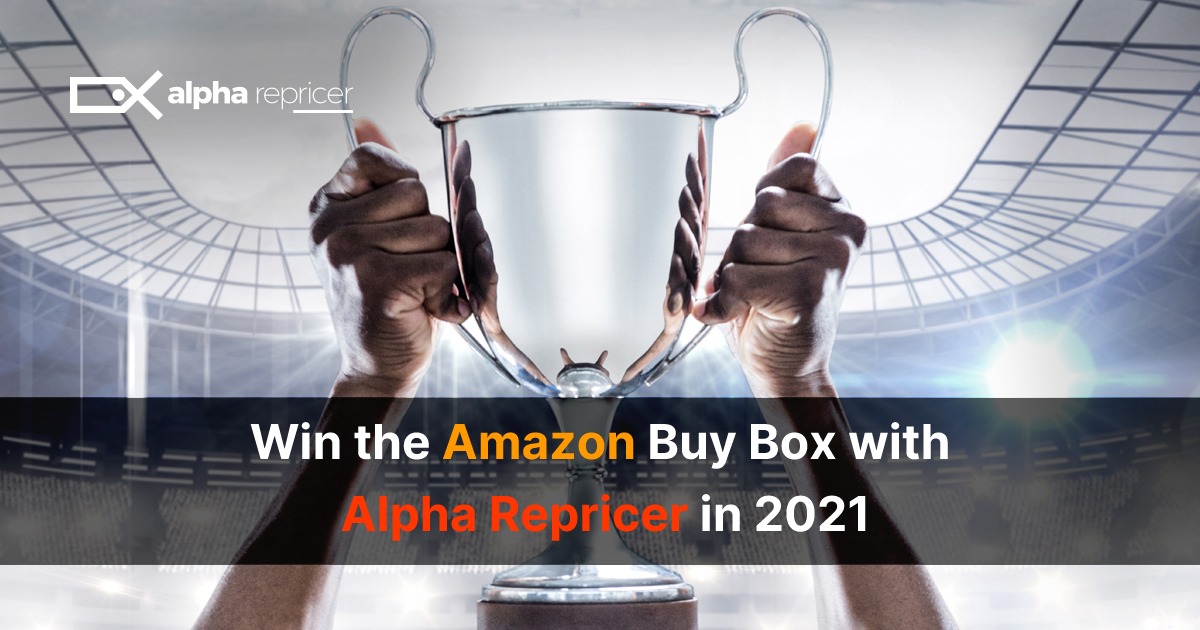 Win the Amazon Buy Box with Alpha Repricer in 2021
The Amazon Buy Box is of great importance for every Amazon seller out there. It helps you drive more sales and generate maximum revenue. In short, being on Amazon is not enough to grow your business. You must have the Amazon Buy Box with your products featured to get major sales!
However, winning the Amazon Buy Box is not as easy as it seems. It requires constant effort, and you definitely cannot cover all the areas to focus on if you want to get it for your business. This is where we come in!
Alpha Repricer is the fastest Amazon repricer with the best strategies to help you win the Buy Box this year! Let us walk you through the importance of the Amazon Buy Box and how you can win it with us!
What is a Buy Box?
You can see the Amazon Buy Box on the top-right of those product pages that have won it. It is very prominent to every purchaser looking for a product you are offering and shows you on the top. According to the research by Statista, the Amazon Buy Box gets approximately 83% of the sales to the Buy Box winners. Other sellers appear below the Buy Box winners, but they all look similar while the winner stands out! That's why most of the sales go to the Buy Box winners. It also is the easiest way for purchasers to get the product they need.
Who qualifies to be Buy Box eligible?
For sellers to be Buy Box eligible, they must tick certain boxes. Such as:
Sellers must have a Professional Seller Account on Amazon that costs around $30.99 per month. Sellers with the Individual Seller account won't have access to the Buy Box.
They must offer new products to their customers. They must be of good quality and well managed.
Sellers must have a trading experience of at least two to six months.
Tips to win the Buy Box
Being Buy Box eligible is just an initial step towards winning the Buy Box. It gets pretty tricky when other competitors are trying hard to win the Buy Box too! Amazon has never clearly mentioned how they choose the perfect seller for the Buy Box. However, there are some areas that you can cover to get on top of the list!
1. Try Switching to Amazon FBA!
If you sell via FBA, then great! You're on track. If you don't, then consider switching to FBA because it helps sellers a lot! Other sellers might have to make extra effort to win the Buy Box from FBA sellers. Amazon already trusts FBA sellers. They already have fast shipping, free deliveries, and stocked up inventory to sign up for the Amazon Buy Box.
If you want to know more about the importance of FBA, then check out our blog!
2. Sell top-quality products!
As mentioned above, sell new products for Amazon to choose you as the Buy Box winner. The sellers who sell used products usually have the slightest chance to win the Buy Box. Try catching up with the trends and sell new products that attract your customers more.
3. Prime sellers have an edge.
Amazon first goes through the prime category of sellers and then comes down to the FBM sellers. If you are an FBA seller, you are already qualified to sell as a prime seller. However, if you ship your products, then consider shifting to prime.
4. Keep your inventory in stock!
If your buyers end up waiting for your products just because you ran out of stock, then you are out of the race! If your products are selling quickly, make sure your inventory is stocked up to serve each customer. Amazon always gives priority to the sellers who have a well-managed inventory system and never disappoint their customers.
5. Competitive pricing is essential.
Customers love when they get the product they need at affordable prices! It gets even better when you are offering a better price than any of your competitors. If you set your prices according to the Buy Box price, it increases your opportunity to eventually win it. Amazon notices your price offered and then decides whether you should get the Buy Box or not.
Pricing competitively is the best approach to win the Buy Box and increase your sales on Amazon. How can we help you achieve it? Let's see!
Alpha Repricer's Buy Box Hunter is here to help!
Amazon repricing tool is the most essential software to invest in if you want to win the Buy Box without going through any hurdle. An Amazon repricer helps you keep your prices competitive because you will not be eligible to win the Buy Box if you fail to do so. To get maximum sales on Amazon and win the Buy Box, getting an Amazon repricing tool is necessary.
Alpha Repricer, the fastest Amazon repricer, offers real-time, instant, and continuous repricing! We respond to every price change that occurs so that your prices are always updated and competitive. Our Buy Box hunter helps you get Buy Box eligible on Amazon and eventually wins it for you! Once you win the Buy Box, our tool keeps it at the highest price possible and maintains its position so that your competitors don't take it from you.
Try our Buy Box hunter now! Sign up for our free 14-day free trial and experience our features. Contact us if you'd like to know more.