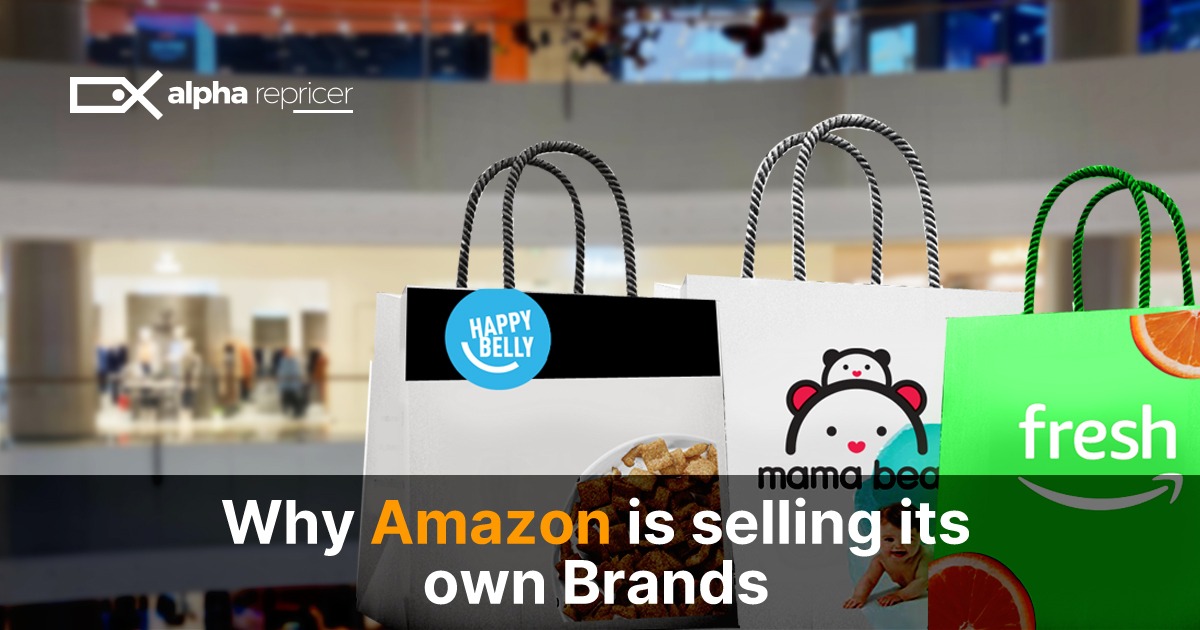 Why Amazon is selling its own Brands
We all know that Amazon is the largest and successful online retailer of the world which owns plenty of brands and has provided a platform to all the buyers. There are different brands that come under the ownership of Amazon under different categories such as automotive, clothing, books, beverage.
Over time, Amazon has invested in multiple brands and some subsidiary brands. It has also taken over different brands and now sell them under their own brand label.
The product quality of the brands on Amazon is unbeatable and are also found at low prices that help consumers to make their purchase easily and efficiently. Moreover, Amazon brands sell at affordable prices that gain satisfaction and make more sales!
The Purpose of Amazon behind selling its own brands!
The primary purpose of Amazon for selling its own brands is to earn profit and lead the online marketplace. Amazon has launched more than 100 of brands such as automotive, furniture, home appliances, clothing food and beverages, baby food, etc.
According to a report by CNBC, back in 2018, the private label brands produced a whooping sales of $7.5 billion on Amazon and it's also expected to increase more in the future! (source: Amazon brands)
Private-Label Brands
Amazon highly focuses on its private-label brands. Basically, the private labeling for Amazon FBA is unique. It means you sell the items under your brand on Amazon. After researching the product market, you contact product manufacturers or suppliers directly, and they make the items for you in bulk quantity, at a specific date under your brand name.
There are plenty of private label brands owned by Amazon like Echo or Kindle. According to Amazon, these private-label products make up about 1% of its total sales. (source: marketplace pulse)
Brands owned by Amazon
Amazon owns more than 80 private label brands across all categories, including women's clothing brands, denim brands, electronics, and much more. According to a report by Quartz, Amazon has applied for 800 trademarks.
Let's have a look at some of the brands owned by Amazon:
· Amazon Collection Brand
This Amazon brand sells a wide range of jewelry products at affordable prices, such as earrings, necklaces and rings. It is one of the most well-known Amazon brands. Here the top seller is a pair of "Swarovski zirconia" earrings. This brand includes 464 products in its product category that helps it to grow and increase more sales!
· Pinzon brand
Pinzon is another brand that comes under the Amazon ownership. It offers bedding and towels. Pinzon is Amazon's first private label brand and has more than 84 products in it. Many consumers trust this brand due to its product quality and packaging.
· Daily Ritual brand for women
This is a women's fashion brand owned by Amazon that focuses on stylish and casual wear. It has positioned itself in a very short time. It offers branded clothes at affordable prices and has proven to be one of the most profitable Amazon brands with more than 316 products.
· Amazon Elements
Basically, Amazon element is a brand that sells health-related products that include herbals, minerals, botanical supplements, and much more. Amazon owns 37 products under this brand name.
· Mama Bear
Mama bear is a brand owned by Amazon that sells baby-related products such as multivitamins, baby food, and laundry detergent. It has also launched many new products that include baby diapers, and baby shampoo. This brand has more than 94 products.
· 365 Everyday Value
Amazon acquired this brand in 2017. Basically, it is a brand of Whole Foods Market. This brand provides various natural organic products such as skin products, and herbal products. It has earned a good name in the Amazon marketplace. This brand has more than 1115 products under its product category.
· Buttoned Down
This is a men's fashion brand owned by Amazon that sells clothes at affordable prices. This brand was launched in 2016. This is considered one of Amazon's first private apparel brands for prime members. There are more than 92 products under this brand name.
Conclusion
These brands help Amazon to generate good sales and earn good revenue. There are uncountable brands such as toys, clothing, sporting goods, and many more. Besides this, Amazon is also bringing some new brands into the market to increase their sales and make shopping easy.
We hope this article was meaningful for you. For more information, Visit Alpha Repricer!
At Alpha Repricer, the fastest Amazon repricing tool – we ensure our sellers are kept updated with the current industry news and information to make their selling experience better.
SIGN UP or contact us now and experience our free 14-day trial.