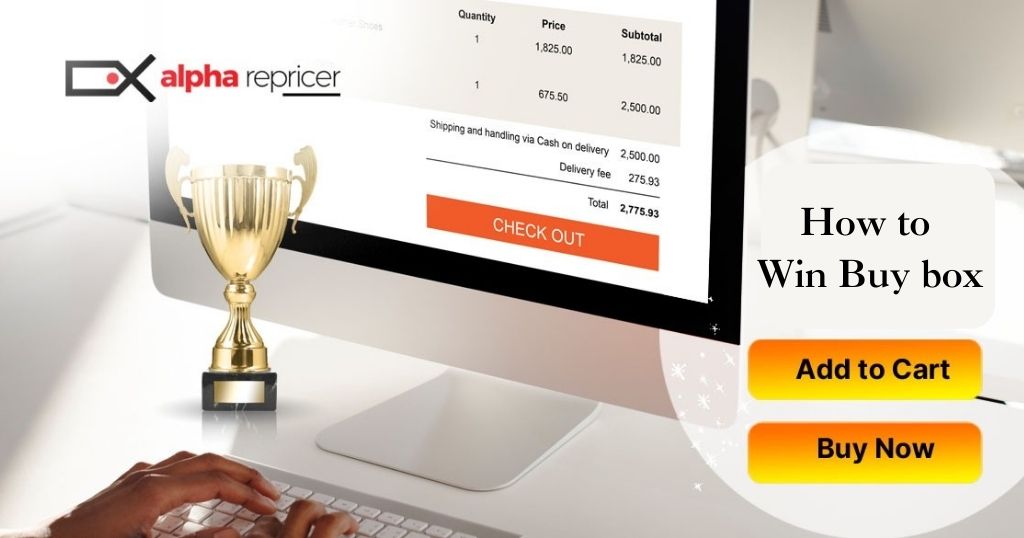 How to Win the Amazon Buy Box? A comprehensive guide for Amazon sellers
Amazon is now the number one go-to marketplace for buyers and has become the world's leading digital retailer. The e-commerce retail giant sells around 120 million items, and that too at the lowest prices! It's the ideal place to look for a good deal. Have you ever wondered why things on Amazon are a lot cheaper than other marketplaces? Well, it is all because of the competition between sellers to win the Amazon Buy Box.
You might have a few questions in mind, such as, is Buy Box this big of a deal? And if yes, then how can sellers win it? Don't worry, we've got these questions covered.
You will learn the following information in this comprehensive guide:
1. Amazon Buy Box- What is it?
2. Why is the Buy Box on Amazon so important for Amazon sellers?
3. How do you become eligible to compete for the Buy Box?
4.    How to win the Amazon Buy Box?
Let's begin!
1. Amazon Buy Box- What Is It?
If you are wondering what is Amazon Buy Box then let us explain it to you. Buy Box is the white box you can see at the top right corner of product pages on Amazon. According to the reports by Statista, the Buy Box is responsible for nearly 82% of all the sales on Amazon. If you win it, you automatically become the most prominent store in front of the buyers.
Most of the products on Amazon are sold by several different sellers. Buy Box is the first thing a buyer sees when he searches for a product. The buyers on Amazon can click "Add to cart" from within the Buy Box. If you are the featured vendor in the Buy Box, you make the sale!
Buyers can scroll down and find other sellers that are mentioned below you, but there is nothing that distinguishes them from one another. That's why most of the sales go to the Buy Box winners. In short, it is the simplest way of purchasing top-quality goods on Amazon without searching through a lot of products.
2. Why Is The Buy Box So Important For Amazon Sellers?
There are two primary reasons for sellers to be concerned about winning the Buy Box.
· Having ownership of the Amazon Buy Box improves your chances of making maximum sales
The Amazon Buy Box accounts for nearly all the purchases made by buyers. It is the most visible and first 'call to action' that customers encounter on Amazon. The placement of Buy Box and its convenience of displaying the best seller is usually enough to achieve a sale. Buyers trust Amazon and they often don't think about scrolling down to look at other buyers when the best one is displayed at the top. Simply put, if you win the Buy Box, you will shine through while others stay dim. However, Amazon keeps the Buy Box in rotation and sellers can't hold it for a long time, and that's exactly why the competition is really high and sellers do the best they can to attain the Buy Box and keep it with them as long as they can.
· It allows you to create PPC ads on Amazon
With the Amazon pay-per-click ads, sellers bid on click prices for specific keywords, and if the sellers have won the Buy Box, they can use the Amazon PPC to establish sponsored advertisements for their product. However, you won't be able to run "Sponsored Products" campaigns if you don't own the Buy Box for that specific ASIN.
3. How Can You Become Buy Box Eligible on Amazon?
An interesting fact is that for many of the products on Amazon, there will be more than one eligible seller to win the Buy Box. Amazon then conducts and evaluates the performance of sellers to decide what share of the Buy Box the sellers should receive.
To put it in a simpler way, Amazon doesn't always assign the Buy Box to a single seller. Instead, sellers will receive a share of the Amazon Buy Box. Moreover, sellers don't get an equal share of the Buy Box. Instead, the strongest sellers win the highest share of the Buy Box.
Now that we've answered your questions about what is Amazon Buy Box and its importance, you must know that in order to get Buy Box eligible, here are a few requirements to meet:
· Sellers must have a Professional Seller account
The minimum requirement for sellers to be Buy Box eligible is to have a Professional Seller Account on Amazon that costs $39.99. Unfortunately, sellers with an Individual Seller Account cannot compete for the Buy Box.
· The product should be Buy Box eligible
A seller has to be Buy Box eligible to compete and win the Buy Box for that specific product's sales. It is not the same for every product. A seller can perform well and be eligible for one product, but not for the other items that are offered by him. To get Buy Box Eligible Your ODR (Order Defect Rate), LSR (Late Shipment Rate), and Cancellation Rate should be minimum. Sellers can also switch to FBA to become Buy Box Eligible quickly.
· Condition of the items
Used items cannot win the Buy Box over an unused, new product. However, Sellers offering used items can now compete for the Used Buy Box on Amazon that has been created apart from the main one.
· Products need to be in stock, always
If you don't have the product in stock, you simply can't compete for the Buy Box.
4. How to Win The Amazon Buy Box?
Even if you match the basic Buy Box eligibility standard, you may not be able to win or own the Buy Box right away- especially if multiple sellers are trying to get the Buy Box under the same listing. Furthermore, while Amazon doesn't clearly mention what factors the Amazon algorithm takes into account when awarding the Buy Box to the sellers, fulfilling the points mentioned below is how you can get closer to winning the Buy Box.
– Offer Competitive pricing
The price competition for the Buy Box is increasing day by day. Almost 66% of the sellers lost the Buy Box due to price competition (BlueBoard- 2019). Amazon associates low prices with satisfied and happy purchasers. Moreover, you can boost your chances of getting the Amazon Buy Box by setting your product price within 5% of the existing Buy Box price. In 99% of the cases, the Buy Box price is usually the lowest possible price to offer for a specific product. Sellers need to make sure they have competitive prices so that they have increased chances of winning the Buy Box. Don't rely on manual repricing- sign up with the best Amazon repricer to win the Buy Box. 
– Sell products in new condition
As mentioned above, the condition of your items matters. Usually, the Buy Box winners sell new products on Amazon and you won't come across sellers offering used items winning over those with unused products.
– Be a prime seller
While non-prime vendors can compete for the Buy Box, Amazon prioritizes its Prime sellers. Sellers that are signed up with FBA are automatically eligible for Prime, but FBM sellers can also become Amazon prime sellers and increase their chances of getting the Buy Box.
– Focus on your inventory levels
If you are offering an item that is low on stock, you won't be able to deliver that product to your customers in the given time. For instance, one out of five sellers on Amazon lost the Buy Box due to inventory issues (BlueBoard- 2019). That is why Amazon emphasizes having your inventory in stock at all times. If you are unable to fulfill your orders, you won't get the Buy Box.
– Customers should be your number. 1 priority
The entire world knows that Amazon is a customer-centric marketplace. Even if you offer fast shipping, it won't count if your customers have complaints regarding your customer service or products.
Your Order Defect Rate is a major factor that Amazon is going to notice before assigning you the Buy Box. To avoid product returns and negative feedback, make sure the quality of your product is A-one and delivered on time. Listen carefully to the issues your customers have in order to resolve them asap.
– Your seller feedback should be positive
Although it's unknown how Amazon's algorithm weighs seller feedback when deciding who gets the Buy Box- it's assumed that sellers with poor or unsatisfactory performance metrics have a lower chance of winning.
– Offer Fast shipping
If you are an FBA seller, you don't have to worry about this. However, FBM sellers can't afford to offer late shipping if they want to win the Buy Box. The faster their customers get the products, the better. Make sure to ship within 2-3 days to stay highlighted.
In conclusion,
Winning the Buy Box is like hitting the jackpot on Amazon, it gets you maximum sales and thus, maximum profit. Make sure to follow all the factors above- especially to offer the best product prices. Sign up with the best Amazon repricer to win the Buy Box and keep your product prices competitive, while you focus on other aspects of your Amazon business. Try now!