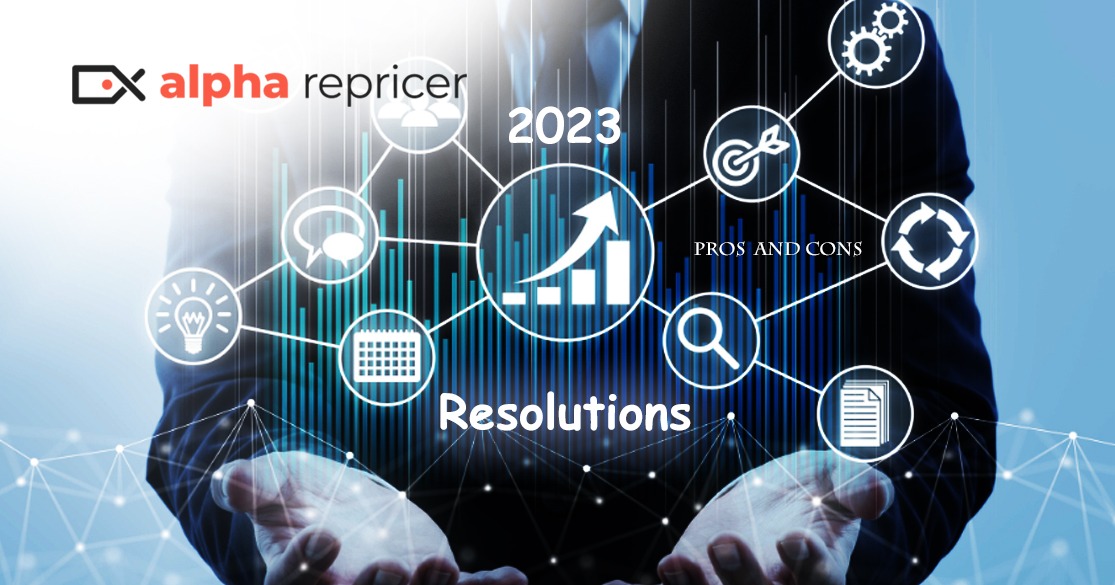 New Year's Resolution: How to sell better on Amazon – Pros, Cons, and Keeping a Work-Life Balance
2023 is well on its way! And if you still haven't thought about listing your products on Amazon; now is the time. For all e-commerce retailers, it's one of the most promising sales channels. However, it is important to consider that each retailer will have their own journey on the platform, and what might have worked for one seller might not necessarily be profitable for the other. That is exactly why we are here with tips to sell better on Amazon as well as the benefits and drawbacks of selling on the gigantic marketplace.
Moreover, as much as focusing on your business is important; it's just as important to give some attention to your self.! read on to find out how you can maintain a work-life balance while making sure the business is doing well.
It is going to be enlightening – be sure to scroll!
Table of content:
Advantages of selling on Amazon – The truth
Cons of selling on Amazon: Discussing the drawbacks
How to improve your Amazon Business – Our two cents
How to keep a work-life balance – The art of managing it all!
Advantages of selling on Amazon – the truth!
Here is what retailers are going to gain if they decide to list their products on Amazon:
1. Maximum sales
Amazon's website receives millions of customers each month. 2019 alone brought $280 billion in revenue for the website while over 100 new prime members signed up! This clearly shows that Amazon is the number 1 marketplace for shoppers.
The reason is plain and simple; Amazon has gained the buyers' trust through its promise of excellent service and outstanding experience which motivates shoppers to buy on Amazon marketplace. So, by listing your store on Amazon, you can cash in on this opportunity and establish yourself as a credible and trusted seller as customers are more likely to purchase from Amazon rather than individual stores.
2. International expansion
Amazon is easily the most versatile and flexible e-commerce platform for international sales. In fact, it is the most trusted and biggest e-commerce platform in the world with a local presence in approximately 13 countries and shipping services in a total of 100.
Amazon makes this easier for you, the seller, by providing international order fulfillment and localized customer support services and taking care of local operations, logistics, and payment systems. Thus, it takes a huge burden off your shoulders and enables you to test your product in the market easily without doing any heavy lifting.
3. Low marketing expense
Since Amazon already attracts millions of customers to its website daily, you can easily attract them to your store without any significant marketing efforts. You will have to factor in your niche and target audience to see how much traffic you receive but you get the idea.
However, this does not mean you should completely forego your marketing efforts. You will still need to focus on your advertising and marketing campaigns on Amazon to increase visibility and maximize profits.
4. The biggest inventory management system
You may ship all of your products in bulk to Amazon, and they will store your inventory, package it, and ship it to your buyers. Amazon has over 175 fulfillment facilities around the world.
The biggest advantage of this is that you don't have to deal with the logistics of sending out things. You can concentrate on other critical business processes while watching your orders grow.
Cons of selling on Amazon: Discussing the drawbacks
1. Competitive marketplace
Well, this one is kind of obvious, the competition is fierce on Amazon and the only way to beat that is to have a long-term strategy.
Plus, if you want to drive maximum sales, it is important to win the Amazon Buy Box. However, Amazon will choose the best seller when there are several vendors offering the same goods for sale. So, finding a niche that will sell well but will not be highly competitive helps. But that is easier said than done.
2. It all comes at a high cost!
Amazon's benefits don't come for free. All the advantages that we just listed above incur costs and Amazon charges considerable commissions from its sellers.
There are referral fees, and FBA Fees if you are an FBA seller, where your fulfillment fee will be $3.70 per item. You will also have to pay inventory storage fees at $0.48 per cubic ft. From Jan to Sep and $0.75 from Oct to Dec.
3. Order Management
You will need to prioritize a centralized order management system as a retailer selling on multiple e-commerce platforms. This may become a problem when you are selling with Amazon because of a variety of reasons.
For example; Amazon's stock status is only updated when orders are fulfilled, thus a store may sell things that are truly sold out during the day.
But don't worry, there are many third-party tools available that enable retailers to create a seamless and centralized order management system.
4. Data feed is complex
Amazon wishes to receive daily product data updates. They have quite particular standards as well. This means that businesses must construct their own Amazon feed from scratch.
All products must have an ASIN, and all uploads must be done through Amazon API. Connecting to an API necessitates technological development that is both hard and expensive for merchants.
How to improve your Amazon Business – Our two cents
It's now simpler than ever to take advantage of Amazon's huge customer base with a few tweaks or tiny adjustments to your brand. Here are a few tips to sell like a pro on Amazon:
1. Product listing optimization
When it comes to optimizing your products to show up on top of the search results, there is a lot to learn. Start by searching for relevant keywords to use in your product title, and description. Moreover, make sure your product page is SEO-friendly to help you rank better. Write your product description in bullet points, and improve product images. Optimizing your product listing can help you look better and increase customer experience.
Want to know more about it? Click here.
2. Sponsored campaigns
On Amazon, you can get success in a shorter amount of time if you are willing to pay. Placing sponsored product ads on Amazon will help your company stand out from the crowd. All you have to do is choose the amount you want to pay for each click, and the keywords you'd like to focus on. Amazon will make sure your ad appears in the most visible spots for shoppers to notice when they search for a similar product or through keywords.
3. Unprecedented buying experience
Amazon is a customer-centric marketplace, so you have to work on giving your shoppers the best customer service; or else you probably won't succeed. Here is how you can enhance your reputation on Amazon to make people choose you over your competitors.
1. Make sure your customers trust you with the quality of your products. Try to mention where and how your product was manufactured, how you ship it to them, and how they are packaged. Be open about it all with them.
2. Help your customers understand why your brand is different from others and what its story is. Share updates and interesting facts about your product. Communicate with them on social media by posting engaging content.
3. Thank-you cards are a must if you want to leave a long-lasting impression. These little gestures will help in building a strong relationship with customers.
4. Influencer marketing
Heard about the term "opinion leaders"? Well, these days, social media influencers play a huge role in forming one's opinion regarding a product or service. Around 49% of shoppers take advice or form a decision after looking at the recommendations by the influencers. Thus, influencer marketing is a great way to maximize Amazon sales and spread your message across.
Use your social media handles to search for the top influencers in the industry and reach out to them to market your products.
5. Work on getting more reviews
Receiving tons of positive reviews and feedback from your customers and keeping them on display for other customers to see is a great way to build trust and increase sales. Come up with the right strategy to ask customers to express their thoughts and leave comments on your product page. However, don't force or bombard them with emails to get a review; or else they can report you!
Send them follow-up emails in which you mention how valuable their feedback is to your brand. You can also remind your customers to leave a review through social media. There are a lot more ways to get reviews on Amazon, make sure to do your research.
How to Keep a Work-life Balance – the art of managing it all!
Honestly speaking, it can be quite daunting to manage an ecommerce business while making time for family. How do sellers manage it all? The answer is in the points mentioned below.
1. Prioritize your tasks
You can't pay attention to all the areas of your business, while making time for your family and friends. Moreover, When your goals are unclear, finding balance can be tricky.The key is to prioritize your tasks and rank them from urgent to trivial. Set a timeframe and mention due dates as to when you want the tasks to be completed.
Make sure to set your goals when you are completely free, and without any distractions. It helps you remember each task you want to complete. Setting goals might be intimidating for you at first, but they are important for you and your company. They help you stay on track and celebrate each step you take toward success.
2. Make sure you get time for yourself
If you have quit your 9-5 job because it got overwhelming, then you might not want to work 24 hours a day; especially when you are your own boss! It is okay to be a little selfish and make time for yourself. In fact, it works in your favor and helps you stay fresh, and positive while working on growing your Amazon business.
Here is how you can create a routine for yourself:
· Strive to wake up early in the morning. Exercise, meditate, or walk. Do anything that can help you stay active throughout the day. Have a designated "me" time.
· If you are working 7 days a week, please don't. Try to take a day or two off · Set reminders, or alarms to help you remember what next step to take. The best way to go about it is to get a planner..
· Take quick breaks during the day. It's easy to feel overwhelmed while working constantly.
It's okay to walk out and take a breather before making a tough decision or dealing with tough customers. Don't be too hard on yourself.
Make sure you enjoy what you do.
3. Delegation
Trying to juggle several tasks at the same time is a big no-no. The best way to go about it is to delegate tasks or automate them. Hire an  employee or two to help you out with different aspects of your business. If you doubt the accuracy of human labor, then sign up with the seller tools you can find online to automate tasks. However, conduct thorough research before choosing the tools you require. Stressing yourself out won't work, delegation will!
Alpha Repricer can help with repricing- visit our site to learn more.
4. Keep your personal and professional life separate.
The key to managing everything efficiently is by setting boundaries. Don't mix your professional and personal life. When you leave your office and return home, try not to bring up your business issues to the dinner table. Deal with all your clients, employees, and customers during your business hours, and once you are home, try to give time to your close ones.
Have a hard stop. The time of day when you will actually be done for the day. A lot of sellers are working from home. This often makes for a hazy "work time". Being your own boss, you can choose your timings. But not defining the work hours can easily lead to long workdays… more often. So to avoid fatigue and burnout, have a definite time of when your workday ends.
In conclusion,
There is a lot that you need to learn before starting your Amazon business, but we hope this blog will help you make an informed decision. If you choose to sell on Amazon or follow our tips- make sure to check our website to learn how we can help you through your selling journey! Click here to read our latest blog.