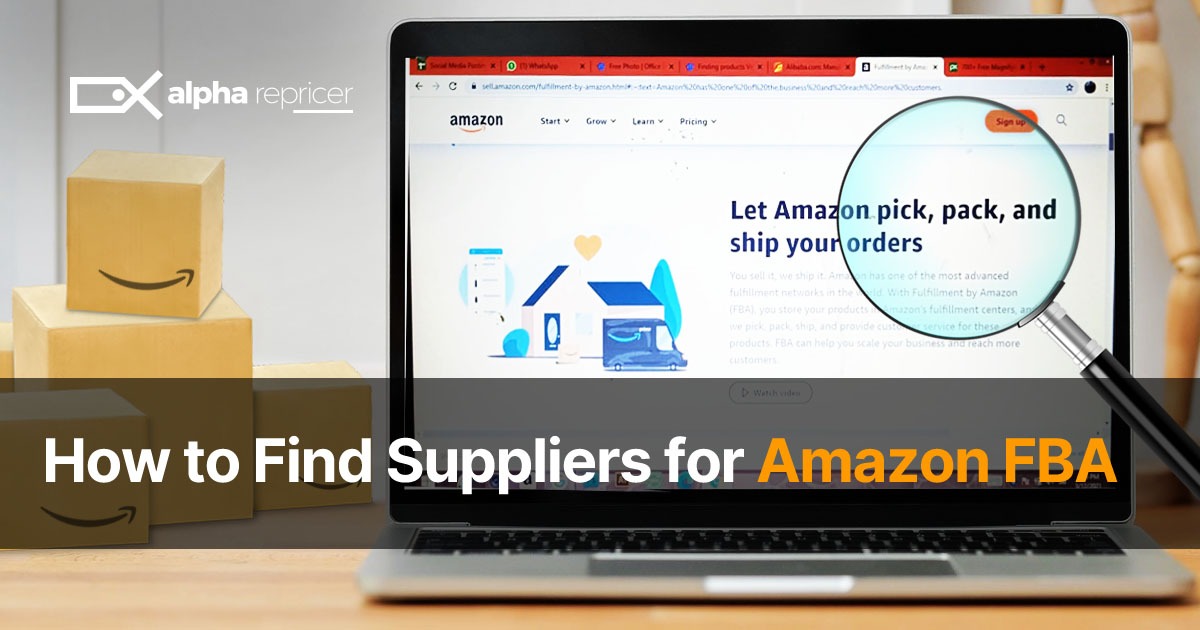 How to Find Suppliers for Amazon FBA
Once you have found the right products to sell on Amazon, the next step is to figure out where to get the products. You need to ship your products from a supplier who offers you the best quality products at a reasonable price.
However, it can be challenging to find a reliable Amazon FBA supplier when you have many to choose from. You can either get your products from China just like many other sellers, or you can switch to a manufacturer that sells locally. If you are confused about where to begin, We have combined the best suppliers for Amazon FBA to help you get started.
Shop from China!
China is known for having the best Amazon FBA suppliers for sellers. You can easily find the products you need at very affordable prices. China is the manufacturing hub for products to sell on Amazon, and most sellers purchase from manufacturers in China. However, finding quality products gets without getting scammed or catfished can be difficult. Thorough research and background checks are important to protect yourself from fraud.
· Alibaba and AliExpress:
Alibaba and AliExpress are two of the platforms with the least amount of scams and are the best online marketplaces for Amazon sellers. If you want to stay competitive on Amazon and get cheaper products to attract buyers, it is best to get products from just one of these platforms.
When you source your items from Alibaba, you may be dealing with the manufacturer directly. Getting in touch with the manufacturer helps you buy products at a lower price. However, the suppliers for Amazon FBA at Alibaba usually deal with large orders, so feel free to ask questions before buying your products. Make sure they meet your requirements, or else you can either negotiate or switch to AliExpress. At AliExpress, you can work with the manufacturers to place your order of products in a smaller volume.
If you are still having a hard time finding your desired products on Alibaba or AliExpress, you can check out other online platforms such as Taobao, Global Sources, and Made-in-China. These are also B2B platforms that focus on selling to foreign buyers, so if you are outside of China, they can be your go-to places!
· Attend trade shows to look for suppliers
You can easily attend trade shows without actually flying to China and attending them in person. It requires a bit of research to find trade shows that are of your benefit. Make a plan as to what exactly do you need when you are attending these kinds of events. Once you start following these shows, it makes it easier to contact the suppliers directly. You can learn about the quality and quantity of the products and how much they cost. You can easily reach out to the suppliers with the contact information that is listed.
· Agencies for product sourcing
If you still can't find a supplier of your target products, leave it to the agencies with the expertise to find product suppliers for you! They work as a third-party service that helps you look for suppliers that offer your product at an affordable price. Their services also include ensuring the quality of your products.
However, product sourcing agencies are usually expensive, especially when you want to stay competitive on Amazon when every seller is trying to cut down their prices. Keep in mind that, most of the agencies do not even share any of the details regarding where they buy the products. You must look out for the best sourcing agencies if you want to go with that option.
How to ensure if you have chosen an authentic supplier
Once you find the right suppliers for Amazon FBA, make sure that they provide affordable, quality products. Here are some methods to double-check that your supplier is trustworthy.
· Check if the supplier is reliable.
Even if the supplier is listed on an online platform like Alibaba, it doesn't mean they are authentic. You can either visit the supplier in person or find information online to ensure the company is legitimate. Check out the location, license, and contact information of the supplier. Also, check if they meet the safety standards of your country and offer quality products. Be responsible and look out for each possible answer you need before giving them money.
· Check out how and where the item is manufactured.
If you opt to sell a complicated or tricky product such as home appliances or electronics, then take the time to double-check the place where they are manufactured. Find out each detail about the product and make sure the quality is worthwhile!
Test the quality of your product as you cannot make a single mistake when you are selling on Amazon. Delivering a cheap, quality product to any customer is a risk you want to keep under control to prevent loss or damage to your business.
· Ask for a sample!
To be sure of your product's quality, ask for a sample from the manufacturer before you order the product in large quantities. You can figure out if you are satisfied with the standard as a buyer and if the buyers want to purchase it.
· Make sure you don't run out of inventory in the future.
First, figure out the extra charges you might have to pay, such as freight charges. Ensure you include all the additional expenses and are committed before signing a deal with the supplier. You have to be positive that you can afford more products in the future. Plus, it usually takes time for the products to start manufacturing. Find out how much time it will take for the products to reach your warehouse, to ensure you don't run out of inventory. Lack of inventory can harm your sales too, so be prepared
· Keep on searching for better suppliers.
There is no harm in looking out for other better options. You can get in touch with different manufacturers that offer quality products and contact them before making the final decision. Make sure you choose one that is in line with your business goals and target market.
It all comes down to you thoroughly and carefully researching the perfect supplier to fulfill each of your business needs. Make sure you select the right manufacturer that offers the best quality products at an affordable price range. Plus, go through all the points mentioned above to ensure you have made the correct decision.
If you are new in this business, then make sure to check out Alpha Repricer's page for more information regarding how and what to sell on Amazon.
If you have any further questions, leave a comment below! Sign up now for the best Amazon repricing tool and let us help your business grow!
Tags In