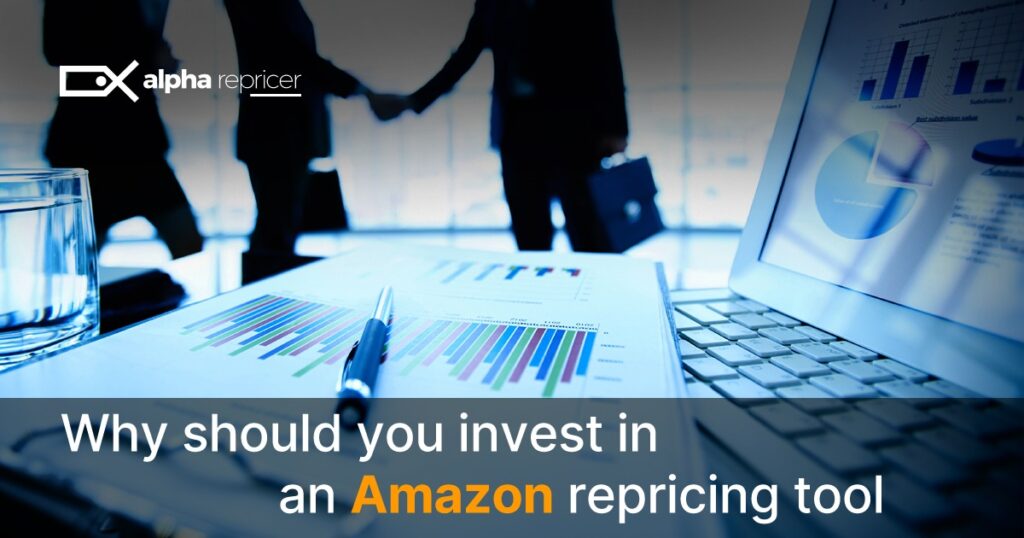 Why You Should Invest in an Amazon Repricing Tool Now
An Amazon repricing tool works to save your time and efforts. Most new sellers start their businesses by repricing manually, but they eventually shift to automatic repricing. One of the reasons is to give competition to the seasoned sellers who have been repricing automatically on Amazon.
So, in short, you can use an Amazon repricer no matter how small your product portfolio is.
If you set the right strategy with a repricing tool, it frees you from the constant worry of staying competitive. It saves you money and time, helps you reach out to a maximum number of audiences, enables you to get the Buy Box eligible, and most importantly, maximizes your sales and profits.
However, every Amazon repricing tool is created differently, and some might fail to meet your expectations. Some have a slow response rate, so they can't help you beat your competitors. Others don't work to win the Buy Box, or they start price wars which is not healthy for your business.
We want to make sure you have the right tool to help you grow your business! That's why we recommend a smart repricer like Alpha Repricer to help you keep up with all the changes on Amazon.
Why should you choose us? Well, Let's see!
1. We offer a 14-day trial
We don't want you to invest your money in something that you don't like. Alpha Repricer offers a 14- day trial for you to try us out first and then sign up if you want the tool.
Plus, we don't require your credit- card information to sign up for the free trial. You can get the full 14- day trial or leave whenever you wish to, no strings attached!
The 14-day trial consists of all the advantages you will get once you start repricing with an Amazon Repricer like us. It helps you get a better understanding of our tool in general.
2. Price plans
Small sellers usually can't afford an Amazon repricing software that is expensive. Similarly, all the popular sellers are keen to save as much money as they can to grow their business more and save their profit. It is a necessity to have a repricer that is affordable yet provides quality service.
Alpha Repricer comes with different pricing plans to handle businesses of all sizes. We offer the lowest price in the market, starting from $25 per month.
3. The fastest Amazon repricing tool
If you want to start automatic repricing, make sure your repricing software is faster than the one your competitor uses.
When you sign up with a fast repricer, it responds faster to any price change that occurs and makes alterations before your competitor's changes go live. If your tool fails to react quickly, you are then left behind.
Alpha Repricer is the fastest Amazon repricer that reprices under 2 minutes! We monitor your competitors' activity, and as soon as we get the notification of any price change, we change your prices instantly. The changes are pretty quick so that your prices go live well before your competitor's, providing an extra edge for you to get more sales!
4. Advantage of winning the Buy Box
Winning the Amazon Buy Box helps you reach the maximum audience and get a massive increase in sales. Alpha Repricer enables you to achieve that target by first making you eligible to win the Buy Box and eventually getting it for your business!
Even after you win the Buy Box, we make sure to attain it at the highest price possible. We keep your Buy Box at an optimal price while your competitors constantly change their prices to get the Buy Box from you! You can only do this with smart Amazon repricing software.
5. Customizable repricing strategy
You can work on your terms. An Amazon repricing tool like Alpha Repricer allows you to choose who you want to compete with. Filter and discard the ones you don't want to compete with in terms of product, location, etc.
Our tool allows you to set each product's minimum and maximum cost to avoid crossing your profit margin. We have every feature you need to control and monitor each area of your inventory. You have complete access to the report where you can oversee the progress of your sales.
6. Customer support
As an Amazon repricer, we always want you to stay on top! Our customer support team is here at all times to solve your issues and help you out with anything you need. We offer the best quality services and never let our customers down. You can contact us via email, text, or phone call even when you need help during the free trial. We are available for you!
7. Instant repricing
Alpha Repricer offers instantaneous/continuous repricing to help you stay ahead. Your products will reprice as soon as we get the notification and keep on repricing continuously against the competitors you choose to compete with.
Even when you think you have everything under control, it won't harm you search for an Amazon repricing software that helps you out in your business. Please do not waste your time trying out a bunch of repricers when you have the option of signing up with us! Choose Alpha Repricer and let us take care of your listings! To learn more about us, please visit our site or contact us.