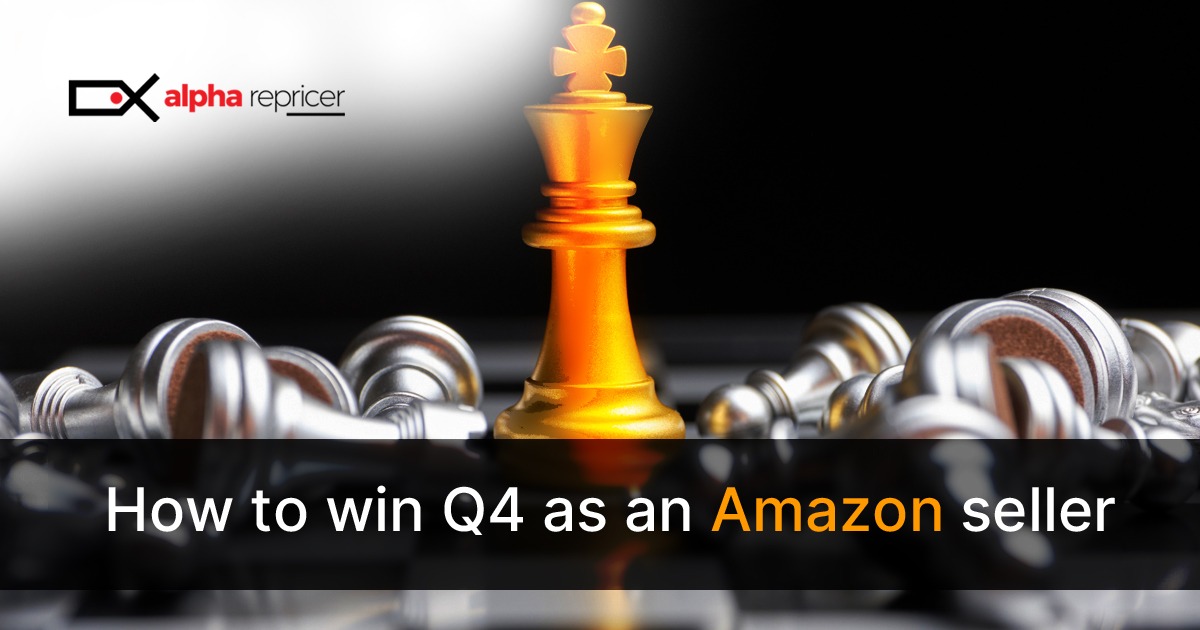 How to Win Q4 as an Amazon Seller? How to be on top of your game
Amazon sellers have a huge chance to optimize their earnings during the fourth quarter of the fiscal year. Selling your products on Amazon during the holiday season can put you leaps and bounds ahead of your competition in the market. The Amazon Q4 season requires extensive planning, and with so many items competing for the same spot, it may be difficult for sellers to keep track of everything.
By this time of the year, you must have done all your preparation to make the most of Q4.
Here is a recap on how you can sell profitably during this season. To help you out, Alpha Repricer – the best Amazon repricer for FBA sellers, has put together an important checklist for Q4 that can boost up your overall sales!
· Stay One Step Ahead!
Being an Amazon brand gives you during the holidays. Customers trust you, which provides you with an opportunity to satisfy their demands. Consider the extra time you have as a chance to give Amazon Q4 the attention it deserves. Gather your teams, plan your goals, build new partnerships, and discuss your plans with suppliers.
 Put your time and effort into developing an advertising plan that covers the marketplace and beyond. Furthermore, analyze your competitor's strategies and keep an eye on their pricing techniques, advertising campaigns, and promotions in order to stay ahead and maximize your sales.
· Product Listings
Your product title, bullet points, product description, backend keywords, and high-resolution images are the essential elements of an Amazon product listing. Working on these areas of your product listing during Q4 can substantially boost your sales by attracting more customers. Moreover, It also increases your search exposure and click-through rate.
You can make your product listing attractive by using effective product images, titles, high search volume keywords, and A+ content. To get your listing on the top page of organic search results, align your listing optimization with the best Amazon SEO practices. When providing descriptions and other data about your Amazon goods, be accurate, clear, and honest.
· Offering The Best Price
Offering the best price with a good quality product is one of the most essential parts of maximizing your sales and profit on Amazon. Pricing your products strategically can help you generate sales, build a larger customer base and establish yourself as a good brand in the market. 
Storage fee rises during November and December, so make sure you don't end up having stock sitting around. Use an effective repricing tool to reprice for higher sales. Try Alpha Repricer- it's one of the best Amazon repricer for FBA sellers in this industry. With the right repricer, you not only save time but you can also save costs. 
· Inventory Management 
Inventory forecasting is a vital skill for running a successful Amazon business, particularly at this time of the year. Maintaining a balanced inventory for sellers during Q4 because having too little stock may result in a stock-out, unhappy consumers, and considerable income loss. Excess items, on the other hand, may take up unnecessary storage space and cost you money.
However, you can use different Amazon inventory software in order to maintain your stock levels and avoid stock-outs. Moreover, it can help you prepare for unexpected supply chain difficulties that may impact the health of your business.
· An AD Campaign Can Help You Boost Your Sales!
Make sure your advertising plan is up and operating before Q4. Collecting relevant data and optimizing an ad campaign takes time, so getting started early is essential. It is necessary to execute both automated and manual campaigns to tune up your marketing strategy before October.
Automated campaigns will assist you in identifying high-converting keywords for your products, which you can subsequently migrate to manual campaigns to optimize. Structure your Ad campaign and generate higher bids for Ad groups to help you stand out from the crowd. However, also concentrate on the properly targeted keywords that drive traffic and turn it into clicks.
Final Thoughts
The fourth quarter is an essential period for Amazon sellers to boost sales. This is the period when sellers get the opportunity to bring traffic to their products and make the most out of it. Amazon is a competitive market, so in order to win Q4 and get ahead of your competitors, you need to start preparing in advance.
Pricing strategy can influence the decision power of your customers. That's why it's necessary to use an Amazon repricer in order to stay competitive. Choose Alpha Repricer! It's the fastest, continuous, and proven to be the best repricer for FBA sellers that completely changes the repricing game in 2 minutes and helps you maximize your sales.
SIGNUP now and try our free 14-day trial to find out more about it.