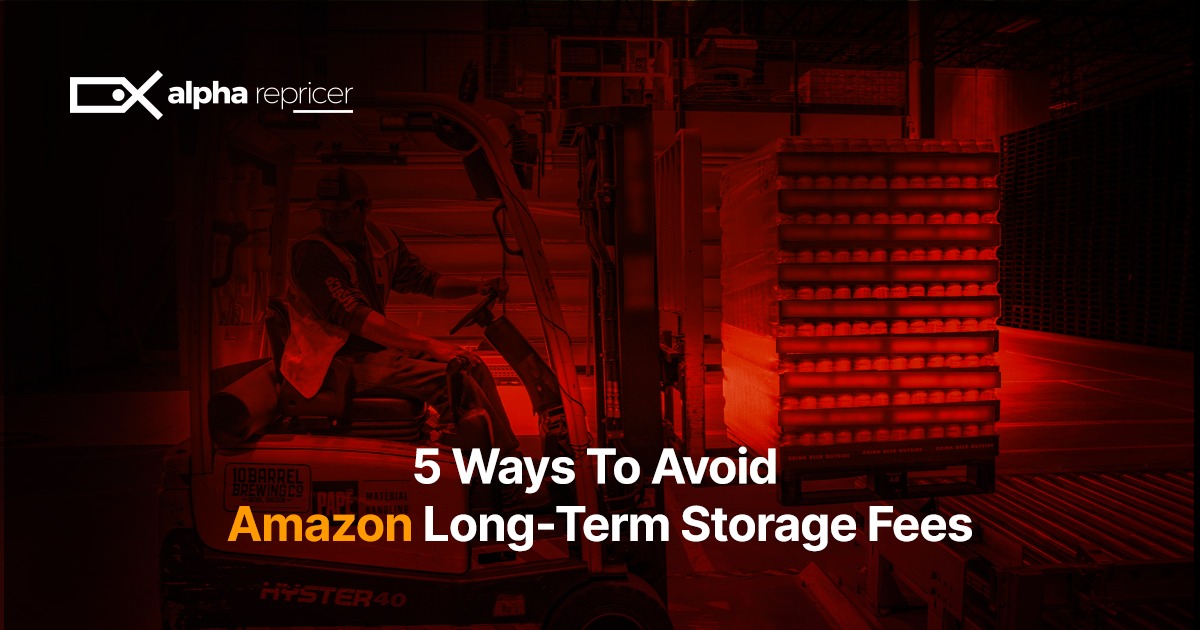 5 Ways To Avoid Amazon Long-Term Storage Fees
Amazon FBA sellers benefit a lot from the Amazon fulfillment program. They have services available that keep track of their shipments, returns, etc. All in all, it is a great program as long as you avoid the FBA long-term storage fees.
Amazon charges for long-term storage can get expensive. If the stock is left in the fulfillment center for more than 365 days, the long-term storage fees come into play. Amazon will charge $6.90 per cubic foot or $0.15 per unit per month. The long-term amazon storage fees are charged on the 15th of each month.
How to determine inventory subject to fees
You have to use inventory health and inventory age. This shows which ASIN in the inventory is subject to long term storage fees. For any ASIN, the individual can see their stock by how long it has been in a fulfillment center.
0 to 90 days.
91 to 180 days.
181 to 270 days
271 to 365 days
More than a year (365 days)
You can also use the Recommended Removals report to get an idea of which ASINs might be getting close to long term. Another important piece of information is that long-term storage fees are in addition to regular storage fees.
Ways to avoid Amazon storage fees
On the 15th of every month, Amazon charges a fee for products stored in the fulfillment center for more than a year. There are many methods to minimize Amazon long term storage fees.
1. Pricing methods to avoid Long Term Storage Fees
The best way to prevent long term storage fees is to sell the wares. That is even if it may not be profitable in some cases. Use the recommended removal report to determine which ASINs are over three months in storage. After verifying the items, consider lowering the price. Sometimes it makes more sense to make the sale at a lower price than to hang on to the merchandise. Running a monthly report will give you a good idea about how fast merchandise is moving. You can then make a decision more confidently.
This is where an automated Amazon repricing tool will be very helpful. A fast repricing software, like Alpha Repricer, can keep you competitively priced at all times. Alpha Repricer will win Buy Box more often which in turn can claim a sale for you.
2. Use Amazon sponsored Product Ads and Promotions
Another method to avoid long term storage fee is to run ads and promotions. If you are unable to sell the stock on time, you will either pay the storage or Amazon would charge $0.50 to clear out the item. So the best thing to do is spend the money where you have some hope of getting some returns. So it's good to spend some money on ads. More traffic to your product can translate into more sales. Also, optimize your product listing to make sure it will grab the attention of the buyer.
3. Take advantage of Free Removal Promotions
Sometimes Amazon offers a promotion for FBA sellers to clear out their goods from the fulfillment center for free. During the promotion, Amazon waives the fees for removal orders. Keep an eye out for these promotions. When Amazon runs the promotion get a quick report on your inventory. Check the report and deliberate over whether you should take Amazon up on the offer for certain ASINs or not.
The penalty is that once an item is cleared out you can not send the same ASINs back to the FBA warehouses for a certain period. For example, you clear out an item before February to avoid long term storage fees, you cannot send it back to Amazon warehouses until 1st July of that year. Sometimes the period may vary, but one should be aware of them in advance. So, this may cost you in sales and you have to weigh the choices carefully before making the decision.
4. Manage in stock levels from the beginning
Another way to avoid long-term storage fees is to control the inventory quantity present in the FBA warehouses. You should have a minimum long term storage fee if you send in portions that are likely to sell in the next six months. You should have the information to restock the products that are selling fast. This is another reason to run reports and to keep stock of your stock. (Pun intended)
5. The time when you send in inventory
A lot of times, items are selling better in a particular season. For example, barbecue utensils may sell better after May. So it will be better to target the delivery of these items at the warehouse at the item buyers are searching for them. If you have multiple types of merchandise, send it into FBA warehouses at the times their sales will be at their peak. There is no need to send all the items at once.
We hope you find this article useful. Basically, it is a matter of keeping close track of your sales and inventory. Amazon offers many reports and tools to help and guide you. The seller central is a good place to keep a finger on the pulse of your business. And by signing up with Alpha Repricer you can increase the sales and avoid long term storage fees. Learn more about how to sell on Amazon by reading Alpha Repricer's blogs.