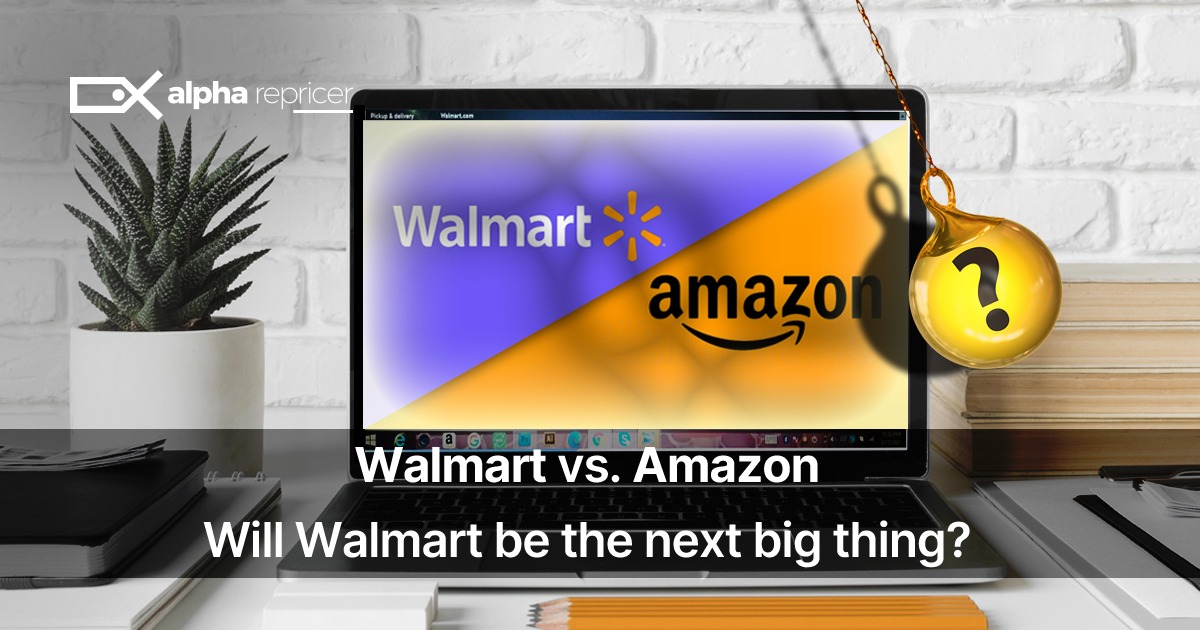 Walmart vs. Amazon – Will Walmart be the next big thing?
Amazon is still the number one retailer in eCommerce businesses globally. Each month about 198 million people visit Amazon. Back in 2018, Amazon's share of the U.S. eCommerce market was 49% (source; Forbes.com). Amazon has maintained its position in the market by enabling customers to trust its services and products.
During Covid-19, a massive increase in the eCommerce market was observed. According to the Forbes report, sales on Amazon increased by $920 billion Amazon is one of the highest profit makers and successful retailers in the eCommerce marketplace.
Walmart is a competitive retailer, and is considered as one of the most trustworthy business platforms. It gives tough competition to Amazon by surpassing its sales. Walmart is continuously enhancing its multiple channels such as the "Big Save" online event and launching advanced services to give an unbeatable competition to its rival company "Amazon."
According to a report conducted in 2020, Walmart's annual gross profit was $129,359 million,which makes Walmart the ninth largest eCommerce market in the world.
(source;https://www.macrotrends.net/stocks/charts/WMT/walmart/gross-profit)
How is Walmart Climbing the Ladder?
Walmart is surpassing Amazon in many aspects. According to a Forbes report, Walmart's revenues jumped up to $35 billion, which contributed to the growth of the U.S eCommerce business by 79%. Here are some of the facts on how Walmart will lead the future eCommerce platforms.
source; https://www.forbes.com/sites/blakemorgan/2019/08/21/amazon-versus-walmart-goliath-versus-goliath/amp/
During the Covid-19 pandemic, a massive increase in the goods was observed, which increased net sales. High sales were seen in consumables such as food, health, medicines, etc. The demand for products increased dramatically that Walmart had to hire 235,000 new employees.
About 265 million shoppers visit Walmart each week. To bring new changes to their online eCommerce business, it has spent $16 billion on buying the powerhouse Flipkart. Moreover, it has also revamped its website of Walmart.com.
However, this unbeatable eCommerce platform has also spent $800 million on launching new stores worldwide to get more success and growth.
"Walmart sells about everything you could ever need, so planning a trip to this big-box eCommerce business could make your life easier and decrease the need to go into various stores," says consumer savings expert Andrea Woroch.
Reasons why Walmart could be the next Amazon?
The primary purpose of Walmart is to make the shopping experience of customers easy and efficient. Walmart is leading the eCommerce business physically, whereas Amazon is dominating the online eCommerce marketplace. Both companies are performing well to gain success and growth but are in constant competition with each other.
The intense competition started between them when Amazon launched new services such as online music, videos, Amazon Prime service, and Amazon FBA services. On the other hand, Walmart launched jet.com in the market.
Here are the few reasons that could indicate Walmart will lead Amazon in the future;
Physical Presence
Amazon has made progress in some areas by increasing its physical presence. Still, it is difficult for Amazon to beat Walmart because it is the most successful physical eCommerce business globally.
In 2020, Amazon gained a profit of around $20 billion in their physical stores available, whereas Walmart gained a whopping growth of $270 billion by making itself the largest grocer in terms of physical space.
Source;https://www.forbes.com/sites/blakemorgan/2019/08/21/amazon-versus-walmart-goliath-versus-goliath/amp/
It can be challenging for Amazon to defeat Walmart in terms of a physical footprint because Amazon has limited physical space resources.
Green Consumerism
Green consumerism is a trend in which the customers go for products that benefit the environment and keep it healthy and clean.
Most consumers prefer to purchase items from an Eco-friendly company and focus on green consumerism. Amazon's goal is to significantly reduce its carbon footprint by 2030 to make the environment safer and cleaner.
Walmart is also on track to reduce its carbon footprint around the world. It is working on "project Gigaton" to reduce greenhouse gas emissions worldwide. Walmart is also investing a huge amount of money in carbon reduction programs.
Sales
Amazon is the highest profit-making retailer in the online marketplace with a total equity of $43.55 billion. It has 575000 employees. Whereas Walmart has total equity of around $79.6 billion, and during the Covid-19 pandemic, high growth in Walmart's sales was observed, by making it the third largest retailer in the world.
source;https://www.forbes.com/sites/blakemorgan/2019/08/21/amazon-versus-walmart-goliath-versus-goliath/amp/
Recently Walmart reported an increase of 2.8% in physical stores and a 37% increase in online sales. Amazon still leads the online market, but we can't ignore the tough competition from Walmart. We expect that in the future, Walmart will surpass the giant retailer Amazon.
Technological Growth
Both brands are doing their best to grow and gain higher profits and sales. Also, both these platforms have invested a significant amount of capital in technological and digital growth.
Walmart has planned to expand its products across the world, and the online sales of this platform are predicted to grow by 45% by 2024. Whereas, Amazon's technological and digital growth has been so successful that Amazon is also planning to build 3000 Amazon go stores by the end of 2021.
source;https://www.forbes.com/sites/blakemorgan/2019/08/21/amazon-versus-walmart-goliath-versus-goliath/amp/
We expect a high technological growth of Walmart in the coming years which will ultimately affect the sales and development of Amazon!
Low pricing strategy
Walmart stores are known for their vast growth and selection, but there is one thing that attracts the buyers, it is their low pricing strategy. It also offers its workers a pay increment and a cash bonus of up to $1000 yearly.
Amazon's high pricing strategy with multiple charges can turn buyers away. In contrast, Walmart sells many products for less than anyone else. And it can also make more money in the future if the margins are set smaller.
Conclusion
Amazon and Walmart both perform exceptionally well in the eCommerce marketplace. These two retailers compete with each other for market share, innovation, technological growth, and much more.
It is difficult to decide the winner between these two companies, but both platforms have entirely changed the system of eCommerce businesses around the world!
I hope this article was meaningful for you. For more information regarding the eCommerce business, visit Alpha Repricer blogs!
For further queries, you can contact us now or leave a comment below. Sign up now for the best Amazon repricing tool, and let us keep your prices competitive.