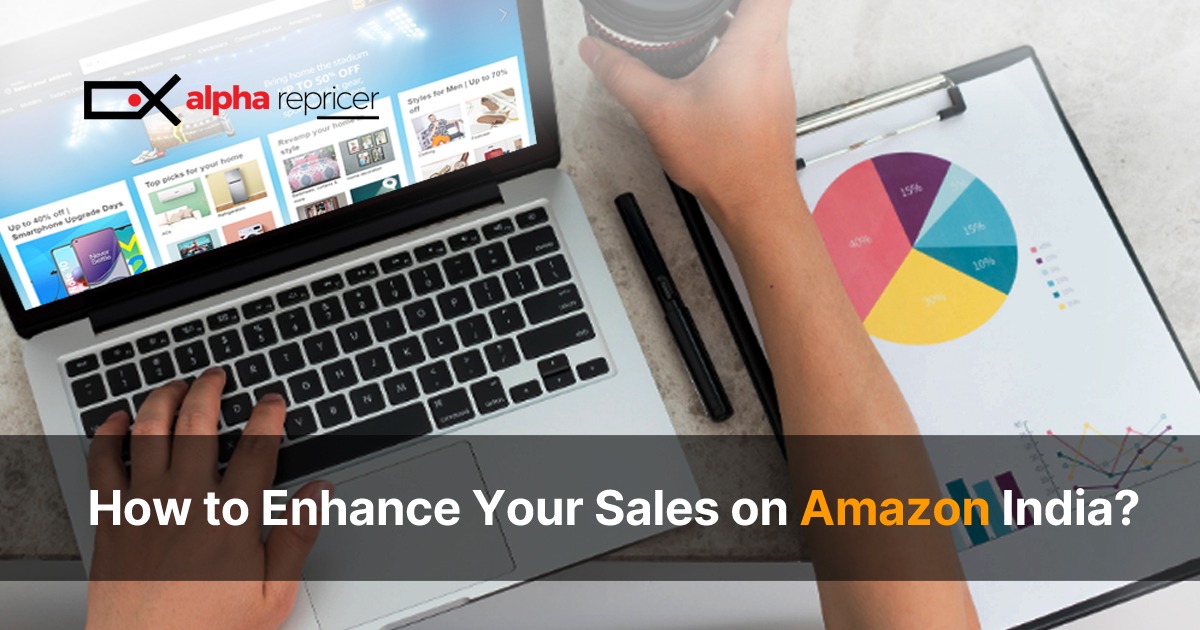 How to Enhance Your Sales on Amazon India?
India is one of the fastest growing and highly populated countries in the world. More than 70,000 Indian sellers sell millions of their "Made in India" products across more than 15 international Amazon websites (source; Amazon.com). According to the report, Amazon has more than 700,000 sellers working on their platform (Source; Amazon.com). They are providing opportunities to thousands of new sellers to increase their sales and growth.
Amazon is the most profitable online retailer in the world. Every year thousands of new sellers join Amazon India and sell millions of new products to increase their ranking and sales!
Tips to increase your sales on Amazon India
Amazon India faced a significant loss in 2020, which ultimately affected the sales rate and profit margin of sellers. Here are a few of the tips you should follow as an Indian seller to boost your sales in the Amazon India market.
· Know your Competitors
Flipkart gives a neck-to-neck competition to the popular online retailer Amazon India. According to the report, an increase of 31.9% market share was observed back in 2018 and it left behind Amazon, having a market share of 31.2% (Source: Forrester).
· Positive reviews
Never rush or compel your buyers to leave a positive review or feedback on your page. As an Amazon Indian seller, you must know who your buyers are and how you can communicate with them to resolve their issues.
You must be responsive to your buyers and ask them politely to leave a good or positive review on your page, which will ultimately impact your growth on Amazon India.
· Use Accurate and high-ranked keywords
There are plenty of sellers selling on Amazon India, but only a few of them can make it to the top ranking. Using the most valued and accurate keywords on Amazon is the key to success and growth. Research the high-ranked and quality keywords and adjust them in your profile, which will let your products stay ahead. Once Amazon notices your hard work and efforts, it will present you first to the customers.
As an Indian seller, use valuable and productive keywords. It will help you get a chance to rank your products and achieve more traffic and clicks than the rest of the online market competitors.
· Use high-quality images
When you sell your products on Amazon India or anywhere else, you ultimately create an image of that product in customers' minds. Using high-quality and professional images for the products offers you an opportunity to grow and gain more customers.
Quality-based images describe what your products are and how customers want your products to be. Moreover, add a description of your products to make your customer's shopping experience easy and efficient.
Using professional and high-quality images can always help you grow and get more sales than the rest of competitors in the Amazon Indian market.
· Never Break the rules of Amazon
As a seller, it is essential to follow all the rules and regulations set by Amazon. If you don't follow the guidelines of Amazon, they will ultimately suspend your seller's account. This can set you behind the competition while you try to get your account back.
If you want to maximize your sales and stay ahead in the market, you must abide by all the rules and regulations set by Amazon.
· Pricing helps you stay ahead!
Keep the pricing of your products simple and straightforward. You can also offer discounts on your product line to increase your initial sales. The key to a successful Amazon pricing strategy is always to keep an eye on your costs, setting up new methods, rules and watch what your competitors are up to.
You are not the only one selling products on Amazon India. There are plenty of other sellers that perform well and stay competitive. To stay ahead, it's necessary to use an Amazon repricing tool that reprices for you in a short time and allows you to get the Buy Box.
Try Alpha Repricer. It is the best Amazon repricer that reprices for you and helps you increase your seller's ranking and get the Buy Box more often.
Alpha Repricer helps you boost your sales!
If you are still unsure about which Amazon repricer you want to go for, check out Alpha Repricer. It is the fastest Amazon repricing tool that instantly responds to the changes in your prices. Our repricer is the best and makes sure you rank on top by keeping you stay competitive 24/7.
We offer repricing at affordable prices and help you reprice your products in a short time. Moreover, we also provide you a chance to get the Buy Box and maximize your sales!
SIGN UP now or contact us and experience our free 14-day trial and see for yourself!