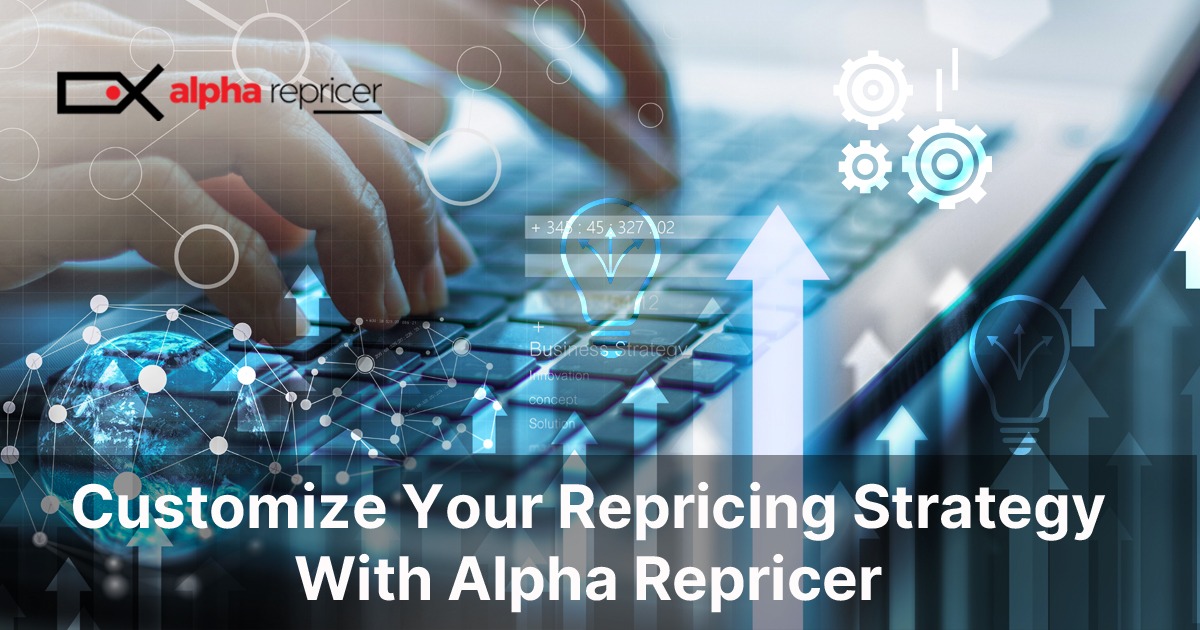 Customize Your Repricing Strategy with Alpha Repricer
Amazon repricers are here to make repricing easier for you. However, not every repricer in the industry allows you to work on your own terms! Alpha Repricer is the fastest Amazon repricer in the industry offering both, algorithmic and rule-based repricing for our users.
You can choose to compete with the Buy Box or do a simple price competition. How customizable is each method at Alpha Repricer?
Buy Box Competition
At Alpha Repricer you have two way to compete with the Buy Box price. you can use our prized Buy Box Hunter or compete with Buy Box price by your rules.
Customize the Buy Box Hunter
Our cutting-edge technology for winning the Buy Box is called the Buy Box Hunter. This is algorithmic repricing at its best. It is a popular and trusted method of winning the Buy Box. You just tell the system you want the Buy Box and sit back and watch the growing number of your listings in the Buy Box. Still, you can customize it. You can decide whether you want to go for the exclusive Buy Box or shared Buy Box. You can also, set the action to take once you have won the Buy Box; raise your price or do nothing, etc. It not only increases your sales by putting you in the Buy Box but also increases your profit by algorithmically finding the most profitable price to keep the Buy Box.
Our Buy Box hunter wins the Buy Box every time and then attaints it at the highest price possible. Needless to say, this is the most popular repricing method used by Alpha Repricer subscribers.
Customize Regular Buy Box Competition
Alternately, you can choose to compete with the Buy Box price by setting your rules. Alpha Repricer affords you many ways to fine-tune your repricing according to who (Amazon, FBA, FBM, SFP) is in the Buy Box, what you want o do (match, ignore, etc.), and how much you want to increase or decrease your price.
Flexibility in Price Competition
Sometimes an ASIN may not have a Buy Box, or you may not want to compete for the Buy Box. In such cases, price competition is a good strategy to fall back on. Here, Alpha Repricer gives you multiple ways to hone down on the competition. The parameters mentioned below will ensure that you have the best price at lightning speed without ever going below your minimum.
1.  Choose how you compete with each fulfillment type!
Our tool allows you to decide the repricing action depending on the fulfillment type. Depending on the fulfillment type of your competitors, whether they are Amazon, FBA, FBM, or SFP sellers, you decide to beat, match or ignore the competitors' price. You can also choose to price higher than the price of your competitors. For example, if you are an FBA seller, you may want to price slightly higher than the FBM seller. Or, as a lot of sellers choose to do, you may want to ignore Amazon's prices if they are selling the same ASIN. You can decide how much you want to increase your decrease your price in comparison to other sellers and whether you want to do that by a fixed amount or a percentage.
2.  Make quick decisions!
Price changes are constantly affecting the marketplace scene. For example, in one minute the competitor may have matched your price, and the next minute he may go below your minimum. Alpha Repricer receives the information as close to real-time as possible. So what do you do if the nearest competitor is below your minimum. You can set rules for which action to take depending on the scenario; such as you may want to compete with the next best seller. Once you set the rules, the system follows them flawlessly to achieve your desired results at high speed.
3. Filter out your competitors after going through major details!
There are thousands of sellers out there selling similar products as yours. However, it is not necessary to compete with all of them! You can easily decide who you want to target by using our tool. You can choose your competitors after judging the quality of their products, shipping, location, dispatch time, etc. In this way, Alpha Repricer's repricing engine gives you a great advantage of offering a price that is both attractive to the buyer and you, the seller.
4. If you don't want to compete, you don't have to!
Another advantage of having a rule-based Amazon repricing tool is that you can be specific about your choices. If you don't want to compete with any of the new sellers, you can easily discard them. You don't have to bring your prices down by competing with the newbies. Choose to compete with only sellers whose prices are within your min/max. That way, you can stay ahead of the competitors who may be pricing too low.
5. You can choose when to reprice your products!
Alpha Repricer lets you schedule repricing! Users can make sure that the tool is working according to the parameters they set and avoid repricing when it's not necessary. For example, if the competition is low or your products perform well in the market, you can choose to schedule repricing.  You can bring your prices low if you keep on repricing continuously. A lot of sellers choose to 'restart' the competition in the morning. Even the scheduler has flexibility in that it lets you decide where you want to 'stop' your price and the starting price when you restart.
6. Adjust your min/max easily!
You can customize your repricing strategy by making quick adjustments to your min/max prices at the last minute. If you want to meet a particular demand or increase sales, you can adjust your price limits easily with us before you continue repricing! It gives sellers a chance to make better decisions, and we don't restrict you from making any adjustments if you think it's going to work!
7. Any specific sellers you want to mention?
Alpha Repricer is the best Amazon repricing tool for a reason. With us, you can name any specific seller you want to compete with, and we'll look after that. You can also exclude any specifi seller you don't want to reprice against.
However, if you don't want to compete with the Buy Box price, you can choose to stay competitive, and we'll surely help! We'll keep your product prices competitive for you to maintain your position in the market.
8. What happens after you win the Buy Box?
Price competition can often land you in the Buy Box. Alpha Repricer gives you the flexibility to do nothing at this time or to raise your price once you are in the Buy Box.
Whether you choose the Buy Box Hunter to reprice your items or the rule-based competition, our system gets you results. The repricing is fast and without error, never going below your minimum.
Alpha Repricer is a tool made for sellers by sellers. We know the daily struggles sellers face while repricing their products, and our tool is here to solve every issue them. Our Amazon repricing software is built to react quickly to price changes. Our array of features help you increase your sales and profits quicker than ever! Want to know more about us? Click here!
Try us out for 14-days for free and then decide for yourself! Contact us now for more information.